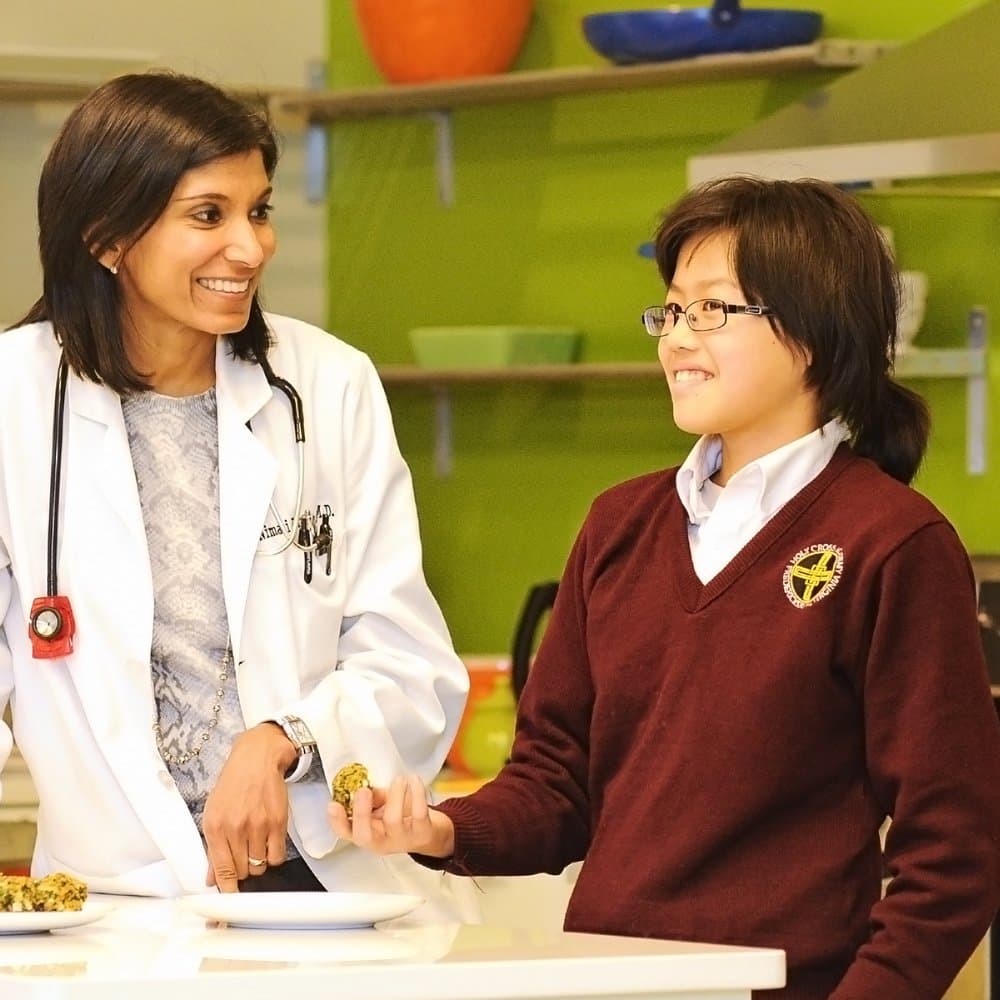 Many families struggle to get their children and teens to follow healthful diets. But there is a good reason that grandmothers have been urging kids to eat their vegetables, going back at least a century. Poor eating habits contribute to many health problems. How can we get children to love healthy food?
Dr. Yum to the Rescue:
Dr. Nimali Fernando is a pediatrician who found that many of her young patients had conditions such as constipation or bed-wetting that would be greatly improved with a more balanced diet. And yet their parents often felt helpless to get their children to love healthy foods or change what the family was eating. Many had an idea that kid-friendly foods high in salt, fat and sugar were all that their children would agree to eat. She found that teaching both parents and children how to prepare more healthful foods had benefits for the whole family. That's why she founded the Dr. Yum project.
She set up a kitchen to demonstrate basic cooking techniques. Initially, the classes focused on making baby food and parenting for wellness. Then she started teaching the children themselves. They responded well to the edible garden that taught them how vegetables grow and what they taste like when they are fresh.
Tiny Tasters:
Dr. Fernando enlisted the help of neighborhood youngsters to determine which recipes were truly appealing to young palates. These Tiny Tasters developed an adventurous approach to trying new foods that has stood them in good stead as they move through adolescence and into young adulthood.
With childhood obesity at epidemic levels in this country, isn't it time we devoted energy to teaching our kids how to love healthy food? Dr. Fernando has found that teaching young people to cook is a great way to unleash their creativity in the kitchen.
This Week's Guests:
Nimali Fernando, MD, MPH, FAAP, is a board-certified pediatrician practicing in Fredericksburg, VA, and founder of the website doctoryum.org and The Doctor Yum Project, a nonprofit organization that empowers families with information on illness prevention through a healthy diet.
Dr. Fernando is the co-author (with Melanie Potock) of Raising a Healthy, Happy Eater, Parents' Handbook, A Stage-by-Stage Guide to Setting Your Child on the Path to Adventurous Eating.
Her web site is https://www.doctoryum.org/
Zane Fernando, Nimali's son, is now 15. Zane started tiny tasting at age 8 and has helped Nimali by starring in several videos, doing data entry for the Dr. Yum preschool program, maintaining the garden, and teaching classes.
Noah Swartz is one of the original tiny tasters. Noah started as a taster at 13 and became a volunteer cooking instructor, now a full cooking instructor, and is going to VCU to pursue a career in Health Sciences.
Listen to the Podcast:
The podcast of this program will be available the Monday after the broadcast date. The show can be streamed online from this site and podcasts can be downloaded for free. CDs may be purchased at any time after broadcast for $9.99.