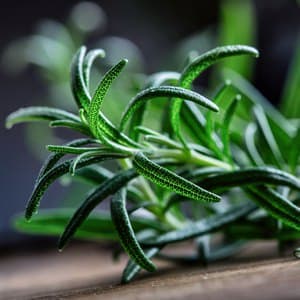 Rosemary. Fresh rosemary herbs. Scissors cut herbs fresh rosemary. Organic aromatic herbs.
Parsley, Sage, Rosemary & Thyme:
Could rosemary in your food be part of the secret to long life? Will sage make you smarter? Will garlic, leeks and onions help you keep your heart healthy? Cinnamon, fenugreek and turmeric all appear to help regulate blood sugar. Could they be useful in warding off type 2 diabetes? What more can herbs and spices do for health?
Getting More Oomph from Our Diet:
How might we change our diet so we get more of the antioxidant compounds from polyphenols in spices and herbs? It is just possible that some of the numerous health benefits from the Mediterranean diet might be attributed to the herbs spicing up the food.
Finding Out What Spices Do:
We talk with Dr. Alan Maisel about his pilot study in an Italian village where the local cooks put rosemary in nearly every dish. The people live a relaxed, active lifestyle and eat the archetypal Mediterranean diet rich in local vegetables, olives and fish. They rarely develop cataracts or other problems associated with old age. What might herbs and spices do to help them live well into their 90s? Could their redolent rosemary be part of the secret?
Call in Your Questions and Stories:
We are interested in your stories and questions about your favorite spices and how you use them for better health. Ask your question or share your story: Call 888-472-3366 between 7 and 8 am EDT on October 29, 2016, or email radio@peoplespharmacy.com
This Week's Guest:
Alan S. Maisel, MD, is Professor of Medicine at the University of California, San Diego. He is Director of the Coronary Care Unit and Heart Failure Program at the Veterans Affairs San Diego Healthcare System. His preliminary research on health and longevity in southern Italy got attention in The Daily Beast and the New York Times.
Listen to the Podcast:
The podcast of this program will be available the Monday after the broadcast date. The show can be streamed online from this site and podcasts can be downloaded for free for four weeks after the date of broadcast. After that time has passed, digital downloads are available for $2.99. CDs may be purchased at any time after broadcast for $9.99.
Announcing our Brand New Book:
How Everyday Kitchen Herbs & Spices Can Lengthen & Strengthen Your Life
If you find our interview with Dr. Alan Maisel intriguing, you will likely love our new book, Spice Up Your Health. In it you will discover key information on culinary herbs and spices that have surprising healing properties.
Take rosemary, for example. Dr. Maisel reports that the people of Acciaroli, a remote village in Southern Italy, love rosemary and eat it at almost every meal. They just happen to live to a ripe old age with great hearts and circulation, very little dementia and virtually no cataracts. Could rosemary, in addition to their Mediterranean diet, lead to longer, healthier lives? Find out about rosemary, thyme, sage and turmeric (plus lots more) in Spice Up Your Life. Here is a link to more information.