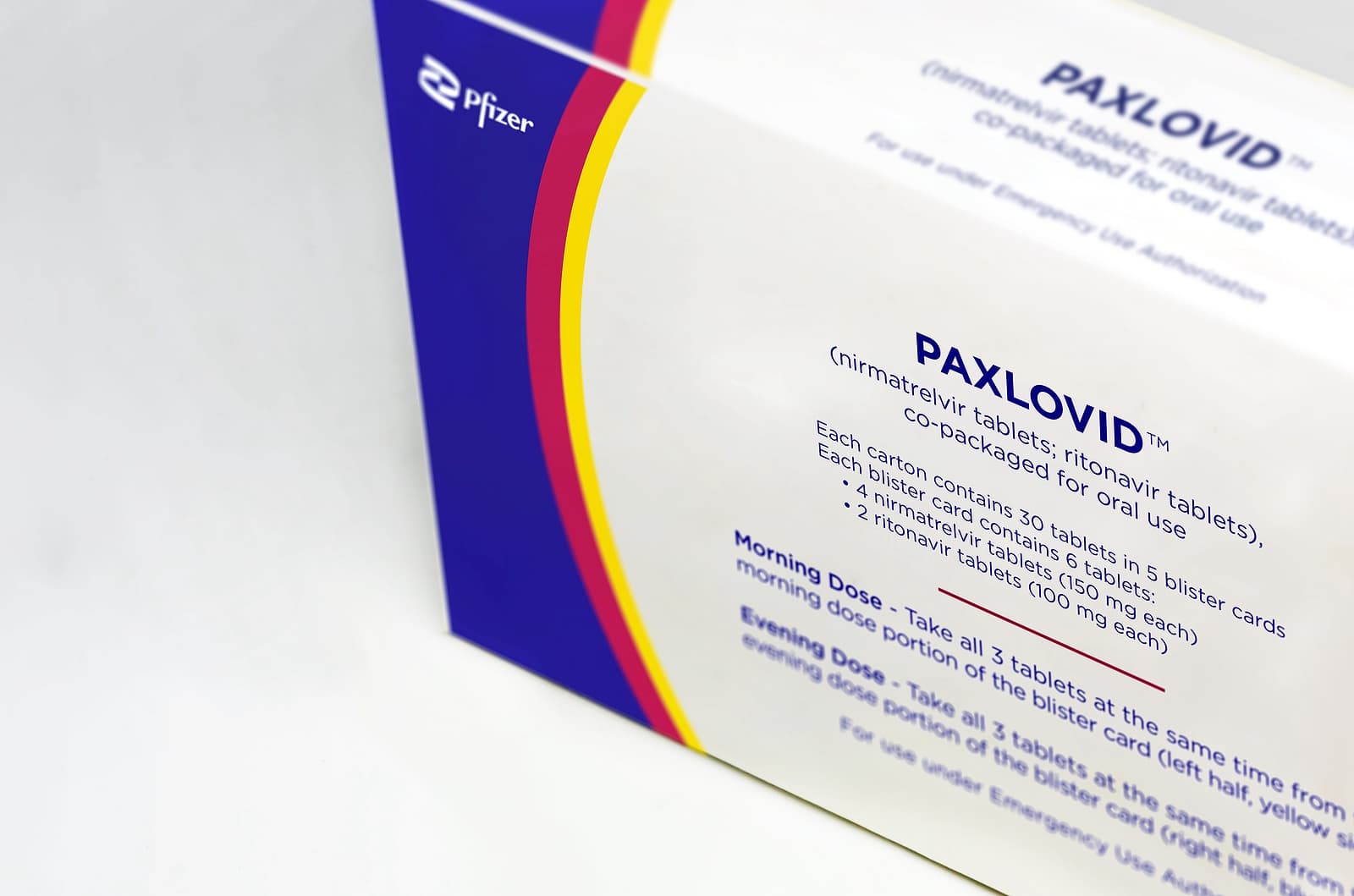 It appears that most people have put COVID out of mind. That's because 99% of people shopping, traveling and attending events are no longer wearing masks. We get it. DONE with COVID seems to be the overwhelming sentiment. And yet we keep hearing about friends and family members who are still catching SARS-CoV-2. The most recent weekly report tallied 2,060 deaths. If you catch COVID, would it be a good idea to take Paxlovid (nirmatrelvir + ritonavir)? All the television commercials may raise that question. Here's one reader's experience:
Glad to Take Paxlovid:
Q. I took Paxlovid and I am glad I did. I am 63, and I have diabetes and hypertension, perhaps because I am overweight.
The day that I tested positive for COVID-19, I started taking medication. My fever was gone, and I felt better in two days. However, I was still fatigued for the rest of the month. I cannot imagine what my bout with COVID-19 would have been like without Paxlovid.
A. A recent study looked at COVID outcomes for people like you with one or more risk factors such as overweight or diabetes (JAMA Internal Medicine, March 23, 2023). Those who took Paxlovid (nirmatrelvir + ritonavir) were about 25 percent less likely to develop long COVID. Even more impressive, they were only about half as likely to die from COVID.
There are caveats, of course. The ingredients in Paxlovid have the potential to interact badly with a number of other drugs. People offered a prescription for this antiviral medicine should ask the prescriber and the pharmacist to check on other medications with an eye to avoiding interactions.
In addition, some people have reported rebound symptoms after stopping Paxlovid. Nonetheless, reducing the risk of long COVID as well as the risk of dying would make this treatment worthwhile for many patients.
Why Some People Should Take Paxlovid:
We know you like to cut to the chase. Here's the bottom line on who should take Paxlovid. People with at least one risk factor for severe disease from COVID would be strong candidates for this medication. That's the conclusion from the study published in JAMA Internal Medicine, March 23, 2023.
Who's at Risk for Severe COVID Illness?
• Anyone over 60
• Anyone who is overweight (BMI greater than 25)
• Current smokers
• Cancer patients
• Anyone with cardiovascular disease
• Anyone with kidney disease
• Anyone with chronic lung disease
• Anyone with diabetes
• Anyone with immune dysfunction
• Anyone with high blood pressure
Why Did People Take Paxlovid?
Researchers analyzed data from the US Department of Veterans Affairs. Patients who tested positive for COVID-19 and were not hospitalized were selected. They also had to have at least one risk factor for progression to severe COVID-19 illness.
There were 35,717 COVID patients who received Paxlovid within 5 days of a positive COVID test. They were compared to over 240,000 similar COVID patients who did not receive antiviral treatment. These were considered the control group
What Were the Results?
People treated with the antiviral drug nirmatrelvir were about 25% less likely to suffer long COVID symptoms. In addition, they were only about half as likely as untreated people to die from COVID-19. It didn't matter whether they were vaccinated and boosted or not. They still got a similar benefit from Paxlovid.
The absolute risk reduction for post COVID complications was 4.5%. The authors conclude that treatment with this antiviral medication significantly reduces the likelihood of long COVID.
In Their Own Words:
The authors of this study concluded:
"This cohort study found that in people with SARS-CoV-2 infection who had at least 1 risk factor for progression to severe disease, treatment with nirmatrelvir within 5 days of a positive SARS-CoV-2 test was associated with a reduced risk of PCC [post–COVID-19 condition] across the risk spectrum in this cohort and regardless of vaccination status and history of prior infection."
What this means is that if people take Paxlovid within the first five days of catching COVID they are substantially less likely to develop long COVID symptoms. That's meaningful. And that's on top of:
"…47% less risk of post–acute death, and 24% less risk of post–acute hospitalization…"
Specifically, which long COVID symptoms were reduced in the group that took the antiviral ingredient in Paxlovid?
"Compared with the control group, nirmatrelvir was associated with reduced risk of 10 of the 13 prespecified post–acute sequelae evaluated in this analysis. Nirmatrelvir was associated with reduced risk of sequelae in the cardiovascular system (dysrhythmia and ischemic heart disease), coagulation and hematologic disorders (pulmonary embolism and deep vein thrombosis), fatigue and malaise, liver disease, acute kidney disease, muscle pain, neurologic system (neurocognitive impairment and dysautonomia), and shortness of breath."
Who Should NOT Take Paxlovid?
The biggest contraindication (no-no) with Paxlovid is dangerous or deadly drug interactions. The ingredients in Paxlovid do not mix well with a ton of other medications! That means your health professionals (doctors and pharmacists) must make sure that you are not taking a medication that is incompatible with Paxlovid! The list is very long.
Here is just the tiny tip of the iceberg. People taking such meds cannot take Paxlovid:
• Aliskiren (Tekturna)
• Amiodarone (Pacerone)
• Aripiprazole (Abilify)
• clopidogrel (Plavix)
• Enzalutamide (Xtandi)
• Flecainide (Tambocor)
• Fluticasone (Flonase, Flovent, Ellipta, Veramyst, etc)
• Prednisone
• Simvastatin (Zocor)
• Thioridazine (Mellaril)
This is a partial list. There are many other medications that can interact badly with Paxlovid. No one should ever take Paxlovid until one or two health professionals verify that it is safe.
Some side effects associated with this antiviral medication include skin rash or hives. Diarrhea and muscle pain are also possible adverse reactions. People with liver problems should probably avoid the drug. Anyone who experiences swelling of the mouth, lips or face (angioedema) or develops tightness in the throat or difficulty swallowing must seek immediate emergency treatment!
Final Words:
COVID-19 has not disappeared. Thousands of people are catching SARS-CoV-2 every day. If you or someone you care about comes down with COVID-19, be prepared to discuss the pros and cons of Paxlovid with a health care provider promptly, especially if you have one of the many conditions that could lead to severe COVID illness.
We know people who are suffering with long COVID. You do not want to be among them! Read more about long COVID at this link, or listen to our podcast: "What Have We Learned About Long COVID?" at this link.
Please share your own experience with COVID in the comment section below. Have you taken Paxlovid? How well did it work? What side effects did you experience? Did anyone double-check for drug interactions? We would very much like to hear your story.