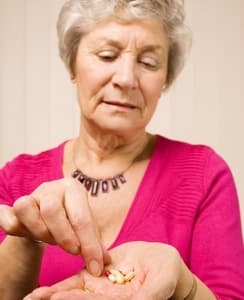 Older individuals who take a benzodiazepine are more likely to experience falls. Medications like alprazolam (Xanax), diazepam (Valium) or lorazepam (Ativan) are frequently used as sleeping pills or for "nerves." Such medicines can relieve anxiety, but they may also make a person less steady on her feet. Should you be concerned about your sleeping pills?
Have You Been Taking Your Sleeping Pills Too Long?
Guidelines suggest that older adults should use such drugs only short-term, if at all. (They are on the Beers list of drugs that are potentially inappropriate for older adults.)  A new study shows that up to one-third of seniors on benzos have been taking them for a long time (JAMA Internal Medicine, online Sept. 10, 2018).
The investigators suggest that prescribers "begin with the end in mind" and discuss a short duration of medication use with patients when the benzodiazepine prescription is first written. Is that how you received the prescription for your sleeping pills?
How to Get Some Sleep Without Taking Your Sleeping Pills:
It can be difficult to stop taking sleeping pills. Part of the problem is that these medications can cause dependence. As a result, after taking them for an extended time (a few months or more), a person may experience withdrawal symptoms if he or she suddenly discontinues their use.
Research suggests that brief behavioral treatment for insomnia (or BBTI) can be an effective strategy (Archives of Internal Medicine, May 23, 2011). In this trial, older adults were randomized to receive printed information or one-on-one counseling with a nurse practitioner. Those receiving behavioral intervention also got a follow-up session and telephone calls to reinforce the training. These volunteers were instructed to limit time in bed, get up at the same time every day, not go to bed until sleepy, and not stay in bed unless asleep.
Data from sleep diaries and instruments indicated significant success at the end of the month. More than half of the subjects who had gone through BBTI no longer had insomnia, compared to 13 percent of those offered information on sleep. The researchers found that the sleep improvements were maintained for at least six months, and believe brief behavioral treatment for insomnia could offer a practical alternative to sleeping pills.
What Should You Do?
Those over 60 should consider the benefits of doing without medications that may have a negative effect on cognitive ability. If you decide that you should stop taking your sleeping pills, discuss your strategy with your health care provider. He or she may be able to provide brief behavioral treatment or some other form of support.
We have heard from some readers about their experience of stopping a benzodiazepine. Here is one report.
Getting Off Klonopin for Insomnia:
Q. I took Klonopin for insomnia for 20 years. To get off it, I tapered it slowly over two years.
Despite this effort, I had severe withdrawal symptoms: burning, stinging, muscle spasms, nerve pain, dizziness, memory problems, nausea, weight loss and others. It has been 19 months since the last dose and I am slowly recovering from this terrible ordeal. I take no prescriptions.
A specialist at a university teaching hospital said results of my genetic test explain why the drug withdrawal was so hard.
A. Doctors often prescribe clonazepam (Klonopin) or other benzodiazepines such as alprazolam and diazepam for anxiety and insomnia. Long-term use can indeed lead to dependence.
You are certainly not the only person who has found it difficult to quit taking a benzo such as Klonopin for insomnia. As you learned by sad experience, even gradual tapering can result in rebound insomnia and other withdrawal symptoms. In some instances, people who stop such a drug suddenly land in the emergency department of the nearest hospital (Santos & Olmedo, Emergency Medicine Practice, March 2017).
What Do Genes Have to Do with It?
A better understanding of the genes that control drug-metabolizing enzymes may explain why some people suffer especially prolonged withdrawal symptoms. Research shows that mice and men with an atypical gene for brain-specific angiogenesis inhibitor I-associated protein 3 (Baiap3) are more susceptible to benzodiazepine dependence (Wojcik et al, Molecular Medicine, July 24, 2013). Women and female mice with this specific gene appear more prone to anxiety.
You may find our eGuide to Getting a Good Night's Sleep helpful. JAMA Internal Medicine has also published a patient page with information on insomnia and its treatment.