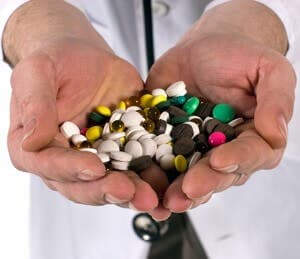 Two hands holding a variety of pills supplements
Vitamin and mineral pills are still controversial, despite years of study. Many doctors have decided that you should get all your nutrients from your food. No doubt you could, if you followed a thoughtful eating plan based on plenty of vegetables, legumes, fruits and nuts. But many Americans don't eat like that, and others take medications that might interfere with nutrient absorption. Should you really stop taking your supplements?
Are You Taking Your Supplements?
Q. I just saw my doctor today and got a good health report. However, he told me to stop taking all supplements. He said there is little proof of benefit and supplements can actually be harmful. Is this true?
A. The only way you will know whether your nutritional needs are being met by diet alone would be to have comprehensive testing. Doctors are not always aware of the contributors to potential deficiencies.
Medicines That May Interfere with Nutrients:
People taking medications like lisinopril for hypertension can be low in zinc, for example. Metformin for diabetes can impact vitamin B1, folic acid and vitamin B12. Acid-suppressing medications such as esomeprazole (Nexium), lansoprazole (Prevacid) or omeprazole (Prilosec) can lead to lower levels of magnesium, selenium and iron as well as several B vitamins.
In addition, people taking medicines for psychological or psychiatric disorders are also at risk for nutritional deficits (Boullata, Current Nutrition Reports, June 2019).
To learn more about the pros and cons of nutritional supplements, you may wish to read Fortify Your Life by Dr. Tieraona Low Dog. Look for it at your local library or at Dr. Low Dog's website: https://www.drlowdog.com
Is Your Supplement Dose Too High?
If you are taking your supplements but not getting the results you expect, you may want to consider the dose. We heard recently from one reader on a high dose of folic acid.
Q.  Can you overdose on folic acid? I am taking a high-potency folate supplement and wonder if I am getting too much. I often feel nauseated and fatigued, and I am having a lot of trouble sleeping. My appetite is gone and I have lost quite a bit of weight.
What really worries me is my lack of concentration. Maybe that is just due to poor sleep. This supplement was recommended by a smart friend, but I now suspect it might not be right for me.
A. Excess folate can lead to problems. According to a study in mice, excess folic acid can have some of the same negative consequences as too little folate (Haematologica, Dec. 2017).
People taking high doses may experience nausea and loss of appetite. Older adults may also experience confusion and trouble sleeping. Some people complain of gas and stomachache, while others are irritable or depressed.
The Recommended Dietary Allowance for folic acid is 400 micrograms for adults. You might be taking a supplement at the upper limit, 1,000 mcg. We suggest you ask your doctor for a blood test and switch to a supplement that does not provide quite so much. Remember that we are all individuals, so the dose that works well for your friend might not be appropriate for you.