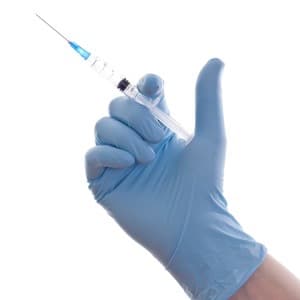 Hand of a doctor with the syringe 21 megapixels
The full court press is on again to get your vaccination against influenza. This happens like clockwork. In the spring the swallows come back to Capistrano. In the fall we see public service announcements and commercials for flu shots.
Headlines Urge: Get Your Flu Shot:
"Flu Season: Vaccine Crucial to Avoiding Illness" WebMD, Sept. 29, 2017
"CDC Kicks Off Annual Flu Shot Drive" DSN Drug Store News, Sept. 29, 2017
"Get Your Flu Shots, US Urges Amid Concerns About Bad Season" AP, Sept. 28, 2017
The Australian Experience:
The word from Australia is that this season's flu could be worse than usual. Their flu season is wrapping up as they move from winter into spring. Experts look to the Australian experience as an early warning for North America.
A virulent strain of H3N2 influenza virus predominated in Australia this past winter. Australian authorities do not know yet how effective their vaccination program was. As a result, U.S. authorities can't predict how well the flu shot will work against the strain likely to cause the most trouble here this year.
Why Should You Get Your Flu Shot Early:
It makes sense for public health officials to urge people to get vaccinated before the viruses that cause influenza start spreading. It can take several weeks after immunization to develop a robust reaction that will protect against infection.
We won't know how effective this year's flu shot is until well after the season is over. That's how long it takes to evaluate the data.
The Influenza Vaccine Track Record:
We can look at past years to get a sense of the overall flu shot benefit. According to an article in the New England Journal of Medicine (Aug. 10, 2017), the 2015-2016 live attenuated quadrivalent vaccine was ineffective in children. As a result, the CDC's Advisory Committee on Immunization Practices is not recommending the nasal spray delivery system (FluMist) for the coming flu season.
The performance of the flu vaccine from year to year is quite variable and often disappointing. While many people think getting a shot will guarantee protection, the actual track record is less impressive.
The CDC publishes information on effectiveness on its website.  Over the last decade or so, this has ranged from 19 percent to as high as 60 percent. Overall effectiveness since 2004 is about 40 percent. Find that hard to believe? Here are the CDC numbers directly from the website:
Vaccine Effectiveness in Past Years:
2004-2005: Vaccine Effectiveness was: 10%
2005-2006: Vaccine Effectiveness was: 21%
2006-2007: Vaccine Effectiveness was: 52%
2007-2008: Vaccine Effectiveness was: 37%
2008-2009: Vaccine Effectiveness was: 41%
2009-2010: Vaccine Effectiveness was: 56%
2010-2011: Vaccine Effectiveness was:  60%
2011-2012: Vaccine Effectiveness was:  47%
2012-2013: Vaccine Effectiveness was: 49%
2013-2014: Vaccine Effectiveness was: 52%
2014-2015: Vaccine Effectiveness was: 19%
2015-2016: Vaccine Effectiveness was: 47%
2016-2017: Vaccine Effectiveness was: 42%
Overall Effectiveness:             41%
Is the Glass Half Full or Half Empty?
For some people, especially public health officials, that track record is good news. For others, the glass is less than half empty. It means that more than half the time flu shots didn't work.
Part of the problem is that influenza viruses do not play by any rules. They are constantly changing. Vaccine choices might have seemed appropriate in February when decisions have to be made for the next season. But by November, the shots might not work as well as expected in the real world. Only time will tell if the experts guessed correctly for the 2017-2018 flu season.
CDC Recommendations:
The CDC recommends that:
"all persons aged 6 months and older in the United States should be vaccinated annually, ideally before influenza activity begins in the community and by the end of October, if possible" (Annals of Internal medicine, Sept. 5, 2017).
Statements from the CDC about Flu Shots:
The public health officials at the CDC are enthusiastic about vaccination. We find some of the statements misleading:
CDC Statement:
"Flu vaccination can keep you from getting sick with flu."
People's Pharmacy Perspective (PPP):
Such an assertion by the CDC seems overly optimistic to us. The CDC itself admits that a flu shot is no where close to 100% effective. We would not argue with the agency if it stated, "Flu vaccination may keep you from getting sick with flu."
CDC Statement:
"Side effects of the flu vaccine are generally mild and go away on their own within a few days."
PPP on Sore Shoulders from a Flu Shot:
The CDC describes "soreness, redness, and/or swelling from the shot." Most people probably don't think twice about a little minor irritation at the site of the shot, especially if it only lasts a day or two. What they don't expect, though, is long-lasting disability. Over the last couple of years we have received a surprising number of reports of severe shoulder injuries after a vaccination:
Readers Share Flu Shot Experiences:
Patrick in Rosedale, MD remains in pain:
"I received a flu shot in November of 2016. As I am writing this letter to you right now, (March 2017), it feels like someone is sticking me with a knife. I feel this everyday since I received it. In the past, I went to my family doctor to get the flu shot, and had no problems . This time, I received it at the high school where I teach. I was thinking, maybe the head of the needle was thicker, or the fluid was more potent. Who knows? I guess it is something I have to live with."
Florence in PA is also hurting:
"I work in a hospital and as a clinician we are mandated to get annual flu shots which I have done for 2o years with No problems. I had the flu vaccine in Oct 2016 with RN giving it very high in my left shoulder. The pain started that night and by morning I could not raise my arm above my head and had to take pain meds to sleep. In Feb. 2017 it still is sore, though thankfully not as severe. I do not think I will ever consent to another of these vaccines!"
Elaine in Forest Lake says:
"I am 80 years old and in good health, or was until I got the flu shot by a pharmacist. I have had extreme pain in the arm where she injected me, extending all the way up to my shoulder. It was done high up by the shoulder, even though I questioned why. The pharmacist and my doctor said they never heard of this happening. It's been 5 weeks now, and the pain keeps me awake at night, and every movement in the left arm is painful. It's not getting any better, and is affecting my quality of life, to say the least."
Joe in Ohio is mad as hell:
"I am 67 and had a flu shot in Dec 2015. The next year was the worst year of my life. I had symptoms of neuritis, GBS-Guilliane Barre syndrome, polyneuropathies, on-and-on. Too many symptoms to list here.

"It started as numbness, pain, tingling and weakness in hand, arm, shoulder, back, lungs, bladder, etc, etc. – 3 specialists later- NO Diagnosis. I was told it was probably not from flu shot. Are they crazy?! – 1 year of crap pain, and No help or answer from Doctors! – What is this that keeps me up at night, month after month?!"
Carol in Panama City, FL had her shot in September:
"I got my flu shot September 6, 2017 in the upper back part of right arm close to my shoulder. I expected some soreness for a couple days but now it has been 3 weeks & I am still suffering with arm & shoulder pain where the injection was.

"I have had to take Aleve off & on both day & night & use a pain patch on my shoulder area near right side of neck several times especially when I can't sleep. I have gotten the flu shot for at least the last 10 yrs. & the 65+ for last 7 & have never had any lingering pain as I have this time."
Lori in AZ says it's happening in 2017
"I received this year's flu shot over a week ago. The pain is still really bad at the injection site. I didn't even know this was possible. It looks like it happens to a lot of people. This year is no different."
Dawn in Sydney, Australia was also affected:
"I had a flu shot 2 weeks ago and the pain in my arm is so severe that I cannot lift it past my shoulder and need help to take off clothes. The pain wakes me when I try to sleep on that side. And it is constantly aching. I have had flu shots before and never had this pain."
Diane in Cincinnati, OH has really long-lasting pain:
"I had the flu shot two years ago, I am 75 years old and had the shot at my pharmacy. The pain in my right arm started about an hour later and now two years later the pain goes all the way down into my fingers. They kept telling me it was normal and would go away. No amount of pain medicine helps. It was probably the four strain shot but I don't know for sure."
What Should You Do When You Get Your Flu Shot?
We are old school. We remember when nurses and physicians administered vaccinations. We still like that idea because they presumably have been trained in the proper technique. That's not to say pharmacists can't administer the flu shot correctly, just that we have received a lot of complaints from people who got their vaccination from someone other than a nurse or physician.
Find out the manufacturer of your vaccine! Most people never bother to ask what company made the vaccine. If you are injured you will need some basic information:
What vaccine did you get?
What company made the vaccine?
What was the lot number?
When did you get your flu shot?
We think it makes sense to use your phone to take a picture of the vial. Ask whomever administers the shot to answer the above questions and record them someplace you can access the information in the future. Hopefully, there will be no problem and no need for this information.
If, however, you do experience problems, you will have the data you need to file a complaint. By the way, the government offers a website to report such reactions: https://vaers.hhs.gov/index
People who have long-lasting injury due to vaccinations can apply for compensation. The National Vaccine Injury Compensation Program has a phone number (800-338-2382) and a website.
What Else Can You Do About the Flu?
Will Washing Your Hands Work?
What about other strategies? We are told repeatedly to "wash your hands" to avoid catching or spreading the flu. Sadly, there is no convincing evidence to support handwashing alone (Epidemiology and Infection, May, 2014).  If, however, we add facemasks, like people in certain other cultures, then it is possible to reduce the spread of influenza viruses.
If all else fails, antiviral medications such as oseltamivir (Tamiflu) may speed recovery, especially for people at high risk of complications. The sooner it is taken, the more effective it is.
Want to read more about the influenza vaccine and shoulder pain? Here are some links: