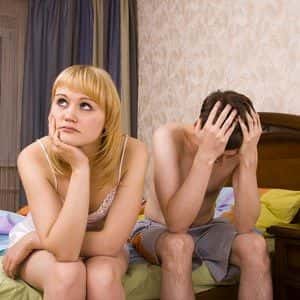 Prescribers know that they are supposed to inform patients about common side effects and potentially serious adverse reactions. When this is done correctly and the patient decides to take the medicine it is called "informed consent." But there is one complication prescribers hate to talk about. It turns out that sexual side effects are quite common, especially when it comes to antidepressant medication. Doctors do not always mention this complication. The idea that this adverse reaction might last after the drug is discontinued is even more disconcerting.
When Sexual Side Effects Are Dismissed:
Q. I am taking fluoxetine for depression and something unsettling is happening. After years of a satisfying sex life, I am now unable to achieve orgasm.

I asked my doctor if this could be a side effect of the medicine but he was not very forthcoming. He offered to prescribe a different antidepressant but he wasn't very reassuring that it would be substantially better.

I still can't believe that this could be a complete coincidence. Are there any antidepressants that don't screw up your sex life? I have to take an antidepressant or I fall off a cliff psychologically.
A. The vast majority of antidepressants can, according to the FDA, affect "sexual desire, sexual performance and sexual satisfaction." Many make it difficult to achieve orgasm.
That is especially true for SSRI (selective serotonin reuptake inhibitors) antidepressants like fluoxetine, paroxetine and sertraline. Newer antidepressants such as Celexa, Cymbalta, Lexapro and venlafaxine are also capable of interfering with a satisfying sex life.
You may want to ask your doctor about bupropion (Wellbutrin). This antidepressant works differently from all other antidepressants. It affects dopamine receptors rather than interacting primarily with the neurochemical serotonin the way SSRI-type antidepressants do. Bupropion does not appear to lower libido or interfere with orgasm.
In one study it was actually found to restore sexual function. Subjects with low libidos were recruited and split into two groups. Half were given a sugar pill and half received bupropion. Within two weeks those on bupropion began to report more interest in sex. After three months, over half of them were making love more often. One of the researchers reported that "the effects we saw in several women who'd had trouble having orgasms were stunning."
Another scientist, Helen Kaplan, who was director of the human sexuality program at Cornell Medical Center in New York City at the time, noted that "Wellbutrin is really the first sensible sexual stimulant we've ever had."
Another study of people with type 2 diabetes and depression concluded that:
"Bupropion treatment of major depressive disorder had few sexual side effects and was associated with significant improvements in sexual functioning."
Bupropion is not without side effects. Learn more about them here. Many visitors to this website have reported problems with some generic formulations of bupropion. You can read their stories by clicking on this link.
Long Lasting Sexual Side Effects Are Surprising:
Most prescribers believe that when a drug is discontinued any adverse reactions will gradually fade away. That may not always be true with sexual complications. This reader shares her story:
Q. I have been taking escitalopram for eight years. Within four years on this antidepressant, I started having sexual side effects, especially delayed low-intensity orgasms and low sex drive.

Now that I'm engaged, I am trying to wean off escitalopram so I will like having sex more. I've gone from 20 mg to 5 mg. My desire is higher, but my orgasms are becoming even less intense and more delayed. There's just no sexual pleasure any more.

What a puzzle! I thought this situation would get better. Instead, it has gotten worse: higher sex drive, less orgasm.
A. Sexual side effects are common with the type of antidepressant you are taking (SSRI, or selective serotonin reuptake inhibitor). They include lower libido, erectile dysfunction, genital anesthesia, delayed ejaculation or orgasm or inability to achieve orgasm. Most people expect such symptoms to disappear once they stop taking the medication, but that doesn't always happen.
Your experience has a name. Researchers call it post SSRI sexual dysfunction (PSSD). Sadly, there is not much information about this condition.
A review published in the journal Expert Opinion on Drug Safety (April, 2022) concludes:
"Little is known about the mechanisms underlying PSSD and no effective treatment exists. It is necessary to increase recognition of PSSD among prescribers and improve its management at the clinical level."
It's Not Just Antidepressants!
Several years ago we started hearing from readers of our syndicated newspaper column that some prostate pills were also causing libido problems. More worrisome, though, were reports that sexual side effects might be long lasting.
The drugs in question include dutasteride and finasteride. They are prescribed for men with enlarged prostate glands. When sexual side effects are persistent, even after the drugs are discontinued, it can be disheartening. Here is a link that will provide more insight into this problem.
There is even a name for this condition: "post-finasteride syndrome" or (PFS). You can read more about in this article published in the journal International Journal of Risk & Safety In Medicine (Feb. 22, 2022). It is described this way:
"Finasteride, dutasteride and saw palmetto are 5 alpha-reductase inhibitors that can trigger an enduring sexual dysfunction with a very similar profile to PSSD [post-SSRI sexual dysfunction]. As the name suggests, PFS is most commonly associated with finasteride which was licensed for the treatment of male pattern baldness in 1997. In 2011, a warning for erectile dysfunction that persisted after stopping treatment was added to the US product label for the finasteride products, Propecia and Proscar. This was updated in 2012 to include libido disorders, ejaculation disorders and orgasm disorders that continued after discontinuation of Propecia, and decreased libido that continued after discontinuation of Proscar."
If you would like more information about how drugs can affect human sexuality, you can download our FREE guides on this topic.