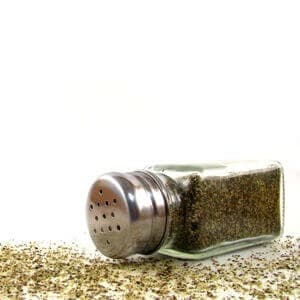 We have been collecting home remedies for years. One fascinating remedy is a way to stop bleeding from a minor cut. It is very simple: just put ground black pepper on the cut and cover it with a bandage. Here are three stories from people who have tried this remedy with success.
Ground Black Pepper Stopped Bleeding:
Q. I cut my finger badly and put ground black pepper on it. It stopped bleeding instantly, with no scar or anything the next day. I am on warfarin, but that made no difference to pepper's ability to clot an open wound instantly.
A. We first learned about putting ground black pepper on a minor cut to stop bleeding over 20 years ago. Since then we have heard from many readers who have found this remedy effective.
Your results are especially impressive because you are on an anticoagulant. We don't always expect black pepper to work in such circumstances.
Black Pepper Stopped Bleeding from a Cut:
Q. I cut the side of my finger with a knife while slicing a watermelon. The cut was deep and bled profusely.
I remembered reading about putting black pepper on the cut. I used a lot of black ground pepper and eventually it stopped enough so I could wrap it in a diaper and head to the ER.
The staff had never heard of using pepper to stem the bleeding. Once they washed the cut out, glue was used to close the wound.
A. Some emergency department doctors have complained that pepper may increase the risk of infection. We're glad you got prompt medical attention to avoid that complication.
We also urge people to use pressure to stop bleeding as primary first aid. Do not to attempt to treat a serious wound that is spurting blood with ground black pepper. In that situation, apply pressure and call an ambulance.
MCD shared this story:
"I fortunately recalled black pepper as a remedy to stop bleeding when a heavy object swung into my shin bone creating a deep slice and leaving just a flap of skin and a lot of blood. Since reading about black pepper via Peoples Pharmacy, I keep a large container of black pepper in the kitchen. I expected it to burn when I poured it on, but it did not; it did stop the flow of blood immediately. I did not try to clean the pepper out of the wound, but left it alone and the healing process started quickly. I'm a believer!"
Black Pepper Saved the Day:
Q. At Thanksgiving my son-in-law sharpened my knives, but he cut his thumb and finger badly in the process. I quickly said, "Let's put pepper on it." His thumb could probably have used a suture, but I live on top of a mountain, far away from a hospital.
He thought I had totally lost my mind, but after he looked it up on his smart phone, he agreed. I had only whole peppercorns, so we had to grind them. Nonetheless, the pepper worked like a charm to stop the bleeding. The cut healed up nicely by the end of the weekend.
I now keep ground black pepper in my first aid kit in my car and in the medicine cabinet. Thank you for alerting me to this remedy.
A. Black pepper (Piper nigrum) has been valued for medicinal and culinary uses since the time of Hippocrates. It is also used in Ayurvedic (traditional Indian) medicine to treat a variety of ills.
Normally we caution people to use pepper only for minor cuts and to get medical attention for serious wounds, but we are glad that it worked so well for your son-in-law's injury.
Another reader had a similar experience:
"While washing some glasses, one broke. I had a deep cut on my hand. I couldn't stop the bleeding with pressure. I remembered the black pepper hint on this site. It worked immediately and stopped the bleeding. Healed perfect with no sutures. I now keep a large can of black pepper in my kitchen just in case."
Lon wrote:
"I too had a serious cut somewhere where medical attention was not readily available. Not only did it coagulate almost immediately, it healed faster and there was no scarring. From that day forward I have included black pepper in every emergency kit I prepare."
In addition, WDB said:
"In any superficial wound, just about any applied foreign substance will have a cauterizing effect on the frail capillaries in the base of the wound and hasten coagulation but the ultimate healing will probably proceed more rapidly if the wound is just kept clean and for a short period (depending on wound depth) protected with a light dressing."
You can learn more about such simple home treatments in our book, The People's Pharmacy Quick & Handy Home Remedies.