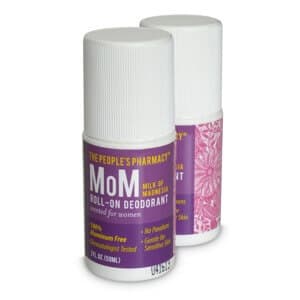 Just in time for Mother's Day, we are offering a special 20% off discount on our Women's Fragrance MoM (milk of magnesia) aluminum-free deodorant. Would your mom appreciate an underarm product with no aluminum whatsoever? This effective and gentle deodorant has a light floral fragrance and is 100% free of aluminum.
We developed People's Pharmacy MoM Roll-on Deodorant with milk of magnesia as its main ingredient thanks to countless testimonials from our readers. If you're a mom, why not treat yourself to this special sale before the hot weather begins? But hurry: the discount is only good this week, from May 12-May 19, 2023.
MoM Lovers Review MoM:
An Austin, Texas visitor says that MoM "Won't Clog Pores":
"Some time ago, my dermatologist told me to stop using antiperspirants because they were blocking my underarm pores, which caused itching. I tried another less expensive deodorant, but it was wax based, and it also caused itching. So I've been using this MOM exclusively for years. Works great. Stops odor, and I really don't perspire much either. My only complaint is it's too expensive."
We sympathize with the price challenge. Our product is made in North Carolina, not abroad! The price of materials has gone up, which means we have had to charge a bit more. That's why our 20% off 2023 Mother's Day sale is an opportunity you should not miss!
A Maryland visitor says she waited too long:
"Love it. This one works! I work and work out hard, and it doesn't let me down. My other antiperspirants left a stinky, sticky residue on my clothes, but this doesn't leave anything. Nice fragrance but not overwhelming. Easy to apply and dries quickly. I have heard of this for years but didn't believe it. Sorry I waited so long."
The coupon code is MOM4MOM23 and you will need to enter this code exactly as it appears (using capital letters) in our online shopping cart when you are ready to check out. Just click the link "Have a coupon?" that appears below the cart, enter the code and enjoy your 20% savings!
More Mother's Day Opportunities!
But wait! The May 14, 2023 Mother's Day Sale has some other options. If you would like to provide your mother some delicious lip balm, you can also order either our berry or pomegranate-flavored lip balm at 20% off. The same discount code will work: MOM4MOM23.
There's one more gift opportunity that will provide practical health information for many years. It is our book, The People's Pharmacy Quick & Handy Home Remedies. This book was out of print for several months, but we begged the publisher (National Geographic) to print some extra copies just for us. This will likely be the last time the book is printed, so take advantage of our 2023 20% Mother's Day sale.
If you believe that mothers around the world have a great deal of generational wisdom to share about healing traditions, our Quick & Handy Home Remedy book is the perfect gift. Remember, use the discount code MOM4MoM23 for all your savings on our special Mother's Day gifts.