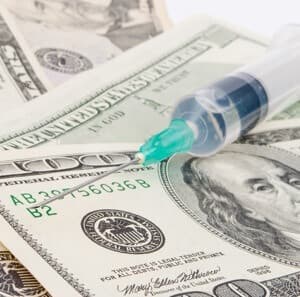 The 5,000% increase in the price of Daraprim, the drug for toxoplasmosis, has received a lot of media attention. But many other drugs have had hefty price increases in the past year, and this has hit Medicare's bottom line hard.
Medicare is the government's insurance program for people 65 or older, people with disabilities and those with kidney failure requiring dialysis or a transplant. The Center for Medicare and Medicaid Services (CMS) has tagged five drugs that have greatly raised costs on the Medicare Part D drug benefit. While some very expensive brand-name drugs are understandably problematic, there are also many generic drugs that are causing budgetary woes.
Breaking the Budget for Medicare Part D:
At the top of the list is pain reliever Vimovo, with a 500% increase. This drug is a combination of naproxen and esomeprazole.
Medicare spending on prescription drugs rose nearly 17% in 2014, far more than the rate of inflation. Other drugs with steep price increases include very old generic medicines captopril for high blood pressure and digoxin for heart conditions. The injectable form of vitamin B12, cyanocobalamin, went up 78%.
Brand-name drugs that account for significant Medicare spending include Abilify for treating schizophrenia, Crestor to lower cholesterol, Sovaldi for hepatitis C and Rituxan for cancer.
Rising Drug Prices:
The inexorable and exorbitant rise in prescription drug prices has been apparent for about the past five years. And the pace seems to be accelerating. While the pharmaceutical industry often justifies high drug prices by the need to invest in research and development, many of the medications with soaring prices are very old compounds with costs that were amortized long ago.
It is not surprising that a program that focuses largely on senior citizens would be hit hard; older people tend to have more health problems and more chronic conditions, so they end up taking more medicine. The shame is that the government has not figured out any way to manage this budget without harming the beneficiaries.