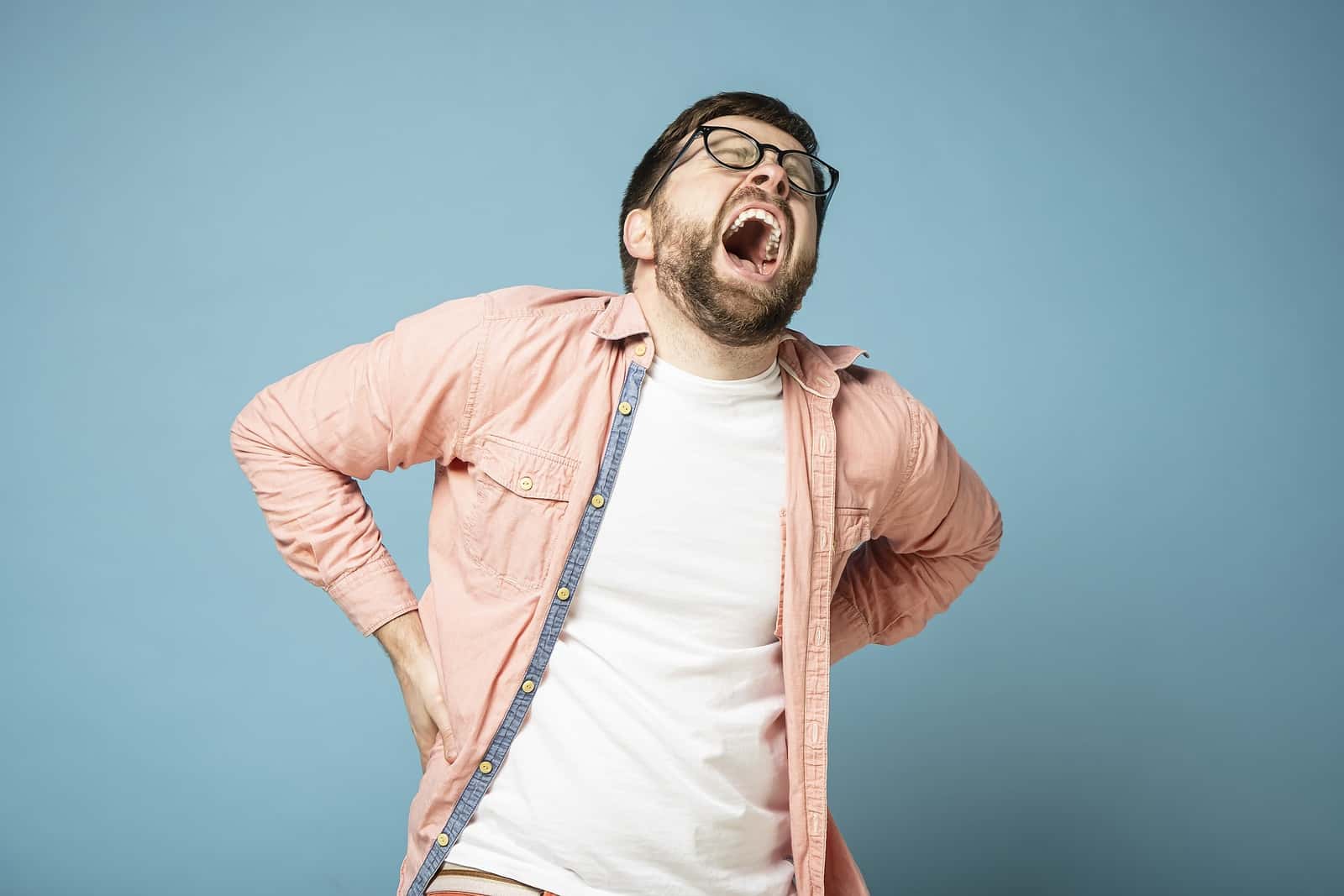 Patients living with severe chronic pain have limited options. Opioids have been shunned. You can read about how the "War on Opioids Punishes Desperate Pain Patients" at this link. Doctors have substituted drugs such as gabapentin (Neurontin) and pregabalin (Lyrica). Are these medications being overprescribed? Learn about the downsides of such drugs at this link. Then there is tramadol (Ultram). It is often promoted as nonaddicting, but side effects and withdrawal can be challenging. Low dose naltrexone (LDN) may offer an interesting alternative for some people in pain.
People in Pain Are Trapped!
People who suffer with severe chronic pain often face a difficult dilemma. Opioids aren't considered appropriate for long-term use. Physicians and pharmacists may be chastised by their professional organizations if they repeatedly prescribe or dispense such drugs.
NSAIDs like diclofenac, ibuprofen, meloxicam or naproxen can lead to dangerous side effects including bleeding stomach ulcers, high blood pressure and heart attacks. As a result, finding a way to manage chronic pain can be quite a challenge.
What Is Low Dose Naltrexone (LDN)?
There are two powerful opioid antagonists: 1) naloxone (Narcan) given as an injection or nasal spray in the case of narcotic overdose and 2) naltrexone administered orally in the treatment of alcohol dependence and to block opioid activity in the brain. There is a growing interest in  low dose naltrexone (LDN) for the treatment of pain. Doses range from 1 to 4.5 mg instead of the standard 50 to 100 mg dose.
A Very Old Drug!
Naltrexone was developed in the 1960s. The FDA approved it under the brand name Trexan in 1984 to treat people with opioid use disorder. Most physicians have never heard of low dose naltrexone (LDN) because the FDA has never approved this drug for pain.
A reader found LDL helpful against serious pain:
"Thank you for writing about low dose naltrexone. I have spinal stenosis and osteoarthritis. Because I suffered a major stomach bleed while on meloxicam, I cannot use NSAIDs.

"I have tried several common remedies without much success. Grape juice and Certo relieved the joint pain but it caused a major stomachache. So did tart cherry juice.

"My primary care physician looked at me like I'd pulled a gun on him when I asked for low-dose naltrexone (LDN). My pain doctor had a more subdued reaction but still wouldn't prescribe it.

"A compounding pharmacy suggested a naturopath. My first clue to how good this stuff is was when I slept through the night for the first time in months. All this time, I'd thought it was my bladder waking me up three to four times a night. Instead, it was aches and pains all along.

"When I work in my yard, I'd limited myself to two-hour shifts before. Now I can go up to five hours. I used to think twice before bending over to pick something up, but now it's routine. Low-dose naltrexone probably won't work for everyone but for me it is truly an enormous help.

"There's a lot of misinformation out there. I switched primary care providers over this and my new one warned me that naltrexone is an opioid."
A. It is discouraging to learn that a physician called naltrexone an opioid. It is just the opposite. Naltrexone is an opioid antagonist similar to naloxone (Narcan).
That means it blocks the action of opioid-type narcotics. When people overdose on drugs like heroin, morphine or fentanyl, naloxone quickly kicks these compounds off receptors in the brain. People awaken from a coma and start breathing again.
Why Won't Doctors Consider LDN For Pain?
Another reader wanted to know why doctors won't consider prescribing low dose naltrexone:
Q. I suffer from arthritis pain in my joints and muscle pain due to old injuries as an athlete. This limits my ability to exercise. I have hypothyroidism, so I have difficulty losing weight and managing my blood pressure as a result of the ongoing pain as well as the NSAIDs I take for it.

I have read about low dose naltrexone (LDN) and have discussed it with my primary care provider. He insists I should stick to aspirin and NSAIDs. Given the reported safety and effectiveness of LDN, why don't doctors prescribe it? This is particularly irksome since there is so much concern about opiates.
The answer is that most MDs never learned about low dose naltrexone in medical school.
The FDA has never approved LDN for treating pain or inflammation. And because naltrexone is no longer under patent, no drug company is likely to spend money to see if it could be repurposed for other conditions. There is some reason to believe that at low doses it helps regulate the immune system.
Auto-Immune Disorders Are Hard to Treat:
There is mounting evidence that LDN may offer unique benefits against a number of auto-immune conditions as well as chronic pain. Norwegian researchers compared before and after results among patients receiving low-dose naltrexone and found that those on the drug needed fewer NSAIDs and other arthritis prescriptions (PLoS One, Feb. 14, 2019).
They conclude:
"Randomised clinical trials should be performed to investigate whether LDN has a place in the treatment of rheumatic disease, either as an alternative or as an add-on to established pharmacotherapy. The expired patent on naltrexone makes commercial studies unlikely, but the low cost and LDNs outstanding safety profile make it an attractive candidate for both patients and those who pay for health services."
Remember, we are talking about doses of 1 to 4.5 mg. The doses that the FDA has approved and doctors prescribe to treat alcoholism or opioid use disorder are up to 100 times that.
Is There Any Science?
Some doctors do prescribe naltrexone to ease the pain and inflammation associated with conditions such as fibromyalgia, chronic pain syndrome, MS and Crohn's disease (Current Pain and Headache Reports, Aug. 26, 2020).
There are reports that the drug can help treat a range of other health problems with minimal side effects (Clinical Rheumatology, online, Feb. 15, 2014). We do need large, well-controlled clinical trials of low dose naltrexone (LDN) to confirm its benefit/risk profile though!
Most people tolerate LDN well, although some report nausea, nightmares or vivid dreams. Taking it in the morning may reduce sleep disturbances.
Here is another report from a reader.
Chronic Pain Relief:
Q. I have dealt with body pain for many years. Like the proverbial frog in boiling water, my pain increased gradually over the years and I just dealt with it. I wasn't using meds because I seem to have so many side effects from them.

This summer my doctor put me on low dose naltrexone (LDN). It is not an opioid.

Medical oversight is essential for people switching from opioids to LDN. Not all doctors know about low dose naltrexone, so it is essential to find a doctor who is experienced in prescribing this medicine.

LDN has definitely helped me with my pain. I can even think and do activities. I have not noticed any side effects.

The studies of LDN are very interesting and there is potential that it might be used for more than just pain.
New Uses for Low Dose Naltrexone (LDN)
Low dose naltrexone (LDN) is being investigated for its ability to relieve the pain of fibromyalgia (Current Rheumatology Reviews, March 21, 2017). People are also considering it as a possible treatment for Crohn's disease, multiple sclerosis, chronic fatigue syndrome and ALS aka Lou Gehrig's disease (NIPH Systematic Reviews, April 2015).
While you are right that the studies are interesting, a lot more research is needed to determine which conditions might respond well to LDN. It appears that this treatment is nontoxic as well as affordable (Multiple Sclerosis Journal–Experimental, Translational and Clinical, Sep. 29, 2016).
How Does Low Dose Naltrexone (LDN) Work?
There are several proposed mechanisms of action for this drug. The leading hypothesis is that LDN blocks opioid receptors. The body then compensates by manufacturing its own natural (endogenous) opioids. LDN may also have anti-inflammatory activity. Both naloxone and naltrexone appear to protect nerve cells and may have direct pain-relieving activity of their own.
Low Dose Naltrexone (LDN) Downsides:
The FDA has approved a 50 mg pill of naltrexone. To our knowledge, there are no low dose naltrexone (LDN) pills available in drug stores. As a result, they must be specially prepared by a compounding pharmacy.
If a patient tries to split up a 50 mg tablet into tiny chunks it is likely the dose will be completely off. That would lead to inconsistent dosing.
Although low dose naltrexone (LDN) is being prescribed by some physicians, long-term safety studies for chronic pain patients have not been carried out. The drug seems relatively safe, though. Vivid dreams are one of the most common reactions. Some people may find this an acceptable trade off rather than a disturbing complication.
One way to reduce this complication might be to take the drug in the morning rather than the evening. The prescriber should do some checking about the appropriate strategy for phasing in the medication and the best time of day to take it.
Low Dose Naltrexone (LDN) Upsides:
The drug should be relatively inexpensive compared to most other treatments for chronic pain. Normal dose naltrexone (50 mg tablets) cost under $40 for a months supply. A compounding pharmacy should not charge an outrageous amount for making low dose naltrexone.
LDN is being studied for a range of health conditions.
"Naltrexone in much lower doses than 50 mg has been used in Norway for the treatment of a variety of diseases, such as multiple sclerosis (MS), Crohn's disease, fibromyalgia, cancer, inflammatory bowel disease, chronic fatigue syndrome, and amyotrophic lateral sclerosis."
The authors note, however, that the research to date has been of very low quality and they could not determine "whether the use of naltrexone in low doses is effective or safe."
The People's Pharmacy Perspective:
Much more research needs to be done on low dose naltrexone (LDN) (1 to 4.5 mg) before many clinicians will consider this approach. It is unlikely that any pharmaceutical company will spend the money to prove safety and efficacy for chronic pain. That means the FDA is not likely to approve it for anything other than alcohol abuse or to block narcotic drugs. That's a shame, because in doses of 1 to 4.5 mg it seems safer than many of our current pain meds.
There is even a little bit of data to suggest that LDN might be helpful for some patients with long COVID (Brain, Behavior, & Immunity- Health, Oct. 2022):
"LDN is safe in patients with PCS [Post COVID-19 Syndrome] and may improve well-being and reduce symptomatology in this cohort. Randomised control trials are needed to further explore this."
"Cases reported significantly greater pain reduction (-37.8%) than controls (-4.3%). Whole sample multivariate modeling predicts 33% pain reduction with LDN, with number needed to treat (for 50% pain reduction) of 3.2. Patients with neuropathic pain appeared to benefit even more than those with 'nociceptive'/inflammatory pain. Conclusion: LDN is effective in a variety of chronic pain states, likely mediated by TLR-4 antagonism."
A "number needed to treat" (NNT) of under 10 is considered very impressive. In the above study the NNT was 3.2. That means that one out of three patients got benefit.
By comparison, the NNT for statin-type cholesterol-lowering medicines in the primary prevention of heart attacks and strokes is 140, according to Dr. John Abramson and colleagues (BMJ, Oct. 22, 2013). Physicians consider statins absolutely crucial medicines to prevent heart attacks even with a high NNT.
You can learn more about the "official" use of naltrexone at this link:
If you have had experience with low dose naltrexone for pain, please share your story in the comment section below.