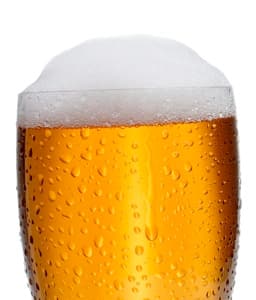 What causes headaches? Different people may find that their headaches have different triggers. Those who suffer from regular severe headaches such as migraines are usually eager to find the cause so they can avoid it. One reader discovered that beer is behind his headaches.
Debilitating Headaches Due to Beer:
Q. I have suffered from regular severe debilitating headaches for a few years. They don't respond to medication.
After months of extensive (and often painful) experimentation, I discovered that they are due to beer! This was a huge surprise to me, since I was born in Milwaukee and enjoyed beer without headaches for 35+ years before this started. Now, a single pint can cause a staggering headache lasting over 12 hours.
Not every beer does this: Guinness and some German beers are fine, but IPAs and craft beers are a problem. Internet research has revealed other people who suffer from the same problem.
My doctor never heard of it. I have not seen the culprit identified. Dehydration is not the issue.
I am thrilled now that I have identified the root of the problem, but I'd like to know what ingredient is causing the problem. Then I could identify other beers that I could drink without further painful trial and error.
Beer as a Headache Trigger:
A. A review of the role of dietary factors in headaches clearly implicates beer as a trigger (Zaeem, Zhou & Dilli, Current Neurology and Neuroscience Reports, Nov. 2016). In fact, it was far more likely to bring on a migraine than red wine.
The authors suspect that the key ingredient in foods such as cheese, chocolate, red wine and beer that causes head pain mischief is tyramine. It is more common in unpasteurized or tap beers. That's because they continue to ferment in the bottle or keg.
Unfortunately, we can't tell you which type will leave you headache-free. You may still have to experiment (cautiously) to find other varieties that are safe for you.
Could It Be a Hops Allergy?
Another reader, Marion, responded to this question:
"In regards to the gentleman from Milwaukee who is getting headaches from beer…I have the same issue. I also have brewed beer (and hail from Milwaukee). While learning to brew, I learned that some people, myself included, have an allergy to hops. Guinness is light on hops. Lagers and brown ales are light on hops.

"Your reader may have a hop allergy and might want to stick with beers that are low in hops. A lot of the craft beers have too much hops for me to drink without getting a splitting headache.

"A sommelier also taught me that red wine headaches may be due to an allergy to yeasts that aren't filtered out and to drink lots of water and take a Benadryl after drinking red wine. Perhaps this may work with hoppy beers. I haven't tried it. The sommelier also told me that red wines from Sicily, Sardinia and Priorat have highly specialized farming practices that eliminate the headache-causing yeasts. I have found I can drink these wines without issue."