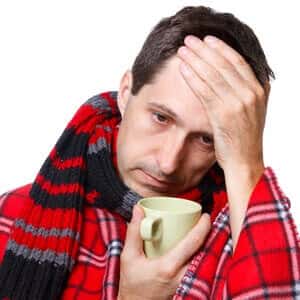 "Man flu" is a derogatory term that some people (women, mostly) use to describe a fellow suffering with sniffles, congestion and a cough. It implies that men can be wimps when they come down with any kind of infection. But perhaps that is not quite fair. When men catch the flu, are they sicker than women or do they just complain more?
Is Man Flu Different from Regular Flu?
A new study in the Christmas issue of the BMJ suggests that premenopausal women have an immunological advantage over their male counterparts (BMJ, Dec. 11, 2017). Immune system cells cultured with cold-causing rhinoviruses responded differently according to whether they were from men or women. The female cells were more effective in responding to the viruses. Mice demonstrate similar sex differences.
One possible explanation is hormonal. Estrogen may promote immune responses while testosterone may be somewhat immunosuppressive.
What Should You Do About Man Flu?
Now that flu season is in full swing, we should cut men some slack when they come down with symptoms of influenza. Male or female, everyone needs to stay home and recover from a serious upper respiratory infection. Not only might you feel better sooner, but you won't be spreading your germs around.
Even though this year's flu shot may not prove to be very effective, experts still recommend vaccination now before you get sick. Keep in mind that antiviral medications such as oseltamivir (Tamiflu) or zanamivir (Relenza) can speed healing, but only if taken right at the start of an infection.