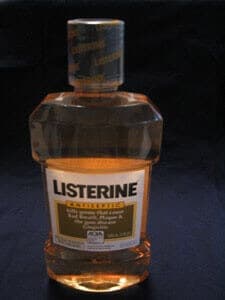 Some household staples are so versatile that people use them for nearly everything. Where would we be without baking soda and vinegar in the kitchen cupboard and Epsom salts or Vicks VapoRub in the bathroom medicine chest? And then, of course, there is also Listerine. One reader describes it as a first aid kit in a bottle:
Q. For many years at sea, I employed Listerine for almost everything–as an antiseptic for cuts, as an after-shave lotion, for an itchy scalp or dandruff, for rashes, pimples or mosquito bites and, oh yes, also as a mouthwash. It was my first aid kit in a bottle – and still is today.
What Can Listerine Be Used For?
A. We have been intrigued by the many uses people have found for this old-fashioned mouthwash.
Listerine to Fight Itch:
Some people report that Listerine is helpful against eczema. One person wrote that it was extremely helpful against itch of unknown origin.
Q. When my father's health was failing, he suffered from an uncomfortably itchy back. He asked me to rub original formula Listerine on it for relief. I was skeptical but happy to do it. When he expressed great relief, I ordered a case of the stuff and applied it whenever I visited him.
A. Original amber Listerine contains eucalyptol, menthol, thymol and methyl salicylate. Menthol is a classic ingredient in anti-itch remedies. It works by activating TRPM8 channels in the nerves of the skin and calming the itch sensation.
Topical Treatment for Skin and Nail Fungus:
In addition to the uses you have mentioned, people also tell us that soaking feet in Listerine and white vinegar can overcome nail fungus, foot odor and athlete's foot. Jock itch also seems to respond to treatment with the old-fashioned mouthwash.
Listerine as a Treatment for Lice:
Many readers have also discovered that amber Listerine is surprisingly effective for killing lice.
One young woman wrote:
"Honestly, I feel like Listerine is one of the only home remedies for head lice that works. It is certainly the cheapest. "I live with my grandma who has waist length hair. My little sister comes over and gives her head lice all the time. Not only does Listerine kill the adult bugs, but it also relieves the itching!"
Another reader wrote us several years ago:
"Here in Hawaii, we call head lice 'Ukus.' We've had quite a problem with them this year and I have found the medication costly and ineffective. I'm glad you wrote about Listerine, because I never would have thought to use it. We tried it and it worked."
We suspect that both the alcohol used as a solvent as well as the menthol, thymol, eucalyptol and methyl salicylate (wintergreen) in the mouthwash contribute to its many uses as an antiseptic, antifungal and anti-lice remedy.