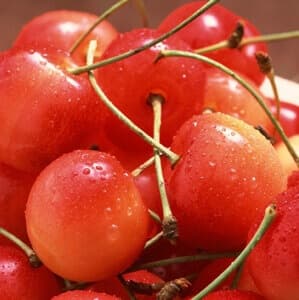 Tart cherries ease joint pain and lower blood pressure
Readers of our syndicated newspaper column have been singing the praises of tart cherries for decades.
Back in 1999 we first heard that cherries could ease a gout attack:
"I eat five tart canned cherries a day to prevent gout. If I feel an attack coming on I eat 20 or 30 cherries and it is usually gone the next day. I have not had to take any pills for gout for six years."
Cherries for Arthritis:
Since then we have heard from scores of readers and visitors that tart (or even sweet) cherries have healing properties, and not just against gout:
"I have been taking the tart cherry juice for about 14 years now and I wouldn't be without it. The syrup is the best way to take it. I tried the capsules and they were awful…I couldn't swallow them.

"I have very little arthritis pain as long as I swallow the cherry juice on a regular basis. When I don't take it, my hands ache so much I can't sleep. I started with a tablespoon and have progressed to 2 tablespoons as I have gotten older.

"I am in good health and only take blood pressure medications and lemon flavored Cod Liver Oil. I have ordered my cherry juice on the internet from northern Michigan for years. I am 73 years old."
 Are Cherries Really Drugs?
The Food and Drug Administration has a bug in its bonnet about tart cherry juice and other tart cherry products. The agency has its panties in a wad that sellers might make "unauthorized health claims." (Basically the FDA frowns upon any suggestion that cherries could be good for what ails you). Any implication that such products could have anti-inflammatory properties is frowned upon. In essence, the FDA has charged that the cherries are drugs.
On June 8, 2012, the FDA sent a "WARNING LETTER" to Michelle White.
Here's the essence of the scary letter:
"Dear Ms. White:
The U.S. Food and Drug Administration (FDA) reviewed your website at http://www.michellesmiracle.com in June, 2012. Based on a review of your website, FDA has determined that the following products are promoted for conditions that cause the products to be drugs within the meaning of section 201(g)(1)(B) of the Federal Food, Drug and Cosmetic Act (the FD&C Act) [21 U.S.C. § 321(g)(1)(B)]:
–          Michelle's Miracle® Joint Formula Tart Cherry Concentrate Dietary Supplement
–          Michelle's Miracle® Original Tart Montmorency Cherry Concentrate Dietary Supplement
–          Michelle's Miracle® Sleep Formula Tart Cherry Concentrate Dietary Supplement-          Michelle's Miracle® Tart Cherry CherriMax Dietary Supplement

The therapeutic claims on your website establish that the above products (referred to as "your tart cherry concentrate products" in the rest of this letter) are drugs because they are intended for use in the diagnosis, cure, mitigation, treatment, or prevention of disease in humans. The marketing of your tart cherry concentrate products with these claims violates the FD&C Act…

"Your tart cherry concentrate products are not generally recognized as safe and effective for the above-referenced uses and, therefore, the products are "new drugs" under section 201(p) of the FD&C Act [21 U.S.C. § 321(p)]. New drugs may not be legally marketed in the U.S. without prior approval from FDA as described in section 505(a) of the FD&C Act [21 U.S.C. § 355(a)]. FDA approves a new drug on the basis of scientific data submitted by a drug sponsor to demonstrate that the drug is safe and effective."
The FDA took Michelle to task because on her website she included links to other websites that suggest cherries may have anti-inflammatory properties. The agency also objected to words like "A Delicious…Nutraceutical Loaded with Antioxidant Activity."
Because of all these "violations," the FDA stated:
"You should take prompt action to correct the violations. Failure to promptly correct these violations may result in legal action, such as seizure and/or injunction, without further notice."
So, now you know. Cherries are drugs as far as the FDA is concerned. Any claims about health benefits are strictly prohibited…or serious consequences could result. By the way, here is a link to Michelle's new website: CherryWorks.net. We have absolutely NO relationship with Michelle, her website or her products!
Since we do not sell tart cherries, we are allowed to share peoples' experiences under the First Amendment to the U.S. Constitution that guarantees freedom of speech. Should you wish to read other stories about tart cherries, here are some links:
What About Walnuts?
You may also be interested to learn that the FDA considers walnuts drugs. Several years ago the FDA sent a warning letter to Diamond Foods, a farmer cooperative owned by 1,800 walnut growers. The letter called the growers on the carpet for claims such as, "Every time you munch a few walnuts, you're doing your body a big favor." The walnut growers also suggested that the omega 3 fatty acids found in walnuts might be helpful in lowering cholesterol and protecting against heart disease.
Not surprisingly, the FDA took umbrage and wrote,
"Because of these intended uses, your walnut products are drugs…Your walnut products are also new drugs…because they are not generally recognized as safe and effective for the above referenced conditions…Thus, your walnut products are also misbranded…in that the labeling for these drugs fails to bear adequate directions for use…"
Consumers have responded to this regulatory action with amazement. As one reader put it, "Who knew you had to have directions to eat walnuts?"
In the event that you think foods like almonds, tart cherries, walnuts, blueberries, broccoli, beets, chocolate and garlic can have healing properties, you will love our book, Quick & Handy Home Remedies from The People's Pharmacy.
We have included our FAVORITE FOODS with detailed explanations (and scientific references) as to why we think they can be so helpful for good health. Hopefully the FDA won't spank us for sharing this information with you. Here's a link to these natural approaches for dealing with common ailments and a special offer that includes Recipes and Remedies from The People's Pharmacy.
Share your own experience with tart cherries or foods such as almonds, walnuts, beets or chocolate in the "ADD MY THOUGHTS" section below. And we would be grateful if you would take an extra minute to vote on this article at the top of the page.