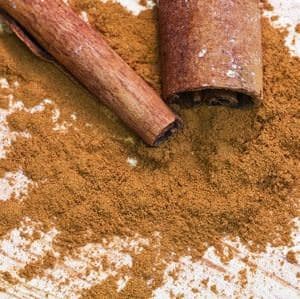 How do you know when an herb, spice or supplement is safe? It makes sense to do some reading on anything you are planning to take before you begin swallowing it. Many people are taking cinnamon to control blood sugar or lower cholesterol. However, there are several different varieties of cinnamon. Consequently, it is reasonable to ask: is cinnamon toxic if you take it as a supplement?
Cinnamon and the Liver:
Q. Is cinnamon toxic to the liver? I ended up in the emergency room after taking 1,200 mg of cinnamon daily for several weeks. I'll never do that again.
Know Your Cinnamon:
A. Cassia cinnamon, the type you normally find on the spice shelf in the supermarket, contains variable levels of coumarin (Woehrlin et al, Journal of Agricultural and Food Chemistry, Oct. 13, 2010). This compound can harm the liver (Abraham et al, Molecular Nutrition & Food Research, Feb. 2010).
To Avoid Toxicity, Stick with Water-Based Extracts:
Anyone who wants to use cinnamon to lower cholesterol or blood sugar would be well advised to stick with an aqueous extract because coumarin is not water-soluble. A person could purchase this in capsule form and avoid coumarin.
Is Ceylon Cinnamon Toxic?
Another option would be to use Ceylon cinnamon (Cinnamomum zeylonicum, true cinnamon or Cinnamomum verum). This is a different species that does not contain significant amounts of coumarin. It is more expensive, however.
There is some preliminary evidence that it too can help lower blood sugar and cholesterol (Costello et al, Journal of the Academy of Nutrition and Dietetics, Nov. 2016). An earlier review suggested that Ceylon cinnamon has antimicrobial activity and can lower blood sugar, cholesterol and blood pressure; it may be useful against stomach ulcers and seems to help protect the liver (Ranasinghe et al, BMC Complementary and Alternative Medicine, Oct. 22, 2017). There are too few clinical trials to be certain of these benefits, however.
In another study, researchers found high levels of E-cinnamaldehyde, an anti-inflammatory compound, in both C. zeylanicum and C. cassia (Gunawardena et al, Food & Function, March 2015).
What Should You Do?
People who include spices or dietary supplements in their regimen should monitor their progress with regular blood sugar tests. If you don't know whether the cinnamon you are using is really Ceylon cinnamon, you should stick with the water extract or ask the doctor to monitor your liver enzymes regularly. In addition, it is not a good idea to combine cinnamon or any other supplement with medications unless a physician has investigated and approved the combination.
Was the dose too high? The research on cinnamon has used doses as high as 6 grams (6,000 mg). The 1,200 mg you were taking is in the same range as a dose being tested in a study currently being conducted, the CINNAMON trial (Cinnamon Trial-lIfestyle iNtervention Plus Water-soluble CiNnAMon Extract On loweriNg Blood Glucose in Pre-diabetics). We expect the results of this study should provide some answers about the safety and efficacy of cinnamon for lowering blood sugar.