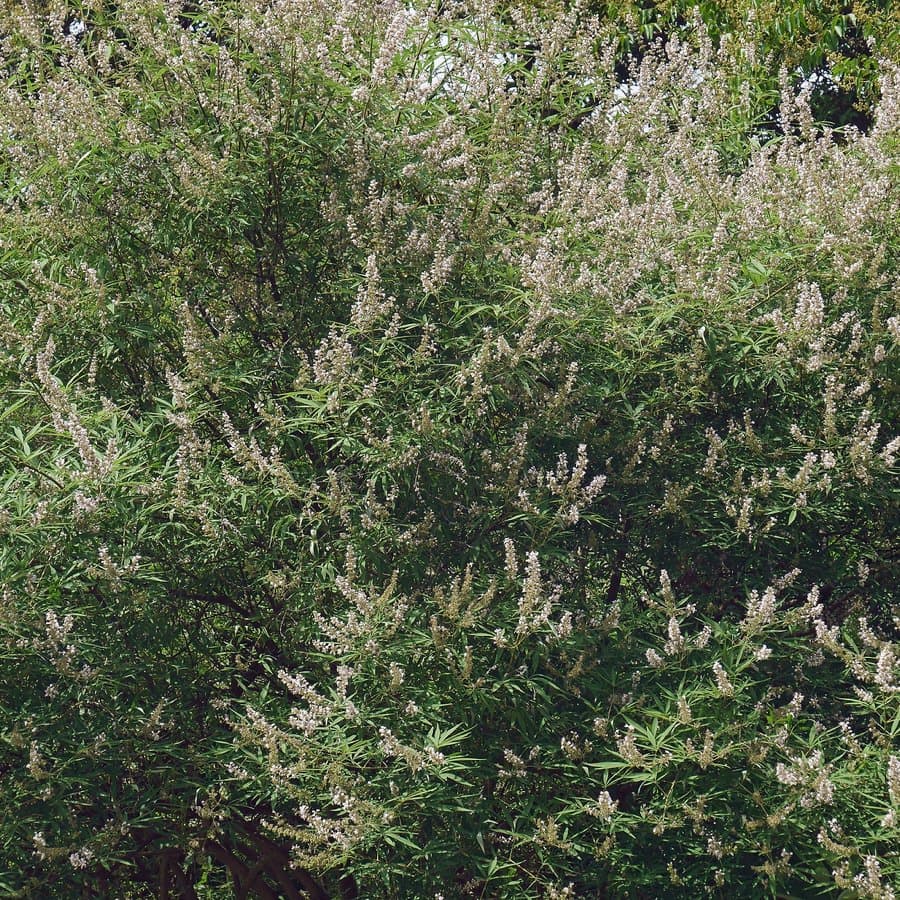 Chaste tree (Vitex agnus-castus). Called Vitex, Chasteberry, Abraham's balm, Lilac Chastetree and Monk's pepper also.
Hot flashes are the signature symptom of menopause. Some women are barely troubled by them, while others are incapacitated. Most women in menopause would like to find a way to ease hot flashes, though many are not enthusiastic about the idea of taking hormone replacement therapy (estrogen and progesterone). If you have been seeking natural approaches to quell these symptoms, you might want to consider chasteberry (Vitex agnus-castus). Some readers have found it helpful.
Seeking Relief from Menopausal Symptoms:
Q. I've been suffering with menopausal symptoms for several months now. After taking Vitex twice a day for roughly four weeks, I'm starting to feel some relief.
Prior to taking Vitex, I would get six or seven hot flashes in a 24-hour period, some with night sweats. Now I have just one or two mild hot flashes during the day and sleep through the night. However, if I indulge in my biggest trigger (red wine), the hot flashes come roaring back.
Aside from hot flashes, I credit Vitex with helping ease some other symptoms of perimenopause: anxiety and general fogginess or confusion. I'm grateful that this helpful herb doesn't seem to have any detrimental side effects!
A. Chasteberry (Vitex agnus-castus) aka chaste tree berry  was traditionally used for premenstrual or perimenopausal problems. A small randomized controlled trial in Korea found that Vitex extracts alleviated hot flashes (vasomotor symptoms) and anxiety better than placebo (Korean Journal of Family Medicine, Nov. 2019).
In addition, a study that lasted a year found that women taking a combination of isoflavones, Vitex and magnolia extracts had significant reduction in vasomotor symptoms, mood disorders and sleep disorders (Gynecological Endocrinology, April 2022).  We're pleased to learn Vitex is helping you.
We heard from a naturopathic practitioner who urges patience for those using Vitex for menopausal symptoms:
"While Vitex is a good herb for hot flashes, I've found that in most women it can take three-four months before it begins to work really well. Very rarely do I see anyone who gets instant results with Vitex."
Not everyone escapes side effects from this botanical medicine. However, most reactions are mild. The most common include nausea, headache, gastrointestinal disturbances, menstrual disorders, acne, itching and rash (Drug Safety, 2005). Perimenopausal women are often troubled by menstrual irregularities even if they are not taking any medication.
Chasteberry to Ease Hot Flashes:
Q. I am a pharmacist but also see benefits from alternative medicine. When I hit menopause, I had trouble with hot flashes.
I've been seeing a nurse-midwife for my gynecological care since my last child was born. She recommended chasteberry (Vitex), a natural herbal product. I was to take 500 mg a day. Within a few days, I had no more problems with hot flashes.
What Does Science Say About Chasteberry for Hot Flashes?
A. Vitex agnus-castus (chasteberry) has been used traditionally to treat women's reproductive problems, particularly premenstrual syndrome. A systematic review of randomized controlled trials confirmed that women can use this herb to ease symptoms of PMS and premenstrual dysphoric disorder (Archives of Women's Mental Health, Dec. 2017). In addition, an Italian study of menopausal women suffering with hot flashes and night sweats found that a combination of Vitex with magnolia and soy isoflavones alleviated both symptoms (Nutrients, Feb. 13, 2017).
Of course, vasomotor symptoms are a different category. Fortunately, one study tested a combination of Nigella sativa (black seed) and Vitex agnus-castus with citalopram (Celexa) against a combination of citalopram with placebo (Gynecological Endocrinology, Aug. 21, 2018). The combination with herbs was superior to citalopram plus placebo for suppressing hot flashes.
Other Natural Approaches to Ease Hot Flashes:
Chasteberry is not the only herb that women have used to relieve the symptoms of menopause. For a time, black cohosh was extremely popular. A study that compared this herbal extract to estrogen plus progesterone for control of hot flashes concluded that black cohosh (Actaea racemosa) is safe and effective. Of course, some people may experience side effects, as one reader did:
Q. Recently you discussed black cohosh for hot flashes. I used it when I had that problem, but my liver enzymes became elevated and I needed further tests.
A. We have heard from other readers that black cohosh can sometimes affect the liver, so it is wise for women to have their liver enzymes monitored if they decide to take this herb for hot flashes. A few cases of liver failure have led to liver transplantation after the use of black cohosh (BMJ Case Reports, July 5, 2013; Case Reports in Gastrointestinal Medicine, June 30, 2014).
Consequently, you may want to consider other options for your symptoms. Other herbs used for easing hot flashes include Pycnogenol (Journal of Reproductive Medicine, Jan-Feb 2013), maca root (Maturitas, Feb., 2014) and rhapontic rhubarb, sold as Estrovera (Alternative Therapies in Health and Medicine, Nov-Dec. 2008). Postmarketing data on Estrovera suggest that the plant extract from Rheum rhaponticum is generally safe (Integrative Medicine, June 2016).