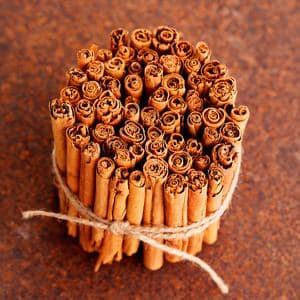 We get excited when we learn about natural products that have health benefits. Consequently, we were intrigued 13 years ago when we first heard that cinnamon might help control blood sugar (Diabetes Care, Dec. 2003). The initial placebo-controlled trial showed that cinnamon also lowered triglycerides and cholesterol. The researchers used a water-based cinnamon extract. Later, other scientists confirmed that such an extract can lower fasting blood glucose significantly better than placebo (European Journal of Clinical Investigation, May 2006). These studies were conducted with regular cassia cinnamon. Does Ceylon cinnamon have the same effects?
The downside from cinnamon is the possibility of harm from taking plain cassia cinnamon (Cinnamomum cassia). This spice from the bark of a Chinese tree is what we usually find on the grocery store shelf. Unfortunately, cassia cinnamon may contain coumarin in variable quantities. Consuming large amounts of coumarin, such as that found in certain German cinnamon cookies, might harm the liver (Food Chemistry, July 15, 2008).
How Do Ceylon Cinnamon and Cassia Cinnamon Differ?
Q. You recently wrote about cinnamon in your column and mentioned coumarin in cassia cinnamon. You said Ceylon cinnamon doesn't contain this hazardous compound.
Do cassia cinnamon and Ceylon cinnamon taste the same? (I believe you said cinnamon on supermarket spice shelves is cassia.)
A. You are right that most cinnamon in supermarkets is the less expensive cassia cinnamon. It may contain coumarin, which might damage the liver at high doses. That's why we don't recommend people take supermarket cinnamon on a regular basis, except as a water extract. Using it to flavor food is not a concern.
How Do They Taste?
Cassia cinnamon and Ceylon cinnamon have slightly different flavors. Cassia is "hotter" and Ceylon is more complex. You might find it interesting to sample them to see which flavor you prefer.
Safety and Effectiveness:
Ceylon cinnamon does not contain significant coumarin, but more studies on the benefits of cinnamon for controlling blood sugar and lowering cholesterol have used cassia cinnamon. The two types are derived from the bark of related tree species. A recent review of research shows that either type of cinnamon may offer some modest improvement of blood sugar control in addition to regular diabetes treatment (Journal of the Academy of Nutrition and Dietetics, Nov. 2016).
You will find more information about both types of cinnamon and other spices in our new book, Spice Up Your Health.