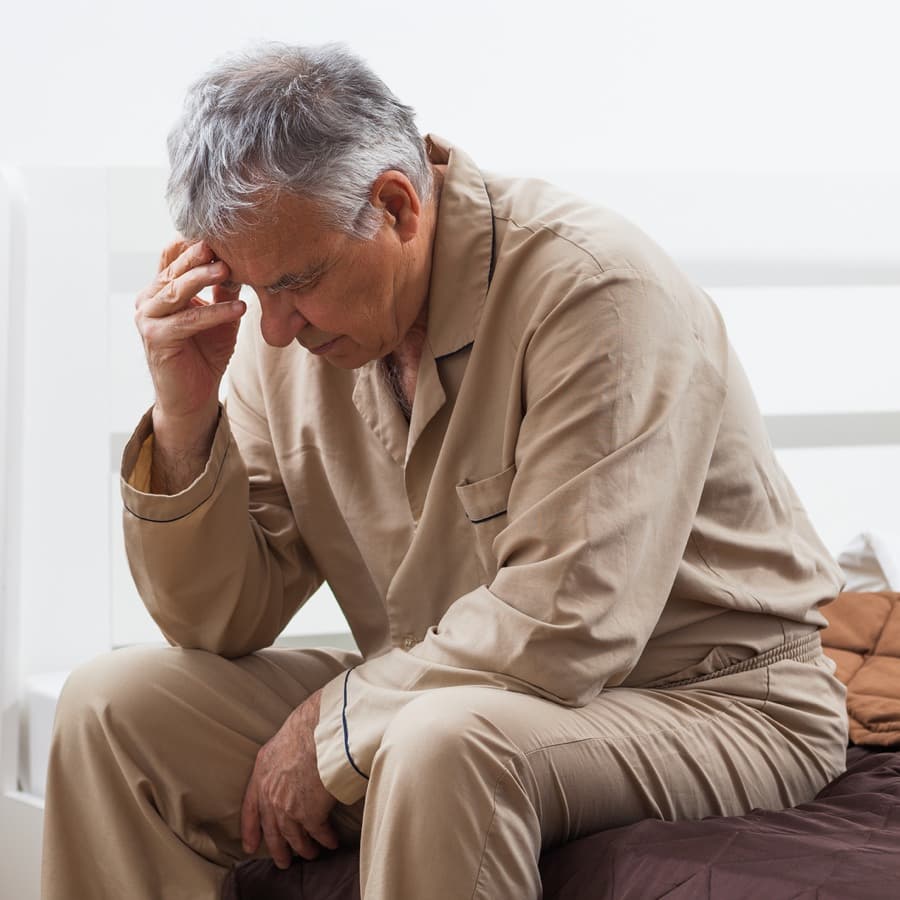 Do you have trouble falling asleep? If so, you are not alone. The American Academy of Sleep Medicine estimates that up to 30 percent of American adults have some symptoms of insomnia. Some folks take prescription medication to overcome their insomnia, but the side effects discourage many from taking drugs like zolpidem (Ambien) or eszopiclone (Lunesta). People often take OTC sleeping pills such as Sominex or Tylenol PM, but these medicines are not intended for long-term use. (You can learn why in our Show 1067 with Lisa Gill of Consumer Reports Best Buy Drugs.) Even old-fashioned drugs like amitriptyline, an antidepressant that makes people drowsy, has downsides. Are there better ways to get to sleep?
How Can You Get to Sleep Without Medication?
Q. Is there an alternative to amitriptyline? I often have trouble getting to sleep and when I do fall asleep, I keep waking up. My doctor prescribed amitriptyline, but I have read that it has anticholinergic activity. I worry about this, as I do not want to develop dementia.
A. People who take drugs with anticholinergic activity do have a higher risk for developing dementia (JAMA Internal Medicine, June 25, 2019). As a result, it makes sense to avoid taking them when you can. You have other choices besides amitriptyline to discuss with your doctor.
Cognitive Behavior Therapy for Insomnia:
One alternative to sleeping pills of any sort is cognitive behavior therapy for insomnia (Systematic Reviews, Nov. 15, 2019). Guidelines in both the US and Europe recommend this as the first-line treatment for insomnia (Journal of Sleep Research, online Dec. 19, 2019). However, people in many places might find it difficult to consult a qualified therapist so they can learn this approach. Fortunately, online programs can be very useful and may be more accessible (BMC Psychiatry, April 2, 2016). 
Acupuncture for Better Sleep:
You may find that acupuncture can help you sleep better (Evidence-Based Complementary and Alternative Medicine, June 13, 2019).  Other approaches that can be helpful are physical activity during the day and a hot bath about an hour before bedtime.
Will Melatonin Make a Difference?
For at least a year, people have found that the pandemic is making it harder for them to get the rest they need. Anxiety under these circumstances is understandable. In addition, disruption to regular routines can interfere with normal sleep patterns. Perhaps you too have wondered, as this reader does, about how to go back to sleep after waking far too early.
Q. My sleeping problems are worse than ever. I frequently wake up with nightmares involving COVID-19. Then I have trouble getting back to sleep. Do you have any suggestions?
A. Melatonin might be worth a try. Not only can it contribute to better sleep, but it may also strengthen the immune system against infection with SARS-CoV-2 (Antioxidants, Jan. 2, 2021). Some scientists have suggested that it could be used along with antiviral medications to boost immunity and curb inflammation due to COVID-19 infection (International Journal of Medical Sciences, Jan. 1, 2021).
You can learn more about using melatonin for insomnia in our eGuide to Getting a Good Night's Sleep. This online resource also provides information on many nondrug strategies, including home remedies. Tart cherry juice is one that many readers have found helpful. Here is one person's experience.
Tart Cherry Juice as a Sleep Aid:
Q. I have found a wonderful sleep aid. At 94, I was having sleep problems until I found something that really works for me.
I drink about a half cup of pure tart cherry juice every night before bedtime. Even after getting up to visit the bathroom, I go right back to sleep.
A. Thanks for the testimonial. Drinking tart cherry juice has been shown to improve sleep quality, perhaps because Montmorency (tart) cherries contain melatonin (European Journal of Nutrition, Dec. 2012).  We would worry about someone your age taking melatonin pills because, like sleeping pills, they can increase the risk for falls and fracture (Age and Ageing, Nov. 2016).
Tart cherry juice seems unlikely to cause dizziness or grogginess, however, because the dose of melatonin is quite low. We are not aware of other side effects from cherries. You may have hit upon the best sleep aid for you.
Learn More:
We discuss nondrug approaches to overcoming insomnia as well as the pros and cons of sleep medicines in our eGuide to Getting a Good Night's Sleep. In this online resource, you will learn about foods and drugs to avoid, as well as acupressure and the appropriate timing of light exposure. 
Some of our podcast interviews may also be of interest. Consider listening to Show 1125: How Can You Find Your Sleep Solution? Another option is Show 1047: How to Sync Your Body Clock to Get the Sleep You Need (Archive).