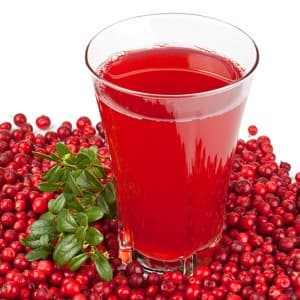 Urinary tract infections (UTIs) are common and painful. When people suffer recurrent UTIs, they are exposed to a number of antibiotic prescriptions. Striving to reduce bacterial resistance to antibiotics requires doctors to cut back on using these drugs for the most common problems. Consequently, many women prone to repeated UTIs want other ways to manage this painful situation. Folklore holds that cranberry juice can help. Now the results of a meta-analysis show the efficacy of cranberry products. The old wives were right once again!
Analyzing Research on Cranberry Juice for UTIs:
For decades, doctors were skeptical about the possible benefit of cranberries. Investigators conducted studies, however, usually comparing cranberry products such as juice or extract to placebo. The latest analysis includes 50 randomized controlled trials with nearly 9,000 volunteers (Cochrane Database of Systematic Reviews, April 17, 2023). Statistical analysis shows that cranberry reduced the risk of recurrent UTIs in women by about 25 percent and in children by roughly 50 percent. Those figures reach statistical significance. There may not be any benefit in other specific groups such as pregnant women and institutionalized elders.
The Cochrane Collaboration consists of volunteer scientists without conflicts of interest. They utilize carefully defined statistical techniques to analyze medical interventions. As a result, their objective findings are rarely in favor of a specific approach such as cranberry juice for UTIs, and we are impressed.
Separate research indicates that cranberries get their anti-infective power from polyphenol compounds called proanthocyanidins. These give cranberries their red color, but most importantly in this context, they keep bacteria from forming biofilms in the body. The current analysis was not able to determine the optimum dose of proanthocyanidins.
Another Way Cranberry Juice Might Work:
Another possible explanation for the benefit of cranberry juice is that it may help acidify the urine. That could discourage bacterial overgrowth or attachment. Now that scientists have evidence that cranberries really work against UTIs, they will probably put more effort into uncovering the mechanism.
Cranberry Compounds Block Bacteria from Evolving Resistance:
Researchers in Montreal, Canada, were excited to discover that compounds from cranberries can block common bacteria from developing antibiotic resistance (Advanced Science, May 28, 2019). The proanthocyanidins that give cranberries their deep red color disrupt biofilm formation and prevent the evolution of resistance to tetracycline and several other antibiotics.
By themselves, cranberry proanthocyanidins had no effect on the growth of the bacteria. However, these cranberry compounds potentiated the effectiveness of several commonly used antibiotics. Examples include sulfamethoxazole and azithromycin.
Two Bacterial Pathways Inhibited:
The research shows that the compounds affect two different pathways bacteria use to develop antibiotic resistance. First, the compounds help antibiotics penetrate the bacterial cell membranes. In addition, they shut down the pumps bacteria use to move toxins like antibiotics out. Importantly, researchers tested the compounds not only in test tubes and petri dishes, but also in living creatures. They infected two different types of insects and treated them with cranberry compounds alone or in combination with antibiotics. The combination treatments increased insect survival rates.
According to the scientists,
"The ability to potentiate the action of antibiotics in a patient could improve treatment outcomes and hinder the emergence of antibiotic‐resistant infections."
What Natural Remedies Can Help Prevent UTIs?
One reader is desperate for a different way to manage UTIs other than antibiotics.
Q. I get frequent urinary tract infections and always keep Cipro around because the symptoms can be extremely uncomfortable. Having read about Cipro side effects, I am more concerned than ever about repeatedly taking this antibiotic.
Are there natural remedies to treat urinary tract infections effectively or better yet, prevent them? Lately the infections have been coming more and more frequently.
A. You may want to consider drinking cranberry juice for prevention. This has been controversial, particularly in the medical community. One randomized controlled trial showed, however, that a daily cup of cranberry juice reduced the likelihood of a recurrent urinary tract infection (UTI) by about 40 percent (American Journal of Clinical Nutrition, June, 2016).  This is just one of the studies included in the meta-analysis supporting cranberry juice for UTIs.
D-Mannose May Also Help:
Cranberry juice isn't perfect, so you might want to consider adding a supplement of D-mannose. German physicians looking for non-antibiotic strategies to prevent UTI recurrence recommend this because it keeps bacteria from sticking to the ureter lining (Aktuelle Urologie, May, 2016).  Skeptical health professionals may want to read about the molecular basis for this activity (IUCrJ, online Feb. 26, 2016).