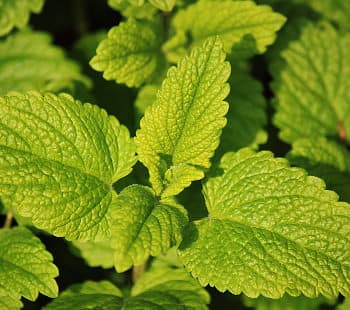 CC0 from https://pixabay.com/en/lemon-balm-herbs-herb-garden-785195/
Whether you call them cold sores or fever blisters, these lesions may pop up when you get sick. A respiratory tract infection or exposure to wind or sun may bring them out. No one knows exactly why a cold may triggers them. However, people use quite a few home remedies to stop a cold sore. There is even some science to support certain remedies.
Can You Stop a Cold Sore with Lemon Balm?
Q. I cure my cold sores with lemon balm. This has worked for me for years. It comes as a salve. I apply it once or twice a day as soon as I feel a tingle. Luckily, the cold sore never appears.
What Is Lemon Balm?
A. Lemon balm, or Melissa officinalis, has traditionally been used against cold sores. These are caused by herpes simplex virus 1 (HSV-1).
Scientists have studied lemon balm extract and found that it helps keep HSV-1 from penetrating cells (Astani, Navid & Schnitzler, Phytotherapy Research, Oct. 2014).  A review of research concluded that Melissa officinalis and certain other botanicals hold promise against HSV-1 (Moradi, Rafieian-Kopaei & Karimi, Avicenna Journal of Phytomedicine, Sep-Oct. 2016). These scientists point out that more studies are needed. Nonetheless, you seem to have found a good remedy for your own use.
Other Home Remedies to Stop a Cold Sore:
Other readers have found that drinking buttermilk at the first sign of a fever blister may keep it from forming. Many are enthusiastic about the supplement l-lysine as a way of preventing cold sores or speeding their healing.
Perhaps one of the most unusual herbal remedies to stop a cold sore is asafetida.  Although most Americans now are unfamiliar with this herb, it was used in the early 20th century as if it were a talisman against colds. Like lemon balm, asafetida does have antiviral activity.