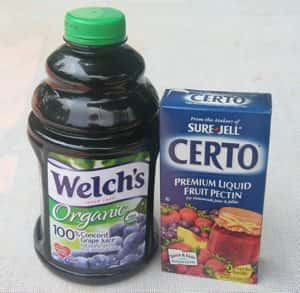 One of the oldest home remedies in the People's Pharmacy pharmacopeia is a combination of Certo and grape juice for arthritis. Most people have never heard of Certo. That's because home canning has pretty much gone the way of the buggy whip. People who make their own jams and jellies, however, are very familiar with Certo. It contains plant pectin, which thickens such treats. Years ago we heard that the "purple pectin" remedy eases the pain of osteoarthritis. But are there hidden dangers. Read on to learn how to protect yourself. 
What the Heck is Certo?
Q. I have been reading in your newspaper column that mixing Certo with grape juice for arthritis pain will also lower cholesterol.

What the heck is Certo? Where would I find it and how much do you put in grape juice? How does this concoction differ from another folk remedy that involves apple juice, apple cider vinegar and grape juice for arthritis?

What is the theory behind why such remedies might work? I am sure others, like me, would appreciate some background information about the mechanism behind these approaches.
A. The very first time we heard about the "purple pectin remedy" was in 1998. That was when we published this exchange in our syndicated newspaper column:
Q. My wife and I tried golden raisins and gin for arthritis and we were unimpressed. We have discovered something else, though, that seems to work for us.

Take two teaspoons of Certo dissolved in three ounces of grape juice. Do this three times a day. We have been told to cut back to one teaspoon Certo in grape juice twice a day after the joints quit aching.

We buy Certo in the grocery store near the canning jars. It's simple and cheap and seems to be helping. I am on Coumadin (warfarin) so I can't take anti-inflammatory drugs like Advil or Aleve.
Our answer on March 2, 1998:
A. Certo contains pectin, a natural ingredient found in the cell walls of plants. It is used as a thickening agent in jams, jellies and puddings. Grapefruit pectin has been used to lower cholesterol, but this is the first we've heard of using pectin for arthritis pain. Though there is no scientific evidence to suggest it would be helpful against sore joints, it does seem safe. We welcome comments from readers.
Reports from Readers About Certo and Grape Juice for Arthritis:
Since that day we have received an extraordinary number of positive responses from readers of our column, listeners to our nationally distributed public radio show and visitors to this website. Apparently the remedy dates back to the 1940s. We have included just a few stories at the bottom of this post.
How Does This Remedy Work?
As for the mechanism, we can only speculate. Pectin has been shown to lower cholesterol and blood sugar (European Journal of Clinical Nutrition, May, 2012). It may also have anticancer activity.
Grape juice contains antioxidant polyphenols that have anti-inflammatory properties. These compounds also dilate blood vessels and improve circulation. They may enhance immune function.
We wish researchers would investigate the reason why the combination of Certo and grape juice might work to ease arthritis pain. Ditto for apple juice, apple cider vinegar and grape juice for arthritis. By the way, the latter recipe is attributed to Sam Houston, although we could not document he actually had anything to do with it.
Can Certo and Grape Juice for Arthritis Be Dangerous?
There are several formulas to choose from when preparing Certo and grape juice. We discourage people from making large batches, in part because of a warning about benzene formation caused by a chemical reaction between the preservative sodium benzoate and citric or ascorbic acid. To read more about this concern, check out this article: Does Arthritis Remedy from the Grocery (Certo & Grape Juice) Create Benzene?
Small batches made fresh should pose little, if any, concern. Powdered pectin (Pomona's Universal Pectin) is made from citrus fruit peel and contains no preservatives or additives and therefore should eliminate any worry.
We would love to find out whether either of these approaches helps you, so please share your thoughts below in the comment section.
Readers share their experiences:
"I read the posts concerning Certo and grape juice. I was having excruciating pain through my metatarsal area and great difficulty walking. After two weeks of using Certo and grape juice, my feet are free of pain.  Why is this remedy not better studied and more widely known?" Jaquish
"I've been meaning to write you a few lines for years, ever since my husband gave me your article about an alternative to arthritis drugs, recommending grape juice and pectin. I gave the info to my sister in England, as she was suffering from hip problems.

"It has helped her enormously, and she takes it faithfully every morning. She has also passed the info to several other friends and neighbors. Others have told my sister to say how grateful they are for the help and what a difference it has made to them." Esme
"I know you have put information on the home remedy grape juice and pectin on your web site, and in your book The People's Pharmacy Quick & Handy Home Remedies. My purpose in writing is to share my extraordinary results as an encouragement for you to keep spreading the word so others might benefit.

"I am now sixty years old. I have had no cartilage in my right knee since 1967.  Over twenty five years ago my osteoarthritis was confirmed by x-ray. I have had a very active life style: running over 30,000 miles, playing basketball (twice weekly for 40 years) and walking one to three miles daily.

"In the last several years my osteoarthritis symptoms worsened, and I had to wear a leg brace for over three years. I have had to use a cane for the last eighteen months.  Pain was continuous, and the swelling of the knee was significant. I had difficulty sleeping, and started considering a total knee replacement procedure.

"A business associate mentioned that some friends had found relief from their osteoarthritis by using a home remedy. The remedy:  each morning take two teaspoons, by mouth, of liquid pectin in four to six ounces of grape juice. The brand I use is by KRAFT FOODS, and carries the trade name Certo. It is commonly used to make fruit jams, and jellies at home.

"My results:  within eight (8) hours my pain  and soreness diminished to almost zero;  swelling was reduced significantly; and I slept all night without interruption for the first time in years; I stopped using the leg brace, and cane that first day. These positive results have continued every single day since starting the regimen.

"I have no idea if I am one of a very lucky select few that can benefit from this remedy, or if it would have the same effect on most osteoarthritis-affected persons.  I wish it could be the subject of a controlled study.

"My right knee is still arthritic bone on arthritic bone, but I have surprising mobility, and only very moderate discomfort.

"I am a very lucky guy!  Thank you," Kent
Q. Have you ever heard about apple cider vinegar in juice as a way to lower cholesterol and relieve arthritis pain? My aunt drank such a concoction every day and maintained that it kept her going. She lived into her 90s.

I used to consider this a harmless quirk. Now I have developed both arthritis and slightly elevated cholesterol myself. I would like to try this drink but I don't know how to make it. Do you have any advice?
A. We received a recipe for apple cider vinegar mixed with apple juice and grape juice from a reader who said Sam Houston of Alamo fame had used it. There are no studies verifying that this remedy lowers cholesterol or alleviates arthritis, but many readers have found apple cider vinegar drinks helpful.
If you would like to learn more about other remedies for arthritis, you will find them in our 264-page book, The People's Pharmacy Quick & Handy Home Remedies (from National Geographic).