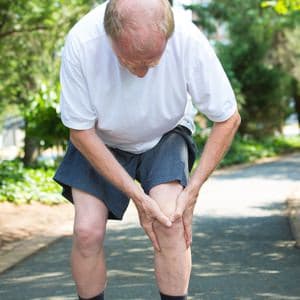 Osteoarthritis puts its victims in a dreadful double bind. The nonsteroidal anti-inflammatory drugs (NSAIDs) that are the standard pain relievers for arthritis, such as diclofenac (Voltaren), ibuprofen (Advil, Motrin IB), meloxicam (Mobic) or naproxen (Aleve), can take the edge off in the short term, but long-term use has serious drawbacks. These drugs can cause irritation or even ulcers in the digestive tract; they also raise the risk for heart attacks or strokes (Circulation: Cardiovascular Quality and Outcomes, July 8, 2014). What can you do to soothe the pain in your arthritic knees without NSAIDs?
Natural Remedies for Arthritic Knees?
Q. I have arthritis in my left knee. My last X-ray three weeks ago showed bone on bone, but I have had little discomfort.

I am planning to travel internationally and will do a lot of walking. I am having a cortisone shot in my knee next week in preparation; however, I would like to take something with me in case all the walking causes swelling and/or pain.

I have good walking shoes and a trekking stick but do not want to hold up the group if I have too much pain. Do you have suggestions of a non-drug remedy for pain/swelling?
Herbal Therapies to Help Arthritic Knees:
A. You might consider boswellia and/or turmeric capsules to reduce inflammation. A systematic review and meta-analysis found that the active ingredients in turmeric (curcuminoids) are "associated with better pain relief than NSAIDs" (Complementary Therapies in Medicine, Dec. 2021). The authors included 11 studies with a total of 1,258 participants in their analysis. These were people with knee osteoarthritis (OA).
The conclusions:
"The results of our meta-analysis suggest that curcuminoids are effective in pain relief in knee OA and that low- and high-dose curcuminoids have similar effects in improving pain and AEs [adverse events]. Curcuminoids are also more effective in achieving pain relief than NSAIDs; therefore, using curcuminoids as an adjunctive treatment in knee OA is recommended."
Turmeric and the active curcuminoids may interact with anticoagulant medications such as warfarin. People should always ask the pharmacist whether any of their medications would be incompatible with turmeric.
Finding Quality Products:
We are frequently asked which turmeric product we recommend. Until recently, we have been cautious not to recommend a particular brand. That's because it has been hard to verify quality. During the pandemic, products from abroad have been particularly worrisome because of a lack of FDA oversight. And it is hard to know where the ingredients in any particular product come from.
We recently had an opportunity to visit the Gaia Herbs farm in the mountains of North Carolina. These folks are now underwriting our radio show and newsletter. We wanted to see what the farm was like and what their commitment to quality was all about. We were extremely impressed. Here is a link to what we discovered during our visit.
This is all by way of saying that we think their Turmeric Supreme Joint Health formulation is terrific. It contains turmeric plus black pepper to aid absorption of curcuminoids. There is also boswellia, devil's claw, ginger root and quercetin. Here is a link. When you check out, use the discount code PEOPLE20 to save 20%.
As another option, you might consider their Turmeric Supreme Extra Strength Gummies. These tasty gummies don't require you to swallow a pill.
Another Option:
Many people like to use Certo or powdered plant pectin dissolved in grape juice. Unless you can purchase grape juice while traveling, though, this approach could be cumbersome. Cherry juice has the same drawback, but it is possible to buy tart cherry extract in pill form or as a fruit bar.
We are sending you our Guide to Alternatives for Arthritis with these suggestions and others. Some people find glucosamine sulfate, alone or in combination with chondroitin sulfate, can be helpful (American Journal of Sports Medicine, March, 2015).
A randomized controlled trial from Italy found that a combination of methylsulfonylmethane (MSM-5 gm/day) and boswellic acid (BA-7.2 gm/day) worked as well as 1500 of glucosamine sulfate per day to relieve the pain of arthritic knees (International Journal of Immunopathology and Pharmacology, March, 2016).
If you do decide to try Gaia's Turmeric Supreme Joint Health formula, don't forget to use the discount code PEOPLE20 at checkout to save 20%.