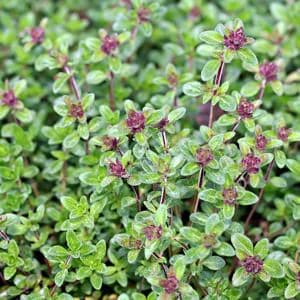 Researchers at Purdue University have unraveled just how plants like thyme and oregano make some of their bioactive compounds. Thymol, carvacrol and thymohydroquinone provide the characteristic flavor and aroma profiles of these plants. They also have important healing properties.
How Do Plants Like Thyme and Oregano Make Important Compounds?
Both thymol and carvacrol are noted for their antibiotic, anti-inflammatory and antioxidant activity (Phytotherapy Research, Sep. 2018). In addition, essential oils rich in these compounds can disrupt microbial biofilms (Journal of Applied Microbiology, Dec. 2017). This helps fight off urinary tract infections.
Plants like thyme and oregano also make a related compound, thymohydroquinone. It also seems to slow the development of tumors in mammals (PNAS, Dec. 28, 2021).
Up to now, scientists have not been able to study its properties thoroughly because they did not know how to make pharmaceutical quantities. Previous ideas about the biochemistry of thymohydroquinone and its relationships with precursors thymol and carvacrol were wrong. The scientists identified three specific enzymes that plants like thyme and oregano use to create these monoterpenes.
Other Plant Products:
Previously, scientists were able to determine how to make plant terpenes such as artimisinin (used to treat malaria) and paclitaxel (used against lung, ovarian and breast cancer). Menthol is a monoterpene used in topical arthritis rubs and products like Listerine and Vicks VapoRub. But thymohydroquinone remained a mystery until this research.
Now that investigators have figured out the plants' biosynthetic pathway, they will be able to produce thymohydroquinone with special cultivars of the plants or even bioengineered yeast. That will permit more complete studies of its anti-cancer activity. If it proves beneficial, utilizing yeast to produce the compound means scientists will not have to rely entirely on plants like thyme and oregano to make the medication.
Learn More:
You can read more about the medicinal uses of herbs like oregano and thyme in our book, Spice Up Your Health.