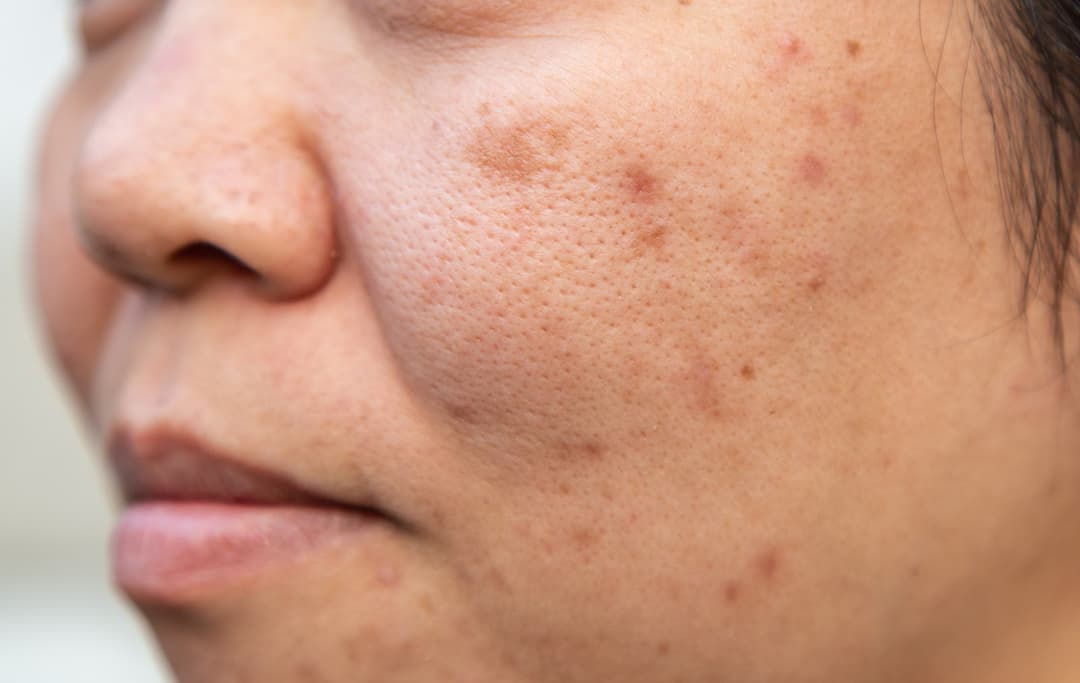 Stubborn blemishes can be extremely distressing. People with moderate to severe acne sometimes report that they feel embarrassed by a bad outbreak. They often withdraw from social interaction. One reader shared her teenage experience. Instead of suggesting oral or topical antibiotics or powerful acne drugs, the dermatologist prescribed a common laxative. She didn't take it orally. Rather, she applied it to her skin! How well did milk of magnesia work?
Stubborn Blemishes Respond to Pink Lotion:
Q. Years ago, when I was a young teen, my acne was so bad that my pediatrician recommended seeing a dermatologist to prevent scarring. Thankfully, my parents agreed.

In addition to not EVER eating chocolate or drinking a Coke for a few years (I was committed!), I used a pink lotion that the dermatologist supplied. I applied it religiously each night. After a while, my acne cleared up.

The pink lotion? We discovered the key ingredient was milk of magnesia. My daughters applied regular milk of magnesia as teens, and it also worked for them.
A. There was a time when doctors told teens to avoid chocolate, sugary beverages and other high-carb foods. Then dermatologists declared that (Journal of the American Academy of Dermatology, April, 2007):
"Dietary restriction (either specific foods or food classes) has not been demonstrated to be of benefit in the treatment of acne."
The pendulum has swung back, though. A review in the International Journal of Dermatology (June, 2021) concludes:
"Acne-promoting factors include high GI/GL [glycemic index/load] food, dairy products, fat food, and chocolate, whereas acne-protective factors include fatty acids, fruit, and vegetable intake."
Foods high on the glycemic index raise blood sugar quickly and include fast food, white bread, pasta, pizza, salty snacks and candy.
What About Dairy and Acne?
A review Clinics in Dermatology (March-April, 2022) states:
"Both acne vulgaris and HS [hidradenitis suppurativa] can cause significant morbidity and psychologic distress, with a negative effect on the quality of life. The relationship among diet, acne, and HS remains somewhat controversial; however, there is increasing evidence that high-glycemic diets and consumption of milk and dairy products promote acne."
The highly regarded JAAD International [JAAD stands for Journal of the Academy of Dermatology] June, 2022 asked some distinguished researchers to do a comprehensive literature search. Here is what was uncovered:
"Of 18 observational studies that commented on GI/glycemic load, sweets, and carbohydrate intake and acne, 77% (14/18) reported at least 1 item to be positively associated with acnegenesis or acne severity. Studies that linked glycemic content and acne had an average LOE [level of evidence] score of 6.5.

"Among articles that examined the association between dairy and acne, 70% (16/23) linked at least 1 dairy food item with acnegenesis or acne severity and had an average LOE score of 6.1.
Discussion Conclusions:
The authors acknowledge that there are a lot of missing data when it comes to diet and acne. That said, they conclude that "…studies suggest that diet can affect acne within select populations." They go on to write:
"In this review, we conducted a focused literature search for articles examining the relationship between dairy and acne and between glycemic content and acne and assigned observational studies an LOE score based on the Newcastle-Ottawa scale. In terms of whether glycemic content (GI, load, carbohydrates, chocolate, soda, sweets, etc) affects acne, a majority (77%) of the identified observational studies, independent of prevailing culinary traditions in the country of origin, supported an association between dietary glycemic content and acne.

"A majority of the included articles (70%) positively associated at least 1 dairy food item with acnegenesis or acne severity…Despite mixed evidence, we concluded that increased dairy intake may exacerbate acne among young people in nations with a prevailing Western diet, such as the United States, Europe, and Australia."
Many Treatments for Stubborn Blemishes:
Q. Over many years, I have consulted seven physicians, including two dermatologists, about a condition on my face and neck identified alternately as folliculitis and acne. I have used numerous antibiotics, antifungals, and steroids (including direct injection, patches, and topical creams) as well as Retin-A and Finacea and topical anti-inflammatories.
I have also tried every over-the-counter product that seemed likely and spent hours soaking in Epsom salts. Nothing has cleared my skin.
In despair over these stubborn blemishes, I turned to home remedies. Listerine began to get the lesions under control. But milk of magnesia (MoM) has made the biggest difference. I read about it in your column.
MoM has a strong drawing effect. Thank you for writing about it.
Milk of Magnesia to Clear the Skin:
A. As far as we can tell, dermatologists have not studied milk of magnesia for stubborn blemishes. That is despite a provocative letter to the editor of the medical journal JAMA Dermatology (Jan. 1, 1975).
Milk of magnesia is an oral laxative, magnesium hydroxide, that has been used for more than 140 years. In addition, other readers report that topical MoM works well as a deodorant and to treat under-breast rashes. Because milk of magnesia is basic, it may alter the environment for skin microbes. This might help explain how it could help against stubborn blemishes.
Want to Learn More?
Our eGuide to Acne Solutions offers far greater insights than we can provide in this article. You will learn what causes stubborn blemishes. Something doctors do not always mention is that many medications can actually contribute to acne. You will also read about other home remedies for acne including old-fashioned amber Listerine, benzoyl peroxide, alpha hydroxy acid and sulfur. We also offer insights into a variety of prescription drugs for treating stubborn blemishes. You will find this and all our brochures under the Health eGuides tab.