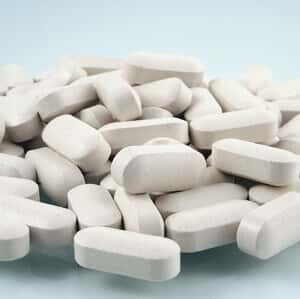 For decades, physicians have been advising their older female patients to take extra calcium and vitamin D for bone strength. It seemed logical. Both calcium and vitamin D play a role in building bone. In theory, supplements should have helped. But was there any evidence to support these recommendations? A study in JAMA (Dec. 26, 2017) challenged conventional wisdom. That's because the investigators looked for data to support the standard wisdom. What they found has shocked health professionals and tens of millions of women.
Confusion About Calcium and Vitamin D for Bone Strength:
Brenda asks a good question:
"I had a hysterectomy at age 40. I was not allowed to take estrogen replacement therapy and now at 63 I have osteoporosis. I started taking calcium and Vitamin D3. I read an article that says calcium with D3 does not help! Is this true?"
Even women who have not had a hysterectomy are wondering the same thing.
Q. I have osteopenia, and my doctor wants me to load up on calcium to keep my bones from getting weaker. He suggested milk, cheese, ice cream or Tums. I prefer not to do too much dairy. Can I take too many Tums?
A. Tums are a good source of calcium in the form of calcium carbonate. However, it is possible to overdo. Excess calcium together with an antacid like Tums can lead to "milk-alkali syndrome." Symptoms include loss of appetite and stomachache as well as the formation of kidney stones.
The headlines can be very confusing:
What the Data Show:
The study published in JAMA was a meta-analysis of 33 randomized controlled trials (RCTs) involving 51,145 subjects. The authors searched for RCTs in which individuals received calcium, vitamin D or both calcium and vitamin D supplements compared to placebo or no treatment. The outcomes they were evaluating were 1) hip fractures or 2) spinal fractures, non-spinal fractures and total fractures.
Results:
In two words, there was no difference between individuals who took calcium and/or vitamin D vs. placebo and the incidence of fractures.
In their own words, the researchers wrote:
"There was no significant association of calcium or vitamin D with risk of hip fracture compared with placebo or no treatment. There was no significant association of combined calcium and vitamin D with hip fracture compared with placebo or no treatment. No significant associations were found between calcium, vitamin D, or combined calcium and vitamin D supplements and the incidence of non vertebral, vertebral, or total fractures."
Discussion:
"Results of this meta-analysis showed that calcium, calcium plus vitamin D, and vitamin D supplementation alone were not significantly associated with a lower incidence of hip, nonvertebral, vertebral, or total fractures in community-dwelling older adults."
Conclusions:
"These findings do not support the routine use of these supplements in community-dwelling older people."
In our words: taking calcium and vitamin D for bone strength was a bust because it did not prevent fractures. That is, after all, the point of taking supplements to prevent or treat osteoporosis.
Resistance: Calcium and Vitamin D for Bone Strength
If you go back up to the headline links you will see an article from the Statesville Record & Landmark titled "Experts rebuke report casting doubt on link between vitamin D, calcium and bone health"
In this report, a Creighton University scientist, Dr. Robert Recker, was quoted as saying:
"The paper in JAMA is 'complete bull … if you excuse my expression. That's going to cause a lot of harm.'"
Dr. Recker leads the Creighton Osteoporosis Research Center. He correctly points out that vitamin D is essential for the absorption of calcium and plays an integral role in bone formation. That said, the meta-analysis reviewed the available data on the key clinical outcomes people care about: broken bones. The results were not pretty.
We Told You So:
It is unbecoming of The People's Pharmacy to challenge conventional wisdom. Nevertheless, if the data are not solid, it is our responsibility to point that out. Health professionals like to embrace the idea of "evidence-based medicine." When the evidence does not pan out, however, many tend to shoot the messenger.
This is not the first time we have pointed out that there is a problem with the calcium theory of osteoporosis. We have taken a substantial amount of flak for doing so. Here is an article from a few years ago:
If you review this article you will see two key sections:
Theory Falls Short:
Downsides of Calcium Supplements:
An even more in-depth analysis from Oct. 1, 2015 was titled:
And if you go back to 2010, we wrote about:
What Should You Do About Calcium and Vitamin D for bone Strength?
We are great believers in vitamin D, but we cannot promise that by itself this nutrient will prevent bone fractures. You can learn much more about vitamin D at this link:
Is It Possible to Build Bone Strength?:
To discover other ways to build strong bones, you may want to listen to a FREE one-hour interview we conducted a few years back with Walter Willett, MD, DrPH, Chairman of the Department of Nutrition and Frederick John Stare Professor of Epidemiology and Nutrition at Harvard University's School of Public Health. In addition to Dr. Willett, we interviewed Michael Castleman, a medical journalist and author of Building Bone Vitality: A Revolutionary Diet Plan to Prevent Bone Loss and Reverse Osteoporosis.
Here is a link to the radio show. If you look below Dr. Willett's bio, there is a link to Download the mp3. When you do that you will see Show 752: Bone Vitality. Next to the box that says ADD TO CART is an option to choose CD or MP3 version. If you click on the down arrow you can toggle the MP3 option which is FREE! We think you will find this interview quite fascinating and way ahead of its time.
After listening to Dr. Walter Willett and Michael Castleman, please share your thoughts in the comment section below.