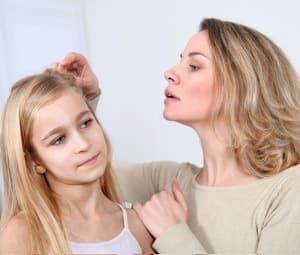 Checking for lice, get rid of lice nit
Q. My four-year-old daughter came home about two months ago with lice. My 8-year-old son caught them from her. I just shaved his head and that took care of the problem for him. But her hair is very long. She's been treated with RID or something similar at least eight times, either here or at her father's house. Now my head has begun to itch and I'm afraid I've got them too. I'd really welcome affordable suggestions for a remedy that would work.
A. Lice have become resistant to some of the most common lice shampoo treatments, leading to immense frustration. The FDA has approved two prescription treatments in the last few years, but both are pricey.
Natroba is an insecticide that costs over $200 per treatment and kills both lice and nits (lice eggs). Ulesfia contains benzyl alcohol and suffocates lice. It too is expensive. One mother spent $600 treating her daughter's long hair.
Health professionals often distrust home remedies because there aren't good scientific studies to support them. Nevertheless, many parents report success with topical treatments such as Listerine, vinegar, olive oil or the cleanser Cetaphil. We are sending you our Guide to Hair and Nail Care for more detailed instructions on using these home remedies.