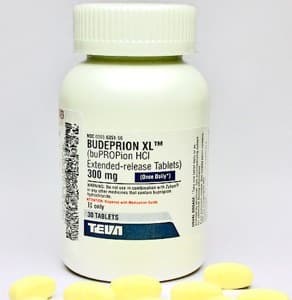 We are reposting our People's Pharmacy Alert from October 3, 2012 because of The New York Times article about "An Increase in Scrutiny for Generics."
On October 3, 2012, the Food and Drug Administration announced that it was asking Teva Pharmaceuticals USA, Inc., to remove its generic version of Wellbutrin XL 300 from the market. The generic formulation, Budeprion XL 300, was deemed "not therapeutically equivalent to the reference listed drug (RLD), Wellbutrin XL 300 mg."
This is a huge victory for patients! Their heartbreaking stories about side effects and therapeutic failures linked to Budeprion XL 300 were finally heard. They should feel vindicated. We have never given up advocating for people who contacted us over the last five years complaining about problems with the Teva generic antidepressant. Here is what the FDA announced:
"New FDA-sponsored research shows that the Impax/Teva product fails to demonstrate bioequivalence to the RLD and therefore may not produce the same therapeutic benefits for some patients. We encourage you to share this new drug information with members, health care professionals and patients."

"FDA asked Impax Laboratories, Inc. (Impax) to voluntarily withdraw its application for the 300 mg strength of Budeprion XL (bupropion hydrochloride extended-release tablets, USP), because the drug failed to meet FDA's bioequivalence standards for a generic drug. The company agreed to do so."
This is huge! Teva is the largest generic drug maker in the world. In 2006, the FDA approved its generic version, Budeprion XL 300, as a substitute for Wellbutrin XL 300. Not long afterwards, we started receiving complaints about this formulation. Below are just a few of the hundreds of messages we received here at The People's Pharmacy.
"I just had a nightmare experience switching from brand name Wellbutrin XL 300 mg to the generic Budeprion XL 300 mg, both extended-release. I have no history of 'suicidality,' but after switching to the generic, I went into a week of steadily rising panic. Then I hit rock bottom. I wanted to die.

"I made it through the worst of it, called a suicide hotline and didn't take any more Budeprion. The next day I felt much better and today I'm back to my normal self.

"I just saw my psychiatrist who said my reaction was almost certainly from a toxic dose of bupropion building up in my body. He says many of the generics are not absorbed or metabolized at the same rate as the brand name drugs, so you can get unpredictable effects. This one nearly killed me."
"I have been taking Budeprion XL 300 mg for 3 months instead of Wellbutrin XL 300 mg. I find that I am easily upset and cry very easily. Sometimes I feel aggressive. I also have short stabbing pains in my head.
"Taking the brand name drug (Wellbutrin) helped me feel the best I have felt in 20 years–not depressed and able to enjoy being with my family and friends."
"I have been taking Wellbutrin XL with a very good result for months. Yesterday I took for the first time the generic formula, Budeprion XL, and experienced anxiety attacks and cried all day. I will never take it again."
Denise
"I have been successfully taking Wellbutrin XL for at least 5 years. As my insurance was changed, I was forced to switch to Budeprion XL since the name brand was cost prohibitive. Due to a sudden death of a close friend and other mitigating factors, I thought that my symptoms you described were part of a major depressive episode. While I did experience a major depressive episode, after a time the major issues of the depression had subsided, but I was still feeling not quite right.

"I nearly leapt out of my chair when I read your article about the symptoms others were describing: migraines of prolonged duration and intensity (my Topamax was increased to help with this, something I dislike because Topamax in itself makes me feel loopy), sleep disturbances (I sleep for 4 hours, am awake for 2 or 3, then finally am able to return to sleep with weird dreams), night sweats (I thought I was hitting early menopause at 39), rapid weight gain (compulsive eating and not being able to stop), low energy (sleep difficulties I thought were the problem; caffeine intake tripled), and abrupt and painful changes in my menstrual cycle (again thought early menopause).

"Thus, I will have to find a way to make Wellbutrin cost effective (lowering dosage on Topamax will probably help). Thank you for getting the word out."
Beth
"Several months ago I switched over to generic Wellbutrin. Within two weeks I experienced the worst case of depression that I can remember. I had the most severe suicidal thoughts ever.

"I had experienced suicidal thoughts before but this time I actually wrote a letter to my therapist and sent it to an email account that would not be found until after the fact. Fortunately, I called him about 30 minutes later and he reminded me of a story we had talked about in the paper a few weeks earlier about another person who had gotten extremely depressed after switching to the generic.

"I immediately called my pharmacist and got a refill of the regular Wellbutrin. Within a few days I was fine. This ordeal was incredibly frightening."
Other readers have reported side effects with the generic bupropion (Budeprion XL 300) that they did not experience while taking Wellbutrin XL 300. Some complained of headaches and nausea, while others noted anxiety and insomnia.
These are side effects that might be expected if a person got a high dose of bupropion.
We asked ConsumerLab.com, an independent testing organization, to analyze the pills. Laboratory tests revealed that "the generic product released drug at a very different rate than the original Wellbutrin XL."
For years the FDA told us that any complaints were basically psychosomatic. That is, people were imagining that Budeprion XL 300 was not working the same as the brand name Wellbutrin XL 300. And their insurance companies were thrilled. Instead of having to pay for the brand name, the insurers could insist that Budeprion XL 300 was "identical" to the brand name.
Well, we now know that the FDA was wrong to have approved Budeprion XL 300 in the first place and insurance companies were wrong when they insisted that patients had to take the generic substitute or pay out of pocket for the brand name.
The FDA is now requiring other manufacturers of long-acting generic formulations of Wellbutrin XL 300 (bupropion) to conduct their own bioequivalence trials. Here is what the FDA has required:
"FDA recently asked each of the other manufacturers – Anchen, Actavis, Watson, and Mylan – to conduct their own studies to assess the bioequivalence of their 300 mg extended-release bupropion tablets to Wellbutrin XL 300 mg. FDA asked these companies to submit the data from those studies no later than March 2013."
In the meantime, patients are kind of on their own with generic bupropion. Other generic formulations may work just fine, but we won't know until after March, 2013.
What lessons are we to draw from this incredible boondoggle?
First, the FDA is not infallible. Just because the agency says all generic drugs are "identical" to their brand name counterparts does NOT make it so. The Budeprion XL 300 story proves that. The FDA deserves kudos for recognizing that this problem needed to be addressed and for carrying out its own tests of bioequivalence. Here is how the FDA explains its study.
Second, what other drugs might be problematic? The People's Pharmacy has received a great many other complaints about generic formulations. Two that come to mind instantly are generic forms of the beta blocker Toprol XL (metoprolol) and the anti-seizure medicine Keppra (levetiracetam). If the FDA conducted its own tests on these generics the way it did for Budeprion XL 300, we wonder what the agency would find.
Third, just because your pharmacist or insurance company says that all generic drugs are fine and dandy does NOT make it so! If you are experiencing problems just cite the Budeprion XL 300 example and ask them to reconsider their dogmatic stance.
If you would like to learn the entire inside story behind this incredible saga you may want to read our chapter titled "Generic Drug Screwups" in our book, Top Screwups Doctors Make and How to Avoid Them. You will learn much more about the FDA's ability to approve and monitor generic drugs and how to protect yourself from generic drug problems.
Thanks for taking time to consider what we think is an important health news story.