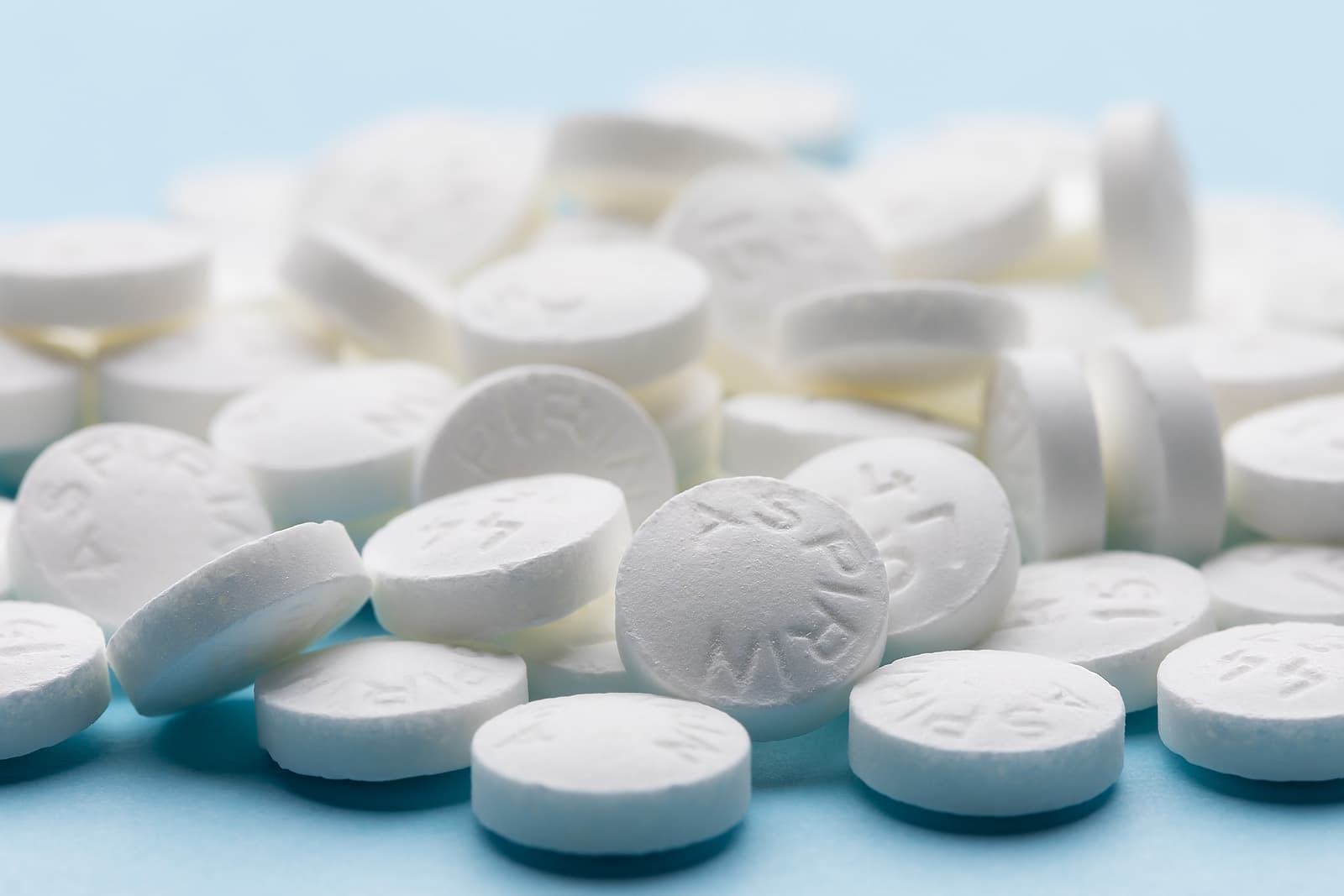 Warts are caused by a near-ubiquitous virus, human papillomavirus. But nobody knows quite why they pop up at certain times and are absent at others. Doctors can offer a variety of treatments for warts, from freezing to surgery to injecting them with a substance that presumably signals the immune system to attack them. What about home remedies that people use to get rid of warts? How well do they work?
The Science Behind Aspirin to Get Rid of Warts:
A lot of the wart remedies we have written about over the last 50 years are based on experience rather than research. But sometimes people stumble upon a wart remedy that makes sense scientifically. That's what this reader's father did a long time ago:
Q. You've written about burning off warts from a person's fingers. As a young man, I had a lot of warts. My father taught me how to get rid of them so that they would not return.

He put a damp chunk of aspirin on the wart and covered it with a bandage. When the aspirin dried out, we did it again and again until the wart and its root came away with the adhesive. It left a little divot which healed up and no wart returned. This was not painful at all.
A. Your father's wart remedy has some science behind it. Aspirin is acetylsalicylic acid. It is what pharmacologists call a salicylate-based drug. Many OTC wart remedies such as Compound W Wart Remover or Dr. Scholl's Liquid Wart Remover contain salicylic acid, a closely related compound.
These topical treatments are considered keratolytics. That means they break down the thick layer of wart tissue. That's why they must be applied carefully so as not to irritate healthy tissue.
Aspirin may be a bit strong for such use. You will find lots of other intriguing wart remedies from banana peel and duct tape to turmeric or vinegar in our book, The People's Pharmacy Quick & Handy Home Remedies. If you don't find it in your local library, you can purchase this paperback book in the book section of our store at this link. In addition, it contains hundreds of other treatments for common ailments.
Listerine and Vinegar for Persistent Plantar Wart:
Q. This is not a question but a testimonial. I had persistent toenail fungus. I also had a plantar wart on the bottom of my foot for years. Nothing had gotten rid of the wart.

After reading that vinegar and Listerine could clear up nail fungus, I started soaking my toes in the solution. Before long, I noticed that the wart was completely gone.
A. At first, we were surprised by your story.
However, when we checked our archive, we discovered this report:
"My daughter had several plantar warts on her sole. Duct tape did not work.

"Listerine has been used for eliminating fungus, so I thought it might also kill wart viruses. I put undiluted Listerine in a zipper-top plastic bag and had her soak her feet for 10 minutes.

"She repeated the treatment a couple of times. The warts disappeared in about three weeks and haven't returned. It might be a coincidence, but she is happy to be wart free!"
We are not aware of any research on Listerine to get rid of warts, but it meets our home remedy criteria: might help, won't hurt, doesn't cost much.
How to Get Rid of Warts with Banana Peel:
Q. I had a large wart about the size of a penny in my ear flap that had been there for several years. I cut a small piece of banana peel the same size as the wart, taped it in place, and replaced it every day. It's been about two weeks now, and the wart is all but gone.

The results of this remedy were truly amazing. All you need is a piece of banana peel the size of the wart itself.
A. Thank you for the testimonial. We have heard from others who've had success taping a piece of banana peel over a wart. The inner part of the peel goes next to the skin. Changing it daily is important.
Here is what another reader said:
Banana peel got rid of a large wart I had near my eye. I was skeptical, but it worked when nothing else helped. My friends wanted me to have it removed by a doctor, but I wanted to try this natural treatment. It took a few months to disappear completely, but now it's been gone for more than a year."
We also heard of a different use for banana peel:
I used this same remedy to get rid of a deep splinter. I taped the inside of a ripe banana peel on my hand, and in the morning my splinter was gone."
Other Odd Remedies for Warts:
Readers have shared a number of other fascinating tactics to get rid of warts. One person wrote to praise cayenne pepper.
Cayenne Pepper in Socks for Plantar Warts:
Q. Our son suffered from plantar warts for more than eight years. After a long succession of procedures and medications, we were told to sprinkle cayenne pepper in his socks and have him sleep in them. We washed them each morning. After a week the giant masses on his soles disappeared for good and have not returned.
A. Thank you for an intriguing approach to get rid of warts.
CW is also enthusiastic about cayenne:
I had a couple of pea-sized warts on my right hand that would not give up, even after the traditional liquid nitrogen treatment. I was told that, being caused by a virus, they would eventually go away but they hung on for years without any sign of change for the better. However, I began taking cayenne capsules a few times a week after reading that it helps with circulation, and they both vanished within a few months. I am skeptical of anecdotal evidence but can say the only thing I did differently, before and after so to speak, was taking the cayenne every Monday, Wednesday, and Friday."
Vitamin A to Get Rid of Warts:
We have heard from a number of other visitors who have had success with different non-surgical approaches.
One reader is quite enthusiastic about vitamin A:
"I had a grandfather who had layers of hundreds of plantar warts on his hands and feet.  I grew up on an isolated farm in central Wisconsin in the 1950s.  The local doctor couldn't do anything for him.  He even took my grandfather to a medical convention in Chicago and the physicians there had never seen such an extreme condition of plantar warts and had NO suggestions for his care.  My mother would drive my grandfather to the local doctor who would soak and scrape my grandfather's feet to help relieve the pain. My mother said that my grandfather suffered for years when walking on the warts.

"The first plantar wart showed up on the base of my foot when I was age 14.  A doctor burned it out.  The warts multiplied from then on to cover the bottoms of both of my feet.  I had them burned and cut out and replaced with pig's skin.  Doctors tried every method.  By age 23, a doctor identified hundreds of plantar warts on the bottoms of both feet.  Then I went on a medically supervised liquid diet called Medifast – nothing but liquid food for three months.  I stuck to it religiously.

"About 1.5 months into the diet, I was sitting on the couch (it was a hot night) rubbing my foot and I looked down.  I was shocked. ALL OF THE PLANTAR WARTS ON THAT FOOT WERE GONE!  I grabbed my other foot and looked at the bottom, and all of those warts were also gone!  I even ran to get a magnifying glass to make sure that I was seeing correctly and all of my plantar warts were gone.
The Doctor's Response:
"The next day I scheduled an appointment with the doctor who had last seen my feet (about two months previously) with the hundreds of warts.  I took along my powdered food because that was the only thing that had changed in my life.  I had the same job and schedule.  Nothing else had changed.  The doctor read the powdered food ingredients and saw that it had 25,000 IU of Vitamin A in the form of beta carotene in it.  That doctor had read some research about how high (non-toxic) levels of Vitamin A consistently taken could eliminate plantar warts in some people.  However, there had never been serious medical research. By the time I finished the liquid diet, I had lost 55 pounds.

"I immediately found a sustained release multivitamin with that same level of vitamin A in that form and have taken it every day since … for the last 30 years!!!  Not had a single plantar wart has returned since then.  That doctor followed my outcome with taking vitamin A and wrote a little-known paper about it.  But I am convinced that level of vitamin A in that form taken daily is saving me from having layers of planters warts on my hands and feet like my poor grandfather."
Jerry shared a similar experience:
My doctor had also recommended vitamin A (oil base) for planters warts. I found it was a good preventative. If I do get a plantars wart I put a piece of duck taped on it, changing the tape only when I have to. Within a week or so, the body has excreted the wart onto the duck tape and it sticks to the tape when the duck tape is removed. Also I temporarily increase my Vit A intake."
SB used garlic to get rid of warts:
I used to get plantar warts on my hands and fingers and had them "burned" off only to have them return in the same place. I read in Nutritional Healing about a remedy that works. Take a slice of fresh garlic and bandage it to the wart. I work in landscape so my hands were wet a lot so I used water-proof bandages. I put fresh garlic every time I showered or needed to and usually within 3 to 5 days the wart was gone forever. It's a painless way to go especially for children. If I ever have to do it again I will also supplement my diet with vitimin A as another reader has suggested.

"Note: If you work in a situation that you cannot have garlic smelling hands do it overnight and it will still work, just take longer."
Anyone who likes such unique strategies will find hundreds more in our book, Quick & Handy Home Remedies.