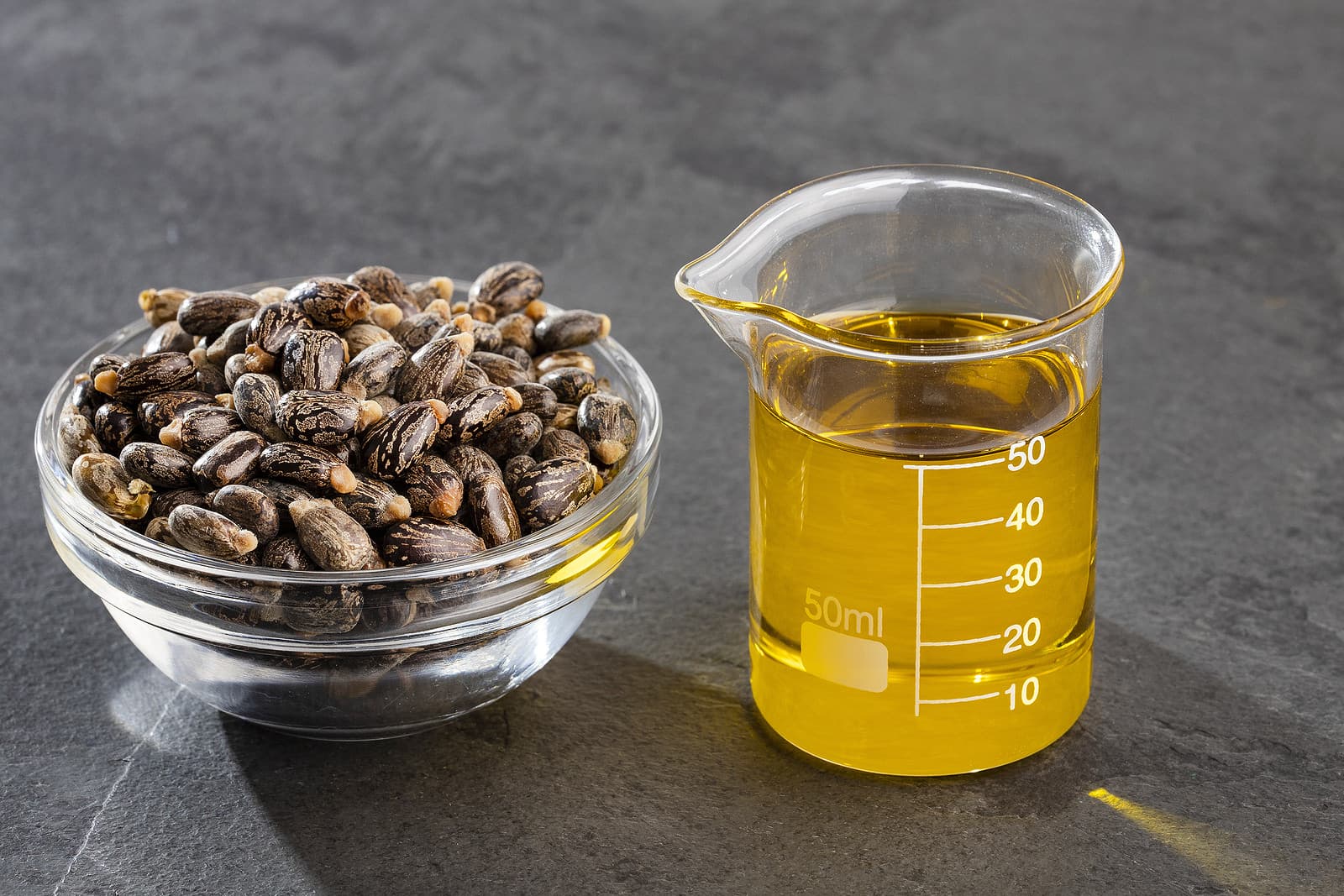 Ricinus communis oil in the glass container – Organic castor seeds
People have been using the castor bean (Ricinus communis) for thousands of years to treat an amazing number of maladies. The seeds are also a source of ricin, one of the most toxic chemicals known to man. Fortunately, it is safe to used the oil, as it does not contain ricin. You will be amazed at the versatility of castor oil.
Castor Oil to Get Rid of Warts:
Q. I suffered with warts on my right hand. I had my physician check them and was given Compound W for warts. It was painful to use and didn't do the job.
I read in The People's Pharmacy that castor oil works with warts, so I gave it a try. YES, it worked 100 percent. It dried them out as quickly as a week when I applied it several times a day. I say try castor oil to get rid of warts.
A. You are not the first person to report success treating warts with this traditional remedy derived from the castor bean (Ricinus communis). The leaves of the plant have antiviral activity (Journal of Ethnopharmacology, May 10, 2021).
We don't know whether compounds from the plant affect the human papillomavirus that causes warts. The oil has a reputation for soothing irritation and inflammation, although some people develop allergic skin reactions and should avoid it.
A Castor Oil Testimonial:
This might be the story that our reader encountered before trying a remedy for warts.
Q. Castor oil completely eliminated a wart that I had tried to get rid of for twenty years. It did not even leave a scar.
I applied the oil on the wart after showering and at bedtime and covered it with a bandage. I kept this up until the wart was gone, maybe two months.
A. Castor oil has a very long history as a medicine, going back to the ancient Egyptians. It's been used as a wart remedy for decades, if not centuries.
Soreness & Bruising
The ricinoleic acid in castor oil has anti-inflammatory activity. People often apply it to overworked muscles to ease soreness. Some people use it to prevent bruises by applying it to the skin immediately after being bumped or struck.
Treating Scars
Occasionally we hear from someone who has used castor oil on a scar.
This person was enthusiastic:
"I had an operation a few years ago that left a 7 inch scar that felt like a shoelace under my skin. I used castor oil on it unfaithfully, several times a day when I would remember, or sometimes not at all.

"One day I noticed my scar was peeling. Now it feels thinner. It's about half the size it was, after a month of haphazard use."
We caution that some people may react badly to castor oil on the skin, developing a rash. It makes sense to test it on a small spot before applying it to a large area.
The Bottom Line on Castor Oil
There are few natural remedies with such a diverse track record as this ancient oil.
Share your own experience below in the "ADD MY THOUGHTS" section below and please vote on this article at the top of the page.