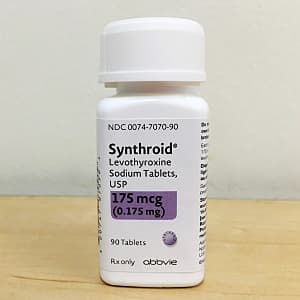 Doctors prescribe the thyroid hormone levothyroxine (Levoxyl, Synthroid, Tirosint, Unithroid) for people whose own thyroid glands do not make enough of this hormone. However, too often they don't provide clear instructions to help maximize Synthroid effectiveness. For example, many patients go to great lengths to take their pill an hour before breakfast or coffee. They don't know that taking the medication before bedtime is just as effective (Archives of Internal Medicine, Dec. 13, 2010). In addition, the prescriber might not mention food interactions.
Do Foods Alter Synthroid Effectiveness?
Q. I've taken thyroid medication to treat low thyroid for over thirty years. For almost as long, I've been eating a handful of walnuts nearly every day.
Someone told me that eating walnuts could interfere with my thyroid medicine. Have you heard of this?
A. We have heard this caution, although we have not been able to find the research supporting it.
The maker of the leading brand of levothyroxine, Synthroid, warns patients:
"Foods like soybean flour, cottonseed meal, walnuts, and dietary fiber may cause your body to absorb less SYNTHROID from the gastrointestinal tract. Grapefruit juice may cause your body to absorb less levothyroxine and may reduce its effect. Let your doctor know if you eat these foods, as your dose of SYNTHROID may need to be adjusted."
Oddly, it doesn't mention coffee, although that can also interfere with Synthroid absorption (Thyroid, March 2008).  However, the scientists conducting this study noted that bran interferes more strongly.
The manufacturer's advice to discuss your walnut consumption with your doctor seems sensible. If the dose has been adjusted and your diet doesn't vary much, you might be able to continue enjoying walnuts.
Still Puzzled by Walnuts:
Q. How do walnuts affect people who have to take thyroid medication? My pill bottle comes with a warning that walnuts can interfere with the desired medical benefits of levothyroxine. If I eat walnuts several hours after taking my thyroid med, will that solve the problem?
A. We searched the medical literature for an answer to your question. It is surprisingly murky.
The maker of brand name Synthroid (levothyroxine) cautions that
"certain foods and supplements can interfere with Synthroid. Foods containing soy and cottonseed meal can make Synthroid less effective. Walnuts, grapefruit juice, and dietary fiber can also make Synthroid less effective. If you eat any of these on a regular basis, check with your doctor. He or she may need to adjust your dose of Synthroid."
That seems clear cut, but the research supporting this statement is a bit confusing. We could not confirm that walnuts reduce levothyroxine absorption. If, instead, they interfere with thyroid function, eating them at a different time would not solve the problem.
Grapefruit Juice Has a Minimal Effect:
We were also puzzled by the manufacturer's reference to grapefruit juice. The only study we could find compared absorption of Synthroid with grapefruit juice or water (British Journal of Clinical Pharmacology, Sep. 2005).
The researchers concluded:
"Grapefruit juice may slightly delay the absorption of levothyroxine, but it seems to have only a minor effect on its bioavailability. Accordingly, the clinical relevance of the grapefruit juice-levothyroxine interaction is likely to be small."
Other Foods That Interfere With Synthroid Effectiveness:
Some foods do reduce Synthroid effectiveness. A recent review found that absorption is lower when a person takes Synthroid along with coffee, soy products or fiber (Pharmaceuticals, March 2, 2021). Moreover, dietary supplements, particularly calcium and iron, also reduce absorption. One case report describes a woman who started taking a whey-based protein supplement that interfered with levothyroxine absorption and resulted in an elevated TSH level (Endocrinology, Diabetes & Metabolism Case Reports, July 19, 2021).
Learn More:
To learn more about thyroid dysfunction and its treatment, including other foods that interfere with levothyroxine, you could consult our eGuide to Thyroid Hormones. It also lists many medications and supplements that can interact with your thyroid medicine.
You might also want to listen to our interviews with experts on treating thyroid disease. Show 1196: What to Do If Thyroid Treatment Doesn't Work for You features Dr. Antonio Bianco.  Dr. David Cooper is the expert we interviewed for Show 1162: How too Treat Common Thyroid Problems. People with Graves' disease may be interested in Show 1289: Living with an Overactive Thyroid Gland.