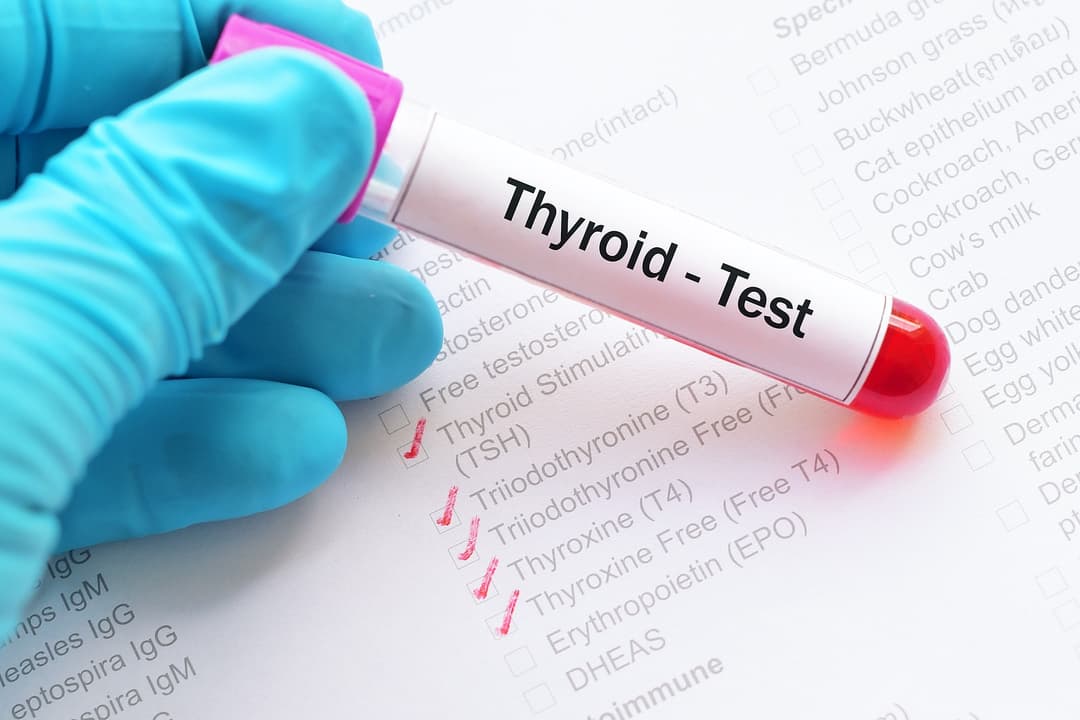 Judging by the number of prescriptions dispensed annually, hypothyroidism is one of the most common medical conditions in the country. Doctors usually treat this low thyroid condition by prescribing levothyroxine. Its brand names include Euthyrox, Levothroid, Levoxyl, Synthroid, Tirosint and Unithroid. While such a prescription may work well for many people, some find that they don't feel well despite treatment. One reader shared her frustration.
Trouble with Treatment for Low Thyroid (Hypothyroidism):
Q. I am desperate. I've taken Synthroid for hypothyroidism for 21 years. For the last 10 years, the dose has been 100 mcg. Last year, my blood work showed my T3 level was too high. My doctor put me on 75 mcg.
On that dosage, I gained 20 pounds in three months, I was depressed, my skin was dry, I lost a lot of my hair and I felt cold all the time. I got my levels rechecked in July and my T3 was too low, so my doctor put me back on 100 mcg.
A few months later, another recheck showed my levels were too high. That surprised me because I still felt awful. I was expecting the doctor to tell me that I needed a higher dose.
I am now on 88 mcg, but I feel terrible. When my levels were checked again, I heard they were perfect. I asked the doctor why I can't lose the 20 pounds I gained. She told me that I should exercise more. I exercise every day and I don't eat a lot.
A thyroid specialist I saw told me that I should expect to gain weight because I am 50. I asked about taking the natural pill Armour and he told me no. So did my PCP.
I told both doctors that I'm cold when it is 96 degrees out, I can't lose weight, my skin is dry, I'm tired all the time, I have no energy and I'm sad a lot. Neither doctor is listening to me. All I want is for them to say, "Let's get to the bottom of this." But they both are stumped.
I hate feeling this way. What else can I do?
Finding a Solution for Hypothyroidism:
A. Your symptoms are classic for hypothyroidism. Some people can have normal blood tests and still not feel well. You need another opinion from a thyroid expert with a better understanding of the most recent research. Experts call for "a thoughtful patient work-up" to determine why the usual treatment is not working as expected (Journal of Endocrinological Investigation, Dec. 2017).
In our eGuide to Thyroid Hormones, we describe research showing that some people don't convert T4 to T3 efficiently. Such individuals often do better on a combination product or desiccated thyroid extract like Armour. Keep reading to learn more about this condition.
Losing weight when your thyroid is not functioning properly is challenging. Exercise alone won't solve such a problem.
A smartphone app called BOOST Thyroid was tested by more than 400 people with low thyroid (Women's Health Reports, June 28, 2021). People using this patient-centered approach found that it helped them improve their quality of life. 
What Is the Best Way to Correct Low Thyroid Hormone Levels?
Levothyroxine is a synthetic form of the natural thyroid hormone known as T4. That's because it has four iodines. Enzymes in the body knock one iodine off to turn it into the active form, T3, also called triiodothyronine. Most of the time, physicians assume that people taking the proper dose of T4 will readily convert it to T3. Consequently, patients only need to take levothyroxine to correct their low thyroid levels. However, while some people do quite well on T4 alone, others continue to experience troubling symptoms (Journal of Clinical Endocrinology and Metabolism, Sep. 1, 2020).
Helping People Who Need More Than T4:
For quite some time, we have been hearing from readers who report feeling better on Armour Thyroid (desiccated thyroid extract) than on Synthroid or Levothroid alone. Now, a study presented at the Endocrine Society annual meeting shows that many patients prefer treatment with combination therapy that includes both T3 and T4 (ENDO 2021, March 20-23, 2021).
In the randomized controlled trial, 75 people with low thyroid levels took levothyroxine alone, combination therapy or desiccated thyroid extract (Armour, Westhroid) for three months at a time in a double-blind trial. Nearly half of them reported that they felt best on desiccated thyroid extract, a very old-fashioned treatment. The thyroid glands of pigs provide desiccated thyroid extract (DTE). Like combination therapy, it too supplies T3 as well as T4.
The lead investigator, Thanh D Hoang, DO, noted:
"There are now proven good treatment options for the more than one in 10 patients with hypothyroidism who continue to experience symptoms of fatigue, mental fogginess, weight gain and other symptoms despite taking levothyroxine."
DTE Is Not Appropriate for Everyone:
Because companies derive DTE from pigs, people whose religious practices forbid pork are not able to use it. Patients with alpha-gal allergy should also avoid Armour and similar products (AACE Clinical Case Reports, May-June 2020). Because they react badly to all mammalian products, taking DTE could trigger a very serious, if delayed, allergic reaction.
Why Treating Low Thyroid Levels Is Important:
When thyroid hormone levels are low, people can feel terrible. Symptoms range from fatigue and constipation to weakness, dry skin, depression, high cholesterol and hair loss. Most health care providers are well aware of these, but they may not pay as much attention to cognitive difficulties or clumsiness. This can have serious consequences in the real world.
Researchers at the University of Kentucky tested 32 people with thyroid cancer who had to stop taking thyroid hormone for medical tests (Thyroid, Jan. 2015). They administered several psychological tests and tested the patients in a driving simulator. Later, after the participants had again started taking thyroid hormone, they took the tests over.
When their thyroid hormone levels were very low, people hit the brake far more slowly. Presumably their reflexes suffered. The volunteers drove nearly as badly as if they were intoxicated with alcohol. Once hormone levels normalized again, they drove with significantly more skill.