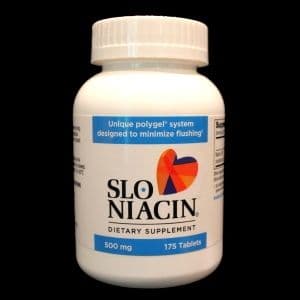 For decades doctors have been telling patients to get their "bad" LDL cholesterol levels down and to boost their "good" HDL cholesterol. Cardiologists have been prescribing niacin to do both for more than 50 years. Niacin lowers LDL cholesterol levels anywhere from 15 to 40 percent, raises good HDL cholesterol 10 to 20 percent and also brings down triglycerides.
A landmark study published in 1986, the Coronary Drug Project, tracked heart attack victims for 15 years. Men who had been prescribed niacin had substantially fewer repeat heart attacks and 11 percent fewer deaths than men on placebo. In a follow-up analysis, it was revealed that the benefit persisted for many years, even after the men stopped taking niacin.
Now, in a giant flip-flop, doctors are being told to stop routine prescribing of niacin and patients are being told that the risks outweigh the benefits. Two new studies published in the New England Journal of Medicine (July 17, 2014) suggest that even though niacin produced favorable lipid changes (lowering LDL cholesterol and triglycerides and raising HDL cholesterol), it did not produce meaningful improvements in heart attacks, strokes or death. This led to a flurry of headlines in popular media:
What is the People's Pharmacy take on the new studies and the scary headlines?
Let's actually examine the studies a bit more carefully than some of the talking heads have done on the evening news. What has not been clearly stated is that neither of the studies in the New England Journal of Medicine actually compared pure niacin to placebo the way the original Coronary Drug Project did decades ago. Both studies placed all patients on statins before assigning any of them to take either extended-release niacin or a niacin combination drug in addition to the statin.
In the Heart Protection Study 2-Treatment of HDL to Reduce the Incidence of Vascular Events (HPS2-THRIVE), patients were prescribed 40 mg of simvastatin (Zocor) during the "run-in phase" of the trial. If this statin didn't lower their total cholesterol levels below 135 they were also prescribed ezetimibe (Zetia). This treatment led to average LDL cholesterol levels in all patients of 63 before niacin therapy was added to the regimen.
It was only after cholesterol levels were in the basement that niacin was added. But here's the catch. The study subjects did not get pure niacin. They either received a placebo or a Merck drug called Tredaptive that contained both niacin and an experimental compound called laropiprant. This additional medication was included to reduce facial flushing, a common side effect of niacin.
What They Found:
In patients taking high doses of statin (and possibly Zetia) with very low cholesterol levels, there was no cardiovascular improvement achieved by adding Tredaptive (niacin plus laropiprant). Patients taking 40 mg of statins (and possibly Zetia) together with niacin and laropiprant had more adverse reactions than patients taking statins and ezetimibe alone. Those complications included flushing and other skin reactions, digestive distress, musculoskeletal problems, infections, bleeding disorders and diabetes.
Unanswered Questions:
Do statins (and/or ezetimibe) render niacin ineffective or more dangerous? (We are puzzled that the investigators and "experts" have not considered such a possibility.)
Did the added laropiprant have any impact on the outcome?
How would pure niacin have performed without laropiprant or statins (plus Zetia)?
Is it possible that raising HDL cholesterol levels with drugs has no measurable benefit and that only naturally high HDL levels provide heart protection?
The other study, called AIM-HIGH (Atherothrombosis Intervention in Metabolic Syndrome with Low HDL/High Triglycerides: Impact on Global Health Outcomes), also involved patients given 40 mg of simvastatin plus 10 mg of ezetimibe to get LDL cholesterol below 70 mg per deciliter. Once LDL cholesterol levels were reduced dramatically, patients were randomized to as much as 2000 mg of niacin or placebo daily. Again, there was no benefit to adding niacin to the statin therapy.
Seemingly overlooked in the trashing of niacin was the fact that there was no statistically significant difference in overall serious adverse events between patients on simvastatin plus ezetimibe and placebo (32.5% serious adverse events) compared to those on simvastatin, ezetimibe and niacin (34.2%).
BOTTOM LINE ON NIACIN:
Neither study published in the New England Journal of Medicine looked at niacin by itself in reducing heart attacks, strokes or death. As far as we can tell no one has considered the possibility that adding statins (and/or ezetimibe) to niacin therapy renders niacin ineffective and/or more more dangerous. Such a drug interaction needs to be ruled out.
It is entirely possible that niacin is not beneficial and carries serious side effects, but these studies involved three or four drugs (depending upon design): simvastatin, ezetimibe, niacin and laropiprant. To conclude that niacin is useless and dangerous from these studies is, in our opinion, somewhat premature. To make that conclusion one would need to repeat the original Coronary Drug Project and randomize people at risk of heart disease to either niacin or placebo and follow them for a long time. That is not likely to happen given that niacin is available generically and there is no incentive for a drug company to conduct such a large and expensive trial.
One Final Note:
Combining ezetimibe (Zetia) with simvastatin (Zocor), as both trials did, may not make much sense. There are no good data suggesting that ezetimibe reduces heart attacks or strokes and improves survival stats. One key study (ENHANCE) did not demonstrate better outcomes when Zetia was added to simvastatin. Why these researchers chose to include ezetimibe in both niacin trials remains a mystery to us. The combination of simvastatin and ezetimibe may also pose special risks. Adding ezetimibe to a high-dose statin regimen may increase the likelihood of side effects such as muscle pain and weakness as well as liver damage.
Niacin should never be a do-it-yourself project. Liver enzyme monitoring is essential, especially with slow-release products. Other side effects that must be considered include blood sugar elevation, digestive distress and bleeding. That said, if you have been taking niacin under medical supervision without complications, do not stop without first checking with your physician. Those scary headlines may be misleading for all the reasons stated above.
For more information about the pros and cons of niacin and other cholesterol-lowering approaches we suggest Best Choices from The People's Pharmacy. It offers many non-drug alternatives that are likely to be better tolerated than statins, ezetimibe or niacin.
Share your own statin story or niacin experience in the comment section below.
This article was updated on May 24, 2016.