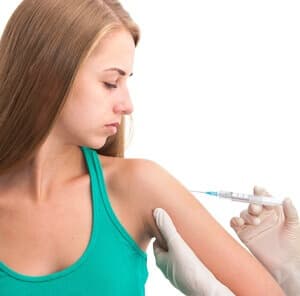 Before flu season starts, we are all urged to be vaccinated against influenza. The flu shot is not supposed to have serious side effects, and it is seen as the best public health measure for protecting people from this viral disease that can cause severe illness and even death. There are a number of reports, however, that the vaccination may lead to severe shoulder pain.
Flu Shot and Severe Shoulder Pain:
Q. I got my flu shot yesterday and woke up very early this morning with horrible pain in my left arm and shoulder. It's my first flu shot in years. I got it because when I came down with the flu last year my boss gave me a really hard time about not having had a vaccination.
The pain starts in my shoulder and runs all the way to my wrist. I went to work today despite the pain, but I am in agony.
I take regular pain medications for a fractured vertebra, and they have no effect on the pain in my shoulder. My range of motion is limited, and moving my left arm at all is incredibly painful.
Unfortunately, I am left-handed. Unless this improves in the next few days I'll need to see my doctor. Do you have any idea how long it might last?
How Long Will the Pain Last?
A. In the last few years we have heard from hundreds of people who have reported severe shoulder pain after a flu shot. Some of them complain that the disability lasts for weeks or even months.
The standard explanation is that the pain and weakness are due to improper administration of the vaccine. This can damage the bursa, tendons or ligaments in the shoulder. There is even a name for this condition: SIRVA (Shoulder Injury Related to Vaccine Administration).
Whether the flu shot itself is contributing to this problem is unknown. We have not seen a lot of concern about should pain and flu shots either the CDC or the FDA. Anything that might discourage people from getting a flu shot seems to be shunned. We would like to know if this is as serious as our visitors seem to suggest in their messages. Here is just a sampling from other people in pain:
Stories from Visitors:
Becky in Virginia shared this experience on January 14, 2016:
"I got my flu shot November 6, 2015 at my doctor's office. It was given by his nurse. My upper arm was painful and red from the start but instead of getting better, it got worse. My upper arm was rock hard, red, hot and itchy for about a month.

"It seems like things stayed about the same for a couple of weeks and then the pain started getting worse and moving both up to my shoulder and down to my hand. Today, my fingertips actually feel numb after days of tingling. My forearm is excruciating. I get maybe 2 or 3 hours sleep because as soon as I move from lying flat on my back the pain wakes me up.

"I would have never thought something like this could happen. So I am now about 2 months out and wondering how much longer. My doctor doesn't say one way or the other if the vaccine caused this but it sure seems like they don't want to take any responsibility. Medicine doesn't seem to help at all to ease my pain. I, like others, just wonder how long, if ever, it will take for these symptoms to go away."
Heidi in North Dakota contacted us on October 18, 2016:
"I received a flu shot through employers flu blitz on October 5, 2016. That night I woke with my arm in severe pain and the next day was unable to move my arm at all. The next day I was able to move my arm again but movement was limited. And there was still shoulder pain – mostly in the joint.

"It's now almost two weeks since the shot and I still have limited movement and pain. After visits to two different doctors, I feel like I'm getting the same story, 'The flu shot didn't do that.' Really? Then why is it that it's shoulder pain only in the shoulder I received the shot?

"I'll give it another week, see what happens and if it doesn't improve then I'll be seeing a third doctor. A coworker had a similar situation and required surgery – so hope mine doesn't go that far. But it would be nice to speak with someone who believes that somethings been screwed up due to the shot."
R. in Arizona wrote to us in March of this year:
"I started a new job last year (October 2015) within a facility here in Arizona. The ADON [assistant director of nursing] stated that it was either the flu vaccine or no job….so I of course, got the vaccine. My ADON was the one who administered it.

"Almost immediately I had soreness in my deltoid area. The pain increased over the next few weeks, to a point that I was unable to move my arm without severe pain. The pain was in my left deltoid, left bicep, and tricep area, going down to my forearm. It is now March of 2016 and the pain has gotten so severe that I am unable to dress myself, work (I'm a nurse), and driving has become difficult. Shaving my underarm is the hardest thing for me to do, even putting deodorant on causes excruciating pain.

"I have been out of work for about two months and bills are piling up. The facility where I worked is now saying that I didn't have the vaccine while there. I've been seeing a physician, actually a nurse practitioner and she has no idea and hasn't really given me any clues to what it might be or what I can do for it.

"I am unable to sleep on my left side without pain going all the way down to my forearm. She ordered an MRI of my left shoulder which only covered the top of my shoulder, not my deltoid or arm. I don't have insurance now because of no job, so I am paying with cash. Any suggestions?"
What Can People with Shoulder Pain Do?
The government offers a website to report such reactions: https://vaers.hhs.gov/index
People who have long-lasting injury due to vaccinations can apply for compensation. The National Vaccine Injury Compensation Program has a phone number (800-338-2382) and a website.