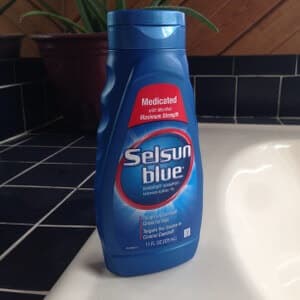 Rosacea is a persistent inflammation of the skin of the face, making it red, sensitive and sometimes bumpy. Frequent flushing is a hallmark of the condition, which usually starts in adulthood. Rosacea symptoms can sometimes be difficult to control.
There are a number of medications that doctors may prescribe, but some readers have found that home remedies are very helpful. Many report, as this reader does, that a selenium-containing dandruff shampoo significantly eases rosacea symptoms.
Finding Relief from Rosacea Symptoms at a Reasonable Cost:
Q. I developed rosacea a few years ago. Although I tried ignoring it, the condition got worse.
A dermatologist gave me samples of Finacea. That helped a little but there is a $60 copay for the prescription. Metrogel works a little too but, again, has a $60 copay.
Washing Away Rosacea Symptoms in the Shower:
My wife told me to use Selsun Blue. I wash my hair with it and drag the suds down over my face. If I hadn't had an itchy scalp, I would not have bothered. I really thought this idea was bogus, so it's not a placebo effect.
This is no extra effort, since I am in the shower anyway. Lo and behold, I got out of the habit of using Metrogel because the rosacea absolutely disappeared. After months of nothing but Selsun Blue to treat my rosacea symptoms, they're completely gone.
A. Rosacea is an inflammation of the skin that causes redness and bumps on nose, forehead and cheeks. Dermatologists think it may be due to an immune response to fungi, bacteria or some viruses. Even Demodex mites have been proposed as a cause.
Selsun Blue has anti-fungal activity. That may explain why many readers report that this dandruff shampoo can be helpful against rosacea. Here is what Carolyn said:
"I have an Irish/English background (typical for skin problems like this) and have had rosacea for over a decade. It is mostly redness and heat upon waking up, with stress, without stress, or whenever! The dermatologist said I also had mild seborrheic dermatitis.

"I read about Selsun Blue and tried it yesterday (just the regular type with 1% sulfur) and it felt cool and nice for the 5 minutes I left it on. My cheeks were actually less red this morning after waking up. I will continue to try it!"
Revised 3/10/2016