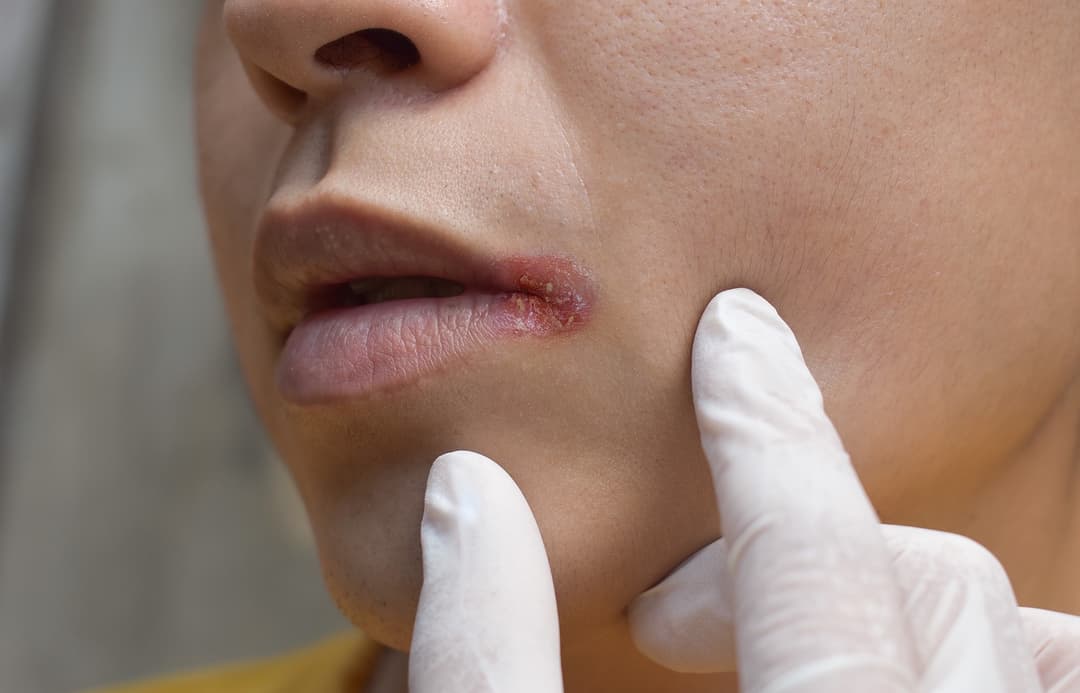 We have been writing about a common condition called angular cheilitis for years. Other names for this skin complaint include cheilosis, perleche, angular stomatitis and rhagades. They all refer to inflammation and/or cracks at corners of the mouth. Medical authorities often describe the irritation and fissures as painful but "usually not dangerous." This reader begs to disagree!
Why Were Cracks at Corners of the Mouth So Scary?
Q. Many years ago my mother developed painful cracks at the sides of her mouth. Eventually, after trying various treatments without much success, she was tested and diagnosed with pernicious anemia, a fatal disease if not treated.

As I understand it, people with the disease cannot get enough B12 from food because they lack an intrinsic factor necessary to metabolize B12. They also slowly develop other symptoms like serious exhaustion, which my mother had.

The treatment for pernicious anemia was B12 injections, which completely healed the mouth sores and greatly improved her strength and energy. Nowadays research has found that B12 supplements in pill form are just as effective, but one must take a high dose and be monitored by a physician. In my mother's case, cracks at the corners of her mouth saved her life from this potentially deadly deficiency.
What is "Pernicious Anemia"?
A. Pernicious anemia is, as you described, a serious condition in which the lack of a protein called "intrinsic factor" (IF) means vitamin B12 (cobalamin) is not absorbed well. This can lead to inadequate red blood cells. Unhealthy red blood cells trigger anemia and that can turn into all sorts of serious problems.
Think of this condition a bit like a bunch of dominoes falling over. The first domino to fall can be caused by a couple of factors.
Intrinsic Factor (IF) Insufficiency:
If there is deficient IF protein in the stomach lining, your body cannot absorb adequate amounts of vitamin B12 from food.
What causes a lack of intrinsic factor?
Autoimmunity can cause the body's immune system to attack the cells that make intrinsic factor. What triggers this reaction is not clearly understood. Doctors can order an intrinsic factor (IF) antibody test. IF deficiency disorder can also be inherited.
Stomach surgery (gastrectomy) and bariatric surgery can remove the cells that make IF.
Gastritis (inflammation and/or thinning of the lining of the stomach) can also lead to a lack of intrinsic factor.
More Dominoes:
Another domino that can cause pernicious anemia is a lack of vitamin B12 in the diet. Since this nutrient comes from animal-based foods, vegans are especially susceptible unless they take a supplement (Nutrition Reviews, Nov. 22, 2022).
Other dominoes that can lead to vitamin B12 deficiency include celiac disease, bacterial overgrowth within the intestines and autoimmune disorders like lupus or Graves' disease.
Medications that suppress stomach acid such as esomeprazole (Nexium), lansoprazole (Prevacid), omeprazole (Prilosec) and rabeprazole (Aciphex) may also impact B12 absorption (Cureus, Nov. 19, 2022; Annals of Medicine and Surgery, Sept. 26, 2022). The diabetes drug metformin is also suspected of negatively impacting this crucial nutrient!
Symptoms of Pernicious Anemia Include Cracks at Corners of the Mouth
Symptoms of pernicious anemia may include fatigue, dizziness, palpitations, shortness of breath, sore tongue, weakness and numbness or tingling in the hands and/or feet. If someone has trouble walking, that person should be tested for B12 deficiency.
Other red flags include diminished appetite, weight loss, digestive upset, irritability, a tender tongue and a rapid pulse. Cracks at the corners of the mouth may also be a red flag.
Serious Consequences!
If a person does not get adequate levels of this vitamin B12 over time, the nervous system may be irreversibly damaged. Confusion or memory problems could be symptoms of this vitamin deficiency.
Other serious complications of pernicious anemia include gastric cancer, tonsillar cancer, esophageal cancer, myeloma, acute myeloid leukemia and fractures of the back. Neurological damage has also been linked to vitamin B12 deficiency. Our friend and colleague, Dr. Tieraona Low Dog, mentions that:
"Low levels of vitamin B12 can lead to depression, confusion, and possibly dementia. In patients with low Vitamin B12 levels, the improvement I've witnessed in their mood and energy has often been dramatic once their levels were back in the normal range."
From the book, Fortify Your Life: Your Guide to Vitamins, Minerals and More.
B12 Deficiency Often Overlooked:
"Vitamin B12 deficiency is a common condition, typically associated with megaloblastic anaemia, glossitis and neuropsychiatric symptoms. We report the case of a patient presenting with progressive cognitive and functional deterioration, psychosis and seizures, later found to be secondary to pernicious anaemia. Importantly, the diagnosis of pernicious anaemia was only established 5 years after symptom onset and was overlooked even when the patient was under medical care, in part due to the lack of classic neurological and haematological signs associated with the condition. The patient had a remarkable neuropsychiatric recovery after vitamin replacement and psychopharmacological management."
Did you note that pernicious anemia was only diagnosed after 5 years of symptoms?
Here is another example of vitamin B12 Deficiency that was "obscured" (BMJ Case Reports, March 22, 2022):
"Vitamin B12 deficiency is a cause of reversible dementia that must be ruled out in the evaluation of neurocognitive decline. We present a case of neurocognitive decline secondary to B12 deficiency where the workup was obscured by multiple competing diagnoses and treatment with empiric B12 supplementation reversed symptoms. Although the pretest probability was low, the morbidity from undiagnosed B12 deficiency is high, warranting a trial of B12 supplementation that resolved the patient's symptoms."
Cracks at the Corners of the Mouth and Pernicious Anemia:
I would like to tell you that there is a lot of research linking angular cheilitis to nutritional deficiencies. That would not be true. We did find a study titled "Oral Manifestations of Nutritional Deficiencies" published in Acta Medica, 2020.  The authors mention angular cheilitis and other nutritional deficiencies of vitamin B12: iron and folic acid.
There are other studies linking cheilitis to vitamin B12 deficiency and pernicious anemia (Shanghai Journal of Stomatology, June, 2022; Journal of Oral Pathology & Medicine, Nov. 1995). Overall, however, we were disappointed to discover that there is a surprising paucity of this kind of research.
How to Treat Pernicious Anemia:
Pernicious anemia was once treated almost exclusively by monthly B12 injections. However, clinical trials show that high-dose vitamin B12 pills (1000 micrograms/day) are also effective (Frontiers in Medicine, Aug. 23, 2016).
Other Ways to Deal with Cracks at the Corners of the Mouth:
If there is a vitamin B12 deficiency, that must be addressed pronto! We suspect that this nutritional problem could be far more common than most health professionals recognize. The Schilling test is no longer considered a reliable test for vitamin B12 deficiency.
These days the MMA (methylmalonic acid) test is used to evaluate vitamin B12 deficiency.
When it comes to treating cracks at the corners or the mouth, we have lots of home remedies that could be effective. Once a vitamin B12 deficiency has been ruled out, there are a surprising number of strategies that could be helpful. What works for one person, however, may not work for everyone.
Here is a link to our article:
Angular Cheilitis (Perleche) Home Remedies
In this post you will learn about other B vitamins and minerals, vitamin D, Listerine, Vicks VapoRub, antifungal creams, and our own  People's Pharmacy Pomegranate Natural Lip balm.
If you have cracks at the corners of the mouth, please take a few moments to check out our article with 118 comments! Please share your own experience with vitamin B12 deficiency, pernicious anemia or angular cheilitis in the comment section below.