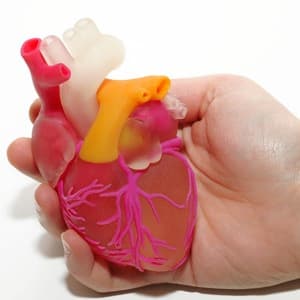 One Female Hand Holding 3D Printed Human Heart
If you take a pain reliever on a regular basis, especially if you have type 2 diabetes, it might hurt your heart. The European Society of Cardiology reported that non-steroidal anti-inflammatory drugs (NSAIDs) are linked to "hospitalization for heart failure in patients with type 2 diabetes" (Aug. 23, 2022). This is not the first time NSAID pain relievers have been associated with heart failure. A study published in the BMJ, online Sept. 28, 2016 concluded that:
"Our study, based on real world data on almost 10 million NSAIDs users from four European countries, provides evidence that current use of both COX 2 inhibitors and traditional individual NSAIDs are associated with increased risk of heart failure."
NSAIDs and Heart Failure:
Nonsteroidal anti-inflammatory drugs such as diclofenac, ibuprofen or naproxen are mainstays for treating people with chronic pain such as osteoarthritis. The researchers analyzed hospital records of 92,163 people with heart failure and more than 8 million healthy control subjects.
People who had taken one of the NSAID medicines in the preceding two weeks were 19 percent more likely to need hospitalization for heart failure. In this condition, the heart muscle is not strong enough to pump all the blood the body needs.
Which NSAIDs Might Hurt Your Heart?
Different medications carry different levels of risk. Naproxen (sold in the US under the brand name Aleve) increased the possibility of heart failure by about 16 percent, while the prescription NSAID ketorolac (Acular, Toradol) increased its likelihood by about 83 percent. Higher dosages were associated with greater risk.
The drugs with the worst track records included a few that were being used in Europe between 1999 and 2010 but not in the US, such as rofecoxib (Vioxx), eterocoxib (Arcoxia) and nimesulide. Others are familiar, however: ketorolac, indomethacin, piroxicam, diclofenac, ibuprofen and naproxen. Elderly people and those with heart problems are especially vulnerable to this dangerous side effect.
Fast Forward to August, 2022:
The European Society of Cardiology met this summer in Barcelona, Spain. The new NSAID study offers this new information:
"NSAID use has previously been associated with an increased risk of heart failure in the general population but data are lacking in patients with type 2 diabetes. Given that patients with type 2 diabetes have over twice the likelihood of developing heart failure as those without diabetes, NSAIDs could be even more detrimental in this at-risk group.

"This study investigated the association between short-term NSAID use and the risk of first-time heart failure hospitalisation in a nationwide cohort of patients with type 2 diabetes.

"The study included 331,189 patients with type 2 diabetes. The average age was 62 years and 44% were women. During the first year after inclusion in the study, 16% of patients claimed at least one NSAID prescription while 3% claimed at least three prescriptions. Ibuprofen was used by 12.2% of patients, diclofenac by 3.3%, naproxen by 0.9%, and celecoxib by 0.4%. During a median follow up of 5.85 years, 23,308 patients were hospitalised with heart failure for the first time."
Why Do NSAIDS Harm Your Heart?
There was a 48% increased risk of first-time heart failure hospitalization in patients with type 2 diabetes if they were taking ibuprofen or diclofenac. That does not mean that other NSAIDs are safer. These were the two most commonly prescribed NSAIDs in the study.
OTC use of NSAIDs was not included in the study, but there is no reason to believe that nonprescription use of NSAIDs would be a lot safer than Rx use. Of course a lot depends upon dose. Doctors may prescribe higher doses of ibuprofen or naproxen. Nevertheless, we would not assume that you are home free if you are popping such drugs without a doctor's supervision.
What Else Can You Do for Pain?
If you don't want to hurt your heart, you may need to find other ways to manage chronic pain. People with arthritis may not feel much like moving sore joints, but regular gentle exercise is a great help.
Other sufferers may benefit from some of the home remedies other readers recommend. These include tart cherries or cherry juice, gin-soaked raisins or a diet rich in omega-3 fatty acids from fish or fish oil supplements (Prostaglandins, Leukotrienes, and Essential Fatty Acids, April, 2016).
To learn more about such nondrug approaches to pain control, you might consult our eGuide to Alternatives for Arthritis. It is available in the Health eGuides section of this website.
You may also find the arthritis suggestions in our book, The People's Pharmacy Quick & Handy Home Remedies of value.