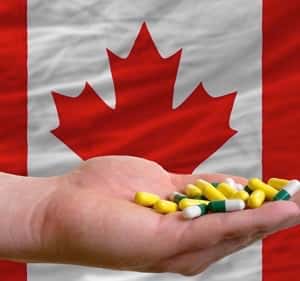 The FDA has a peculiar philosophy about drug importation. It allows pharmacy chains, drug wholesales, big box discount drug stores, nursing homes and lots of other drug distributors to purchase drugs from all over the world. Most generic drugs are imported, with China and India supplying both raw materials and finished pills. There have been huge scandals about fraud and quality control at many of these foreign plants. But if an American citizen wants to buy brand name medications from Canadian online pharmacies, the FDA warns that this is dangerous.
Here is one reader's question about this practice:
Q. My insurance company will no longer pay for two of my brand-name medications. I am allergic to certain fillers in generic drugs and thus cannot tolerate some.

I am thinking about ordering these two brand-name meds from Canada. I have perused Canadian pharmacy sites on the Internet and some look very good. I wonder if you might know of some Canadian pharmacies that people have had good luck with in relation to the quality of the medication received? We cannot afford to continue paying the outrageous US prices for these medications.
A. Although generic drugs must have the same active ingredient as the brand name equivalent, they often contain different binders, fillers and colors. This can cause serious problems for people who are allergic to such ingredients.
Canadian Online Pharmacies Represent Huge Savings:
Savings on brand name medicine purchased from a legitimate Canadian or international pharmacy can be dramatic. We checked with an organization that carefully monitors Canadian and international pharmacies for cost comparisons. PharmacyChecker.com analyzed several common medications. They reviewed retail prices from local US pharmacies and compared them to Canadian or international online pharmacies. Here is what they found for some important brand name medications.
Prices are for a three-month supply:
Januvia 100 mg cost $1,431.04 in the U.S. vs. $49.70 in Canada or an international online pharmacy
Crestor 10 mg cost $818.41 in U.S. vs. $38.52 in Canada or an international online pharmacy
Xarelto 20 mg cost $1,518.49 in U.S. vs $83.52 in Canada or an international online pharmacy
Premarin 0.625 mg cost $533.34 in U.S. vs. $38.62 in Canada or an international online pharmacy
Please keep in mind that these are all brand name medications/prices. We are not comparing brand names to generic products. These are comparisons between brand name pharmaceuticals in the US compared to brand name drugs made by the same manufacturer sold online from Canada or an international online pharmacy. Check with PharmacyChecker.com to see for yourself.
A Patient Describes the Premarin Cost Differential:
Q. I take Premarin 0.625 mg/day for hot flashes and severe vaginal dryness. There is no generic. Other estrogen replacement therapies that might be prescribed do not work for me. So my annual drug and insurance premiums would be over $2,000 a year.

Instead, I buy this medication online from Great Britain for $32.99 for an 84-day supply. The service is excellent and the savings amazing. I was desperate to save money on this brand-name medication. Thank you for helping me with good information about shopping online.
A. We are so glad to hear of your success. When ordering online, it is important to ensure that you are dealing with a reputable pharmacy so you get the true brand-name product you are expecting.
Some fraudulent companies advertise themselves as online Canadian pharmacies. They could be selling counterfeit drugs. That's why we have included criteria to identify legitimate online pharmacies in our eGuide to Saving Money on Medicines. Some of them have partnerships around the world. This online resource is available under the Health eGuides tab.
Why Are Brand Name Meds So Pricey in the US?
Brand name pills are pricey in the U.S. because there are no brakes on what brand name companies can charge. In many other countries the government negotiates prices with the big brand name manufacturers, which is why the savings PharmacyChecker.com discovered is so incredible. That is important, especially when your brand name medicine is expensive and you cannot tolerate the generic.
Can You Trust All Canadian Online Pharmacy Websites?
Sadly, a nice website does not guarantee that an online pharmacy is truly Canadian. Fake online sites might sell counterfeit or substandard medicines.
We have prepared a Guide to Saving Money on Medicine that provides more details on the benefits and risks of shopping for medicines online. In it you will find our ten tips for saving money, including how to shop comparatively, bargain with the pharmacist and learn how to discover if you qualify for free medicine.
It is available electronically at PeoplesPharmacy.com. You can also visit PharmacyChecker.com for comparative pricing and verification strategies when shopping internationally.