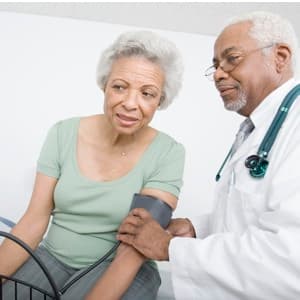 Good control of blood pressure is one of the pillars of good health. When blood pressure starts to rise, so do the risks of stroke, kidney damage and heart disease. But before starting on medication to treat hypertension detected in the physician's office, you'd want to make sure that your blood pressure is actually elevated. Some people become anxious at doctor visits. That anxiety then pushes blood pressure higher than it would usually be. This response is known as "white coat hypertension." Is there a way to sidestep white coat hypertension?
Overcoming White Coat Hypertension:
Q. You have written about white coat hypertension. My solution is to have my physician take my blood pressure after the exam rather than before.
That way I have time to relax and get through the exam. My blood pressure is usually fine, whereas at the start of the visit it is often elevated.
A. Your approach to sidestep white coat hypertension is sensible. Perhaps others will benefit from your experience.
Is It Really White Coat Hypertension?
The only way to determine whether your blood pressure is really elevated only in the doctor's office is to keep good records of your readings. You can do this with a reliable home blood pressure monitor. According to a study from Finland, measuring blood pressure at home may be far superior to having it done in the doctor's office. The investigators studied over 2,000 Finnish volunteers between the ages of 45 and 75. They were enrolled between 2000 and 2001 and followed for approximately seven years.
The scientists found that home blood pressure readings were more accurate than office measurements for predicting heart attacks, strokes and cardiovascular deaths. They pointed out that more readings provided a better assessment and helped eliminate the anxiety that many individuals experience in the doctor's presence (Hypertension, June 2010).
Using a Home Blood Pressure Monitor to Sidestep White Coat Hypertension:
One reader wrote about a personal experience using this strategy to sidestep white coat hypertension:
Q. I read in your newsletter that a study confirms that blood pressure readings at home are more reliable than those in the doctor's office. I've been through this and can tell you why.
Once diagnosed with hypertension, every trip to the doctor's office is like being called in to the boss to be told whether you will be promoted or terminated. I have more dread of a blood pressure reading than going to my retinal specialist.
My BP can be 150/85 at the doctor's office; it is 112/60 at home.
A. The research was published in the Annals of Internal Medicine (June 21, 2011). Over the course of 18 months, more than 400 veterans had their blood pressure monitored at home, in a research setting and in the clinic. Clinic readings were highest. Home blood pressure readings are a more accurate reflection of fluctuating blood pressure and should be shared with the doctor.
The most recent summary on hypertension states unequivocally that "out-of-the-office BP monitoring is a prerequisite for risk stratification and for identifying the need of initiating or adjusting antihypertensive drug treatment" (American Journal of Hypertension, online Jan. 4, 2017). Even people who have confirmed hypertension should monitor their blood pressure at home. Such monitoring provides data to determine which medications at what doses work best (Journal of Hypertension, Sep. 2016).
Measure Accurately:
It is vital to use accurate techniques when measuring blood pressure at home (Australian Family Physician, Jan-Feb. 2016).