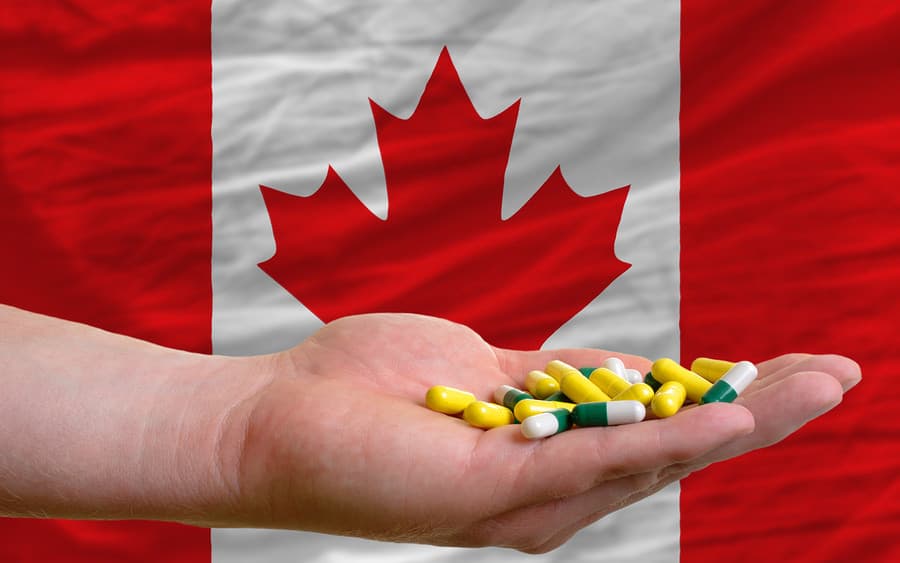 The Trump administration made headlines when it announced a plan to allow the importation of drugs from Canada. The stated goal was to save patients money. Alex Azar, then head of Health and Human Services (HHS) made this clear (July 31, 2019): "Today's announcement outlines the pathways the Administration intends to explore to allow safe importation of certain prescription drugs to lower prices and reduce out of pocket costs for American patients." Until that announcement, importing drugs from Canada was illegal!
What Happened to Importing Drugs from Canada?
The FDA finally issued its guidance document on importing drugs from Canada on May 25, 2022. Before you get very excited, though, we have to point out that this has very little to do with ordinary citizens of the US. It is all about states, wholesalers and pharmacies.
As far as we can tell, there is nothing in this plan about regular people importing drugs from Canada. That has led to lots of confusion. We invite you to try to make sense of the FDA's most recent (October 4, 2022) guidelines.
This reader wants to know what's going on.
Importing Drugs from Canada Is NOT New:
Q. I just heard that the FDA will allow drugs to be imported from Canada. When I had no drug coverage for 10 years (between 1996 and 2006), I bought my medications from Canada with no problems. What has changed?
A. It is technically illegal for individuals to purchase their medications from Canada. As far as we can tell, though, neither the FDA nor customs officials are arresting people who buy blood pressure pills, arthritis medicine or antidepressants from Canada.
"In most circumstances, it is illegal for individuals to import drugs into the United States for personal use. This is because drugs from other countries that are available for purchase by individuals often have not been approved by FDA for use and sale in the United States."
Huh? The vast majority of medications that Americans would like to save money on have been approved by the FDA and are sold in the US. The FDA goes on to say that it is OK to import drugs that the FDA has not approved as long as you have a serious condition, the treatment is not available in the US and the drug is not super dangerous.
But the FDA is not in favor of individuals importing drugs that have been approved for use in the US. Does that make sense to you?
Drugstores Sell Drugs From Other Countries All the Time!
The FDA allows drug wholesalers, pharmacy chains and health care systems to import drugs from India, China, Thailand, Mexico, Brazil and lots of other countries. Why can't normal folks buy their prescription drugs directly from Canadian pharmacies? The FDA says it is trying to protect us. Really?
The Food and Drug Administration must think people are stupid. The agency claims that it is dangerous to buy brand name drugs made by major pharmaceutical manufacturers like Pfizer, Merck, AbbVie or Roche if they are imported from Canada. But it is perfectly fine for drug wholesalers and mail-order pharmacies to purchase generic drugs from countries like Slovakia or China.
An Example of Price Differences:
We recently heard from a reader of our syndicated newspaper column:
Q. You have written about better drug prices in other countries compared to the United States. I take Trelegy for breathing problems. The price is outrageous. Where can I find information about ordering overseas to save money?
A. Trelegy Ellipta is an inhaled medication to treat chronic obstructive pulmonary disease (COPD) and asthma. It won't be available as a more affordable generic product any time soon.
According to GoodRx.com, the average retail price for a package of 60 "blisters" is over $700. That is for a single month's supply.
PharmacyChecker.com lists prices from approved Canadian partners. For a 45-day supply of brand name Trelegy, prices range from $77 to $523. The price differs depending upon where the medicine is shipped from. If it comes directly from Canada, it is pricier, but still less expensive than in the US.
To learn more about finding legitimate Canadian drugstores and other approaches to spending less on prescriptions, you may wish to consult our eGuide to Saving Money on Medicines. You will find this online resource under the Health eGuides tab.
The Florida-Canada Connection?
States have been trying to save money on medicines for years. Prescription prices have been budget busters for state employees and Medicaid patients.
The Republican governor of Florida, Ron DeSantis, wants to save money for his state. He and his colleagues came up with a plan that includes importing drugs from Canada at lower costs. That would be illegal under the old law. The FDA was not moving quick enough to update regulations so Governor DeSantis filed a lawsuit against the FDA.
"DeSantis said the FDA has violated federal law by dragging out the approval of the Canadian Prescription Drug Importation Program, which he first requested approval for in November 2020."
The FDA has, in theory, now opened the doors for states, pharmacies and drug wholesalers to start importing drugs from Canada. We suspect, though, that this process will be very slow to get off the ground. There are still lots of bureaucratic barriers. In the meantime, patients in the US will continue to pay high prices for prescription drugs.
High Drug Prices Are Breaking Health Care:
One of the most contentious issues in health care is the cost of medications. The pharmaceutical industry pats itself on the back for producing new compounds for conditions like cancer and Alzheimer's disease.
Doctors are pleased to have innovative drugs for hard-to-treat disorders. Patients want the latest and greatest treatments for everything from eczema to rheumatoid arthritis.
The problem with modern medicines, however, is the astronomical cost. Many of the latest cancer drugs have a price tag over $100,000 per year. An especially promising treatment called CAR-T can run more than $500,000 if you include related expenses.
Medicare Pays (Out of Our Tax Dollars):
Medicare, which pays for a lot of cancer care, has considered limiting the amount it will reimburse treatment facilities. While that would save taxpayer dollars, it could put a huge burden on the centers themselves. Most patients would struggle to pick up the slack or even just meet their copays.
Cancer is not the only disease with out-of-control drug costs. Not long ago, the FDA approved a new treatment for the neurodegenerative disorder called amyotrophic lateral sclerosis, or ALS. You may have heard it referred to as Lou Gehrig's disease.
A controversial new drug called Relyvrio (sodium phenylbutyrate/taurursodiol) was recently welcomed as a treatment option for this deadly disease. Then the company announced the price. It will cost at least $150,000 per year, approximately $12,500 per 28-day treatment cycle. Such prices can be overwhelming, especially when you consider that there are questions about the efficacy of the drug.
Drug Companies and High Prices:
Pharmaceutical companies justify their high prices on the grounds that drug development is expensive. Manufacturers often assert that research and development costs exceed $2 billion per compound.
It's almost impossible to verify such estimates, however. Drug companies are very good at maintaining secrecy around costs. Because they do not have to justify their pricing strategy, Americans have no way of knowing if stratospheric bills are rational.
Other countries handle drug pricing differently. In places such as the United Kingdom, where the government helps to subsidize health care, national organizations determine the value of a medication. They set prices that companies may not exceed if they want to do business in that country. In other places, such as France or Germany, the manufacturers must negotiate a reasonable price based on a drug's apparent benefit.
Will you save money? That's the real question. The link above describes the history of this new system. Eventually, it might save you a little money, but we are skeptical that it will make much of a difference to your bottom line. States like Florida may do well. Drug wholesalers and pharmacies may also do better, but will they pass on their savings to you the patient? Time will tell.
Readers Respond to the Idea of Importing Drugs from Canada:
Ron is a skeptic:
"Unfortunately, this is just another shiny object being sold to people who are going broke by being sick in America. Canada does not manufacture these drugs. They import them from America [and other countries]. So, the government's answer to lowering the price of drugs is to have them shipped to Canada then reshipped to the USA. Are Americans buying this?"
Sally is mad as hell:
"I know many seniors who have been getting their much needed, more AFFORDABLE, daily drugs from Canada for many years. They are alive and well and much better healthwise for it! If they had to rely on Pharma greed and scare tactics, they would not be so well.

"I am sick of the greed. Fighting with insurance companies about drug formularies and tier cost reductions is a terrible challenge. My doctor prescribed me a needed medicine. It is listed as tier 6 (yes, tier SIX) for $1,800.00 for a 30 day supply. Seniors attempting to survive on their monthly S.S. checks can NOT afford this outrageous cost.

"I, along with millions of others, will seek out my needed meds from the country that does not price gouge and is the most AFFORDABLE for me. It is disgusting to have to make choices of eating, paying bills/rent, etc. OR buying your expensive needed drugs."
Norma in Missouri offers this action plan:
"I have had excellent service from a Canadian pharmacy. When all the recalls of valsartan occurred [because of carcinogen contamination], I decided to order the brand name drug Diovan. It turns out the cost of Diovan was less than half the generic.

"Interesting too, the manufacturer has been in Turkey, Spain or Australia but then shipped from Singapore with no postage or other fees.

"Why take the round-about action of waiting for the government to allow importing drugs from Canada? Go to the source directly and negotiate a good price from the manufacturer! Drug companies will object and say they need the research funds, but they could eliminate all their expensive TV advertising to save money."
We frequently turn to PharmacyChecker.com to find out what pharmaceuticals cost from Canadian online pharmacies or international online pharmacies. Here is a description of the verification program to make sure the products are up to snuff.
Januvia (sitagliptin) for type 2 diabetes:
A three-month's supply of this brand-name medication in the US would cost more than $1,500 according to GoodRx.com. That is with a coupon!
The same brand-name medication would cost between $50 and $400 from a Canadian or international online pharmacy, depending upon where it ships from. PharmacyChecker.com estimates annual savings of thousands of dollars.
Xarelto (rivaroxaban) to prevent blood clots:
This same organization lists the anticoagulant Xarelto at over $1,500 for 90 days. That is if it is purchased in the US.
PharmacyChecker.com indicates that the same brand name drug from an online or international pharmacy would be between $149 and $319 depending upon where it comes from.
Advair (fluticasone & salmeterol) Diskus Inhaler for asthma and COPD:
According to PharmacyChecker.com, this pulmonary medicine would cost over $644 in the US for a 90-day supply. Once you open the foil pouch, however, the company says the inhaler is only good for one month. GoodRx.com lists the price of 1 diskus inhaler at nearly $400 with a coupon! That makes a three-month's supply of Advair worth about $1,200 if you pay cash. PharmacyChecker.com lists the Canadian and international price for three months for between $55 and $383, depending upon the pharmacy.
You can read about reliable Canadian pharmacies in our eGuide to Saving Money on Medicine along with other tips about using generic drug wisely. Share your own experience and thoughts about importing drugs from Canada in the comment section below.