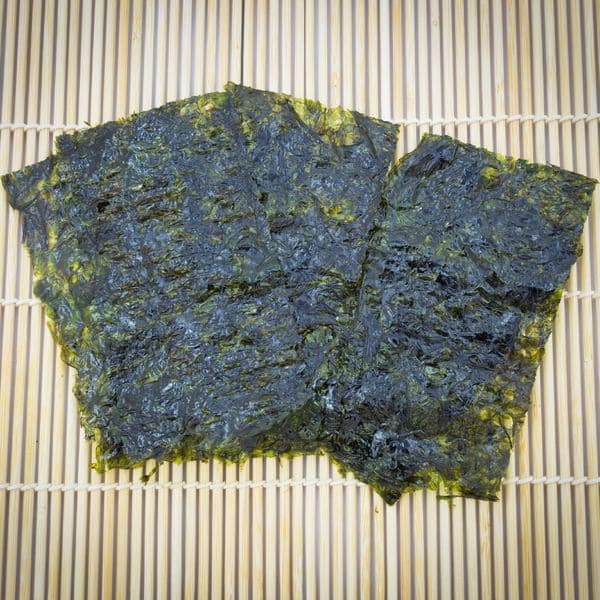 Closeup roasted seaweed snack (kim nori) on traditional bamboo mat
Americans are accustomed to being told to just eat a well-balanced diet. The implication is clear that if they did so, they wouldn't need to take any dietary supplements. But "a well-balanced diet' is hardly ever defined by the experts making such recommendations. Some people, including those who choose to avoid all foods of animal origin, may become low in certain nutrients. One reader would like to know if eating seaweed can make up for not getting vitamin B12 from animal foods.
Is Seaweed a Source of Vitamin B12?
Q. I live on a vegan diet. I take Vitamin B12 pills but would rather get this vitamin from my plant-based foods.
According to what I've heard, seaweed has natural vitamin B12, so I eat 0.6 oz of organic roasted seaweed daily. It's tasty, but I was hoping that this would cover my vitamin B12 requirement. Is there enough vitamin B12 in seaweed to do this?
A. Tieraona Low Dog, MD, is author of Fortify Your Life: Your Guide to Vitamins, Minerals, and More. She notes, "No matter what you might read, you cannot get vitamin B12 by eating non-fortified grains, nutritional yeast, algae, or seaweed."
Where Can You Get Vitamin B12?
Since you are a vegan, avoiding all animal products, you need a synthetic vitamin B supplement. The best form for most of us is methylcobalamin. Some individuals may have genetic tweaks (called single nucleotide polymorphisms, or SNPs) that make another form of vitamin B12 more bioavailable (Paul & Brady, Integrative Medicine, Feb. 2017). Unfortunately, testing for such SNPs is not widely available, so patients need to use a trial-and-error approach to find the best form for them.
What Happens If You Don't Take Vitamin B12?
If you don't get enough vitamin B12, you could suffer nerve damage, heart palpitations, fatigue, dizziness, weakness, tingling in the hands and feet and sore tongue. In the event of prolonged lack of vitamin B12, people may develop cognitive difficulties, megaloblastic anemia and an impaired ability to walk (Almoallim et al, Case Reports in Neurological Medicine, online Dec. 13, 2016).