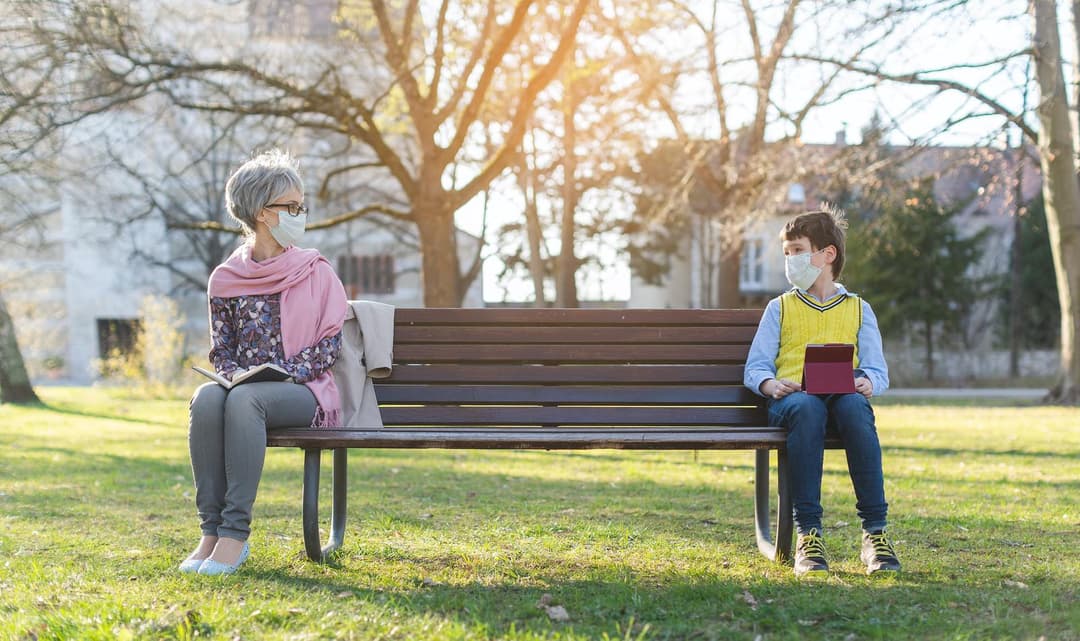 Based on a study published in the CDC's Emerging Infectious Diseases journal, we would have to say that it is possible to catch COVID-19 at a distance of 10 feet or greater (published as "Early Release" in advance of July, 2020 pub date). The CDC's guidance that 6 feet of separation is all you need to stay safe may have to be reevaluated because of an early outbreak that started in a restaurant in China.
The Transmissibility of the Coronavirus:
The CDC is the preeminent public health organization in the U.S.
From the earliest days of the coronavirus pandemic the experts there have been advising the public that:
"The virus is thought to spread mainly from person-to-person. Between people who are in close contact with one another (within about 6 feet)." 
At the same time the CDC admits that:
"COVID-19 is a new disease and we are still learning about how it spreads and the severity of illness it causes."
Perhaps it is time for the CDC to revise its recommendation to stay 6 feet away. That's because a study published in one of the CDC's own journals suggests that people may be able to catch COVID-19 at a distance of 10 feet or farther.
A Fateful Lunch in Guangzhou, China:
It all started when a family left Wuhan, China, on January 23. The government issued a notification at 2:00 am that the city would be locked down starting at 10:00 am that day. It is estimated that as many as 300,000 people got out of Wuhan by train before the curfew.
The distance between Wuhan and the southern Chinese city of Guangzhou is about 600 miles. It takes about 4 hours on a high-speed train to make the trip. One family escaped Wuhan before the 10:00 am lockdown. Four people in the family ate lunch the next day at restaurant X in Guangzhou.
One 63-year-old woman in the family (patient A1) had unknowingly been infected with COVID-19. At the time of the lunch she had no symptoms. Later that day, however, she started to develop a fever and a cough and was admitted to a local hospital. She was tested and found to be positive for the coronavirus.
Who Else Got Sick?
Within 12 days of that lunch, eight other people at the restaurant had been infected with SARS-CoV-2. Not surprisingly, three other members of her family (A2-A4) became sick. What is somewhat surprising, however, is that other families in the restaurant also became sick. Three members of family B and two members of family C eventually became sick with COVID-19. 
According to the researchers:
"The only known source of exposure for the affected persons in families B and C was patient A1 at the restaurant."
What makes this study so fascinating is the physical distance between the asymptomatic woman from Wuhan and the physical distance to the other families. Here is a map of the dining room:
Calculating Distances:
We have done some back-of-the-napkin calculations to try to determine how far apart people were from one another in the dining room. We cannot provide precise distances, but we think we are within the ballpark.
It is worth taking a few minutes to understand what might have happened at the restaurant. The woman who presumably spread the virus was sitting at table A. If you pretend the table is a clock, she was sitting at the 11:00 o'clock spot.
Three people sitting at table B did catch COVID-19. Two of them were about 3 to 4 feet away from index patient A1) and the third (B1) was about six feet away from her. B1 was the first to develop symptoms, and she may have given the infection to B2 and B3. More likely, however, they may have caught it directly from A1 at the same time B1 did. We'll never have an answer to that puzzle.
Table B is only interesting because the air conditioning unit that was close to table C was blowing air from table A toward table B (see the solid black arrows on the diagram of the room above). It is not that surprising that the close proximity of family A to family B and the airflow could transmit viral particles the distance of 3 to 6 feet.
Did People at Table C Catch COVID-19 at >10 Feet Away?
The really interesting data from this study come from the people at table C. A mother and daughter were also having lunch at this neighboring table.
Please look closely at the airflow in the diagram above. This is crucial! The air conditioner next to their table was blowing air from their table C towards tables A and B. The mother and daughter at table C who did catch COVID-19 (patients C1 and C2) were roughly 9 feet and 10.5 feet away from index patient A1.
But wait, it gets much more interesting than that! Remember, the air conditioner was blowing air from above table C, over table A and over table B. It then hit the back wall and traveled back towards table A and C.
Patient A1, the asymptomatic infected 63-year-old woman from Wuhan, could have exhaled viral particles that traveled 3 to 6 feet to table B and on the return 9 to 10.5 feet to table C. In the worst case scenario, the viral particles could have traveled a total of more than 20 feet from table A to the back wall and back again to table C.
The authors note:
"Virus transmission in this outbreak cannot be explained by droplet transmission alone. Larger respiratory droplets (>5 μm) remain in the air for only a short time and travel only short distances, generally <1 m [3 feet]. The distances between patient A1 and persons at other tables, especially those at table C, were all >1 m. However, strong airflow from the air conditioner could have propagated droplets from table C to table A, then to table B, and then back to table C."
The researchers suggest that small aerosolized viral droplets less than <5 μm in size might be able to travel long distances.
Their take-home message about how people might catch COVID-19:
"We conclude that in this outbreak, droplet transmission was prompted by air-conditioned ventilation. The key factor for infection was the direction of the airflow."
Some Good News:
Although we are concerned that people may catch COVID-19 at distances greater than 6 feet, there is some good news from this study. There were 12 other occupied tables on the third floor of this restaurant. The 73 other customers in the room did not catch COVID-19. They weren't sitting in the path of the same air conditioner as patient A1. So, we conclude that air currents and distance are key factors in the transmission of SARS-CoV-2.
Corroborating Data?
"On numerous cruise ships where thousands of people onboard were infected, many of the infections occurred after the imposition of isolation that confined passengers for the majority of time to their cabins, and limited direct contact, and with hand hygiene carefully obeyed. Was it therefore the ventilation system that spread the airborne virus between the cabins one of the reasons for the infections? There are also hypothesis, that airborne transmission was at least partially responsible for a larger number of infections during a choir, where 45 out of 60 choir members were infected."
The authors bemoan the fact that public health authorities are "locked in the old way of thinking that only direct contact matters in viral infection spread." They suggest that airborne transmission could be a significant reason so many people catch COVID-19.
You can read more about the deadly choir practice and the transmission of the coronavirus at this link:
Should You Be Wearing a Face Mask? Why Not?
Public health officials have told us wearing face masks are unnecessary. Were they wrong? Could wearing a face mask help you avoid catching COVID-19?
The People's Pharmacy Perspective:
There is a lot we do not understand about the coronavirus. What we do know is that it is highly contagious.
We think the evidence is accumulating that people can catch COVID-19 even if they are beyond the six-foot limit established by the CDC. The Chinese research from Guangzhou suggests that aerosolized viral particles are an important source of infection.
As the US begins to re-open, restaurants, workplaces, bowling alleys, movie theaters, ball parks and airports, we will need to keep this type of airborne viral spread in mind. 
What Do You Think?
Are you concerned about airborne transmission of the coronavirus? Do you think it is possible to catch COVID-19 if you stand or sit farther than six feet from another person? We would love to get your perspective. Please add your thoughts in the comment section below. Are face masks important?
If you found this article of interest, please share it with friends, family, neighbors and coworkers. We have tried to make that easy by providing icons at the top of this page that allow you to email this article or post it to Facebook or Twitter. Sharing our articles with people who might be interested helps support our mission of informing people about new research.