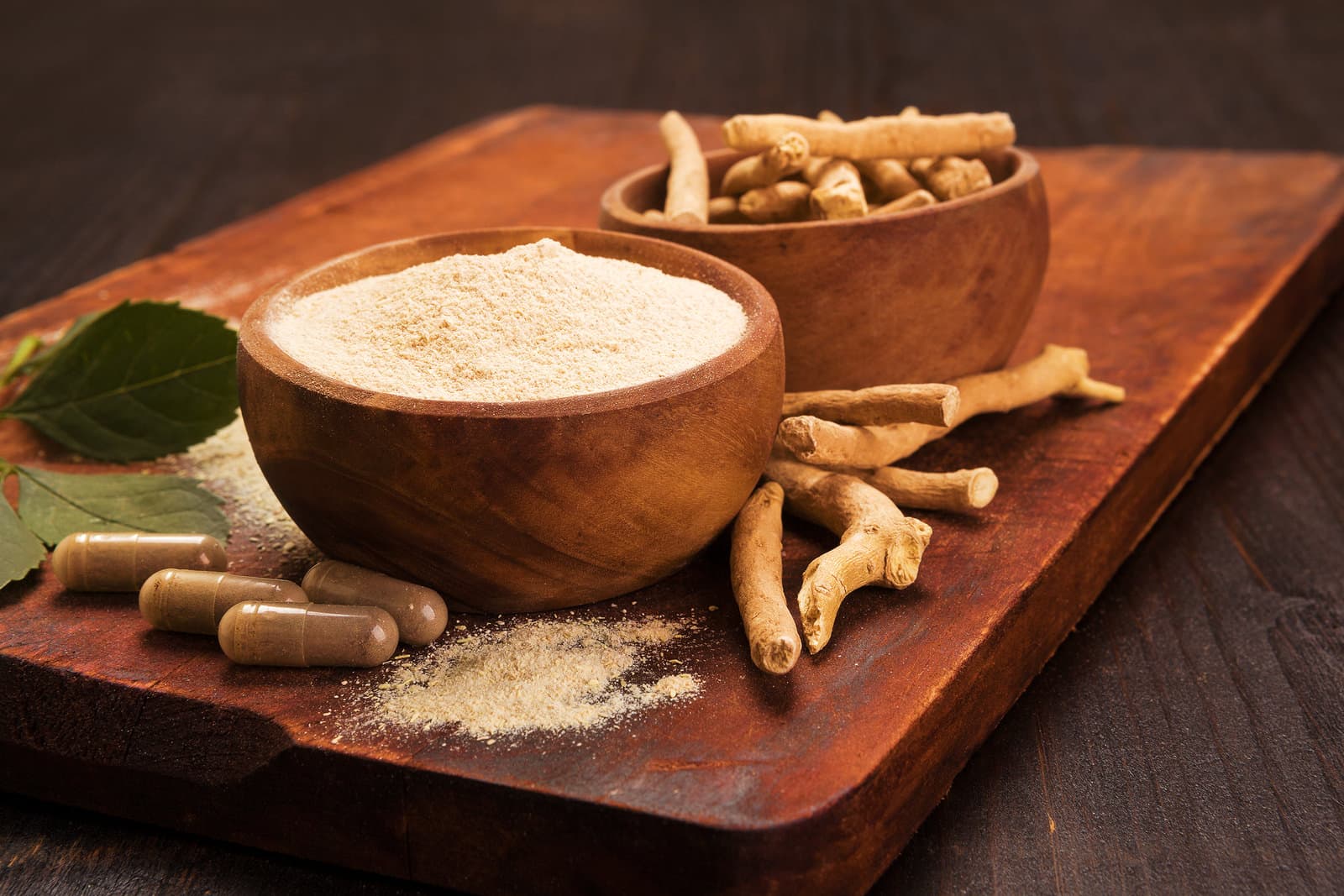 Ashwagandha superfood powder and root on cutting board on wooden table.
Stress can boost blood pressure, make pain worse, interfere with cognitive processing and limit the amount of sleep a person is able to get. In addition, a person under stress has more difficulty regulating blood sugar and many other important physiological functions. No wonder some doctors consider stress among the most significant health risk factors of the 21st century. One reader discovered that an ancient Indian herb, ashwagandha, was a big help.
Using Ashwagandha for Insomnia and Anxiety:
Q. After I started using ashwagandha for my own stress and lack of restful sleep, I recommended that friends try it. They not only are using it now but have come off their antidepressants at the same time!
It's important to taper down gradually on any drugs for anxiety or insomnia. My husband was taking sertraline for anxiety. When he no longer needed it, his doctor told him to take the medication every other day for a week, then every third day for a week, every fourth day for a week and then eventually quit.
What Is Ashwagandha?
A. Ashwagandha (Withania somnifera) is part of the Indian Ayurvedic healing tradition that stretches back thousands of years. People have used it for many purposes, including easing anxiety and insomnia and reducing inflammation. For a high-quality supplement including the full range of the plant's compounds, we suggest GaiaHerbs.com. They underwrite our radio show, but the reason we are enthusiastic about their products is that we witnessed their dedication to quality with testing. For a 20% discount on the product, use the discount code PEOPLE20 when you check out.
Lowering Anxiety:
Indian scientists studying rats have confirmed that as it reduces inflammation in the nervous system, the animals' anxiety-like behavior diminishes (Neuromolecular Medicine, Sep. 2018). Previously, an analysis of five studies in humans indicated that those taking ashwagandha experienced reduced anxiety and perceived stress (Journal of Alternative and Complementary Medicine, Dec. 2014).
Overcoming Insomnia:
Using mice as study subjects, investigators in Japan identified the water-soluble compound in the plant's leaves that induces sleep (PLoS One, Feb. 16, 2017). Moreover, a pilot study suggests that this herb can improve attention, decision making and memory in people experiencing mild cognitive impairment (Journal of Dietary Supplements, Nov. 2, 2017).
Fighting Cancer:
Scientists have even identified some compounds in ashwagandha that may be able to help fight cancer (Cancers, July 17, 2019). It acts synergistically with some cancer chemotherapy agents. Beyond that, a protein from the herb can stop triple negative breast cancer cells using several different pathways (International Journal of Biological Macromolecules, Aug. 15, 2019).
Alleviating Arthritis Pain:
Withania somnifera does have anti-inflammatory properties and is able to suppress many inflammatory compounds that could be contributing to arthritis pain (Dar et al, Cellular and Molecular Life Sciences, Dec. 2015).
One reader related a very positive experience using the herb to control joint pain.
"I have severe osteoarthritis in my knees. I cannot take ibuprofen due to having a lap band procedure. Tylenol is ineffective for my knee pain.

"The arthritis is quite debilitating and painful, and over time my flexibility and mobility have drastically declined. I lost quite a few pounds after the bariatric surgery, but I am still overweight. That aggravates the pain in my knees.

"I have tried various remedies without much success. Recently I read of a study showing that Ashwagandha might help. I ordered one of the brands tested and approved by ConsumerLab.com.

"On the second day of taking the pill once a day (500 mg Withania somnifera extract standardized to contain 2.5% withanolides), I awakened to find the pain had decreased dramatically. I've been taking it now for a week, and the pain is almost completely gone. There is still some stiffness.

"I've never had anything make such a difference so fast. What should I know about cautionary information-drug interactions, side effects, etc.?"
What Are the Downsides of Ashwagandha?
Unfortunately, there does not appear to be a lot of research on side effects and interactions. However, ashwagandha may affect thyroid function (Journal of Ayurveda and Integrative Medicine, Oct-Dec. 2014). Some people have reported digestive distress, including nausea and diarrhea. Other side effects include drowsiness or headache. In addition, one visitor to our website reported an alarming drop in blood pressure. There is also a published case report of a cardiovascular reaction (Journal of Dietary Supplements, July 4, 2018).
It also might interact with MAO inhibitors such as selegiline, phenelzine or tranylcypromine. It should not be taken with such drugs, as it might reduce their effect (Phytomedicine, Dec. 2000).
Learn More:
To learn more about the pros and cons of ashwagandha and many other nondrug approaches to alleviating anxiety and insomnia as well as arthritis, you may wish to read our eGuide to Favorite Home Remedies. Share your own experience with this fascinating herbal medicine in the comment section below.