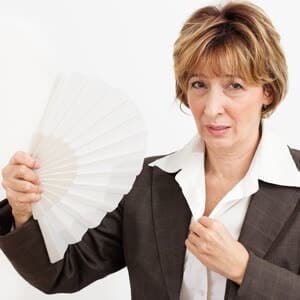 Menopause offers women numerous challenges, but the most significant symptom is probably hot flashes (vasomotor symptoms in doctor-speak). This may also be among the most variable symptoms. Some women break out in sweats and suffer unbearable heat waves several times an hour; others have only a few hot flashes every week. Because of concerns about hormonal therapies increasing the risks of heart attack, stroke and breast cancer, many women are looking for other approaches to help with hot flashes.
What Medicines Can Help with Hot Flashes?
Q. My sister is having a terrible time with hot flashes. She was taking a low dose of a hormone, but her doctor wanted her to stop. He was concerned about possible side effects. She has tried many OTC remedies with little relief; she cannot get a good night's rest.
The doctor now wants her to try an antidepressant. I have been on an antidepressant for a number of years; it has helped me with irritability, but I've never had hot flashes. However, I know how hard it is to get off the antidepressant. I've tried several times and am still trying.
That's why I'm concerned about her starting this medication. My question: can antidepressants really help with hot flashes?
Paroxetine May Help with Hot Flashes, But Will There Be Withdrawal Symptoms?
A. Like your sister, many women find the night sweats of menopause even more debilitating than daytime hot flashes. The FDA has approved the SSRI antidepressant paroxetine as a treatment for hot flashes. The brand name is Brisdelle. A review concludes that it may be effective but it can cause nausea and dizziness (Wei et al, BJOG, Oct. 2016).
Doctors sometimes prescribe a different antidepressant, venlafaxine, to control hot flashes. Neither of these medications should be discontinued abruptly. Even with gradual tapering of the dose, some people experience unpleasant withdrawal symptoms.
What Else Can Women Use to Help with Hot Flashes?
A group of experts in gynecology surveyed the literature a few years ago. They recommend cognitive behavior therapy, clinical hypnosis, weight loss when appropriate and mindfulness-based stress reduction as effective nonhormonal treatments for night sweats and hot flashes (Menopause, Nov. 2015).  Although acupuncture remains controversial, one study found it reduced hot flashes and improved quality of life (Avis et al, Menopause, June 2016).
Perhaps one of these nondrug options will give her some relief. She may also want to try one of the holistic approaches we wrote about in this post.