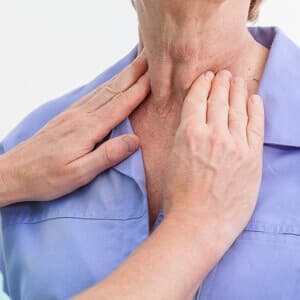 We spoke with Dr. Ridha Arem in 2013 when his book, The Thyroid Solution Diet: Boost Your Sluggish Metabolism to Lose Weight, was released. There wasn't enough time in Show 1015: Thyroid Mysteries, Controversies and the Latest Research to include this interview, but we offer it here for those who are interested in achieving thyroid balance.
How Can Hypothyroid People Lose Weight?
In it, Dr. Arem discusses why so many people are afflicted with thyroid underactivity. He explains Hashimoto's thyroiditis and its possible roots in environmental changes and he describes the eating plan he designed to help hypothyroid people lose weight. (This is often a particular challenge for individuals with sluggish thyroid glands.)
Learn why it is helpful to keep insulin levels from spiking and why people with underactive thyroids need to avoid the inflammatory effects of excess sugar. Find out if you should worry about eating broccoli, cabbage, kale and other cruciferous vegetables.
Learn about Tests and Treatments:
Dr. Arem also goes into detail about the what tests tell us about thyroid function and which nutrients are especially important for thyroid health. How does he manage the question of treating with T4 alone or with a combination of T4 and T3? Is there a role for Armour Thyroid or other desiccated thyroid products?
The Guest:
Ridha Arem, MD, runs the Texas Thyroid Institute in Houston, TX. He has been a clinical professor of medicine at Baylor College of Medicine. His books include The Thyroid Solution: A Revolutionary Mind-Body Program for Regaining Your Emotional and Physical Health and The Thyroid Solution Diet: Boost Your Sluggish Metabolism to Lose Weight.
More Listening:
If you appreciate our interview with Dr. Arem, you may also be interested in the full interview with Dr. Antonio Bianco of Rush University Medical Center.