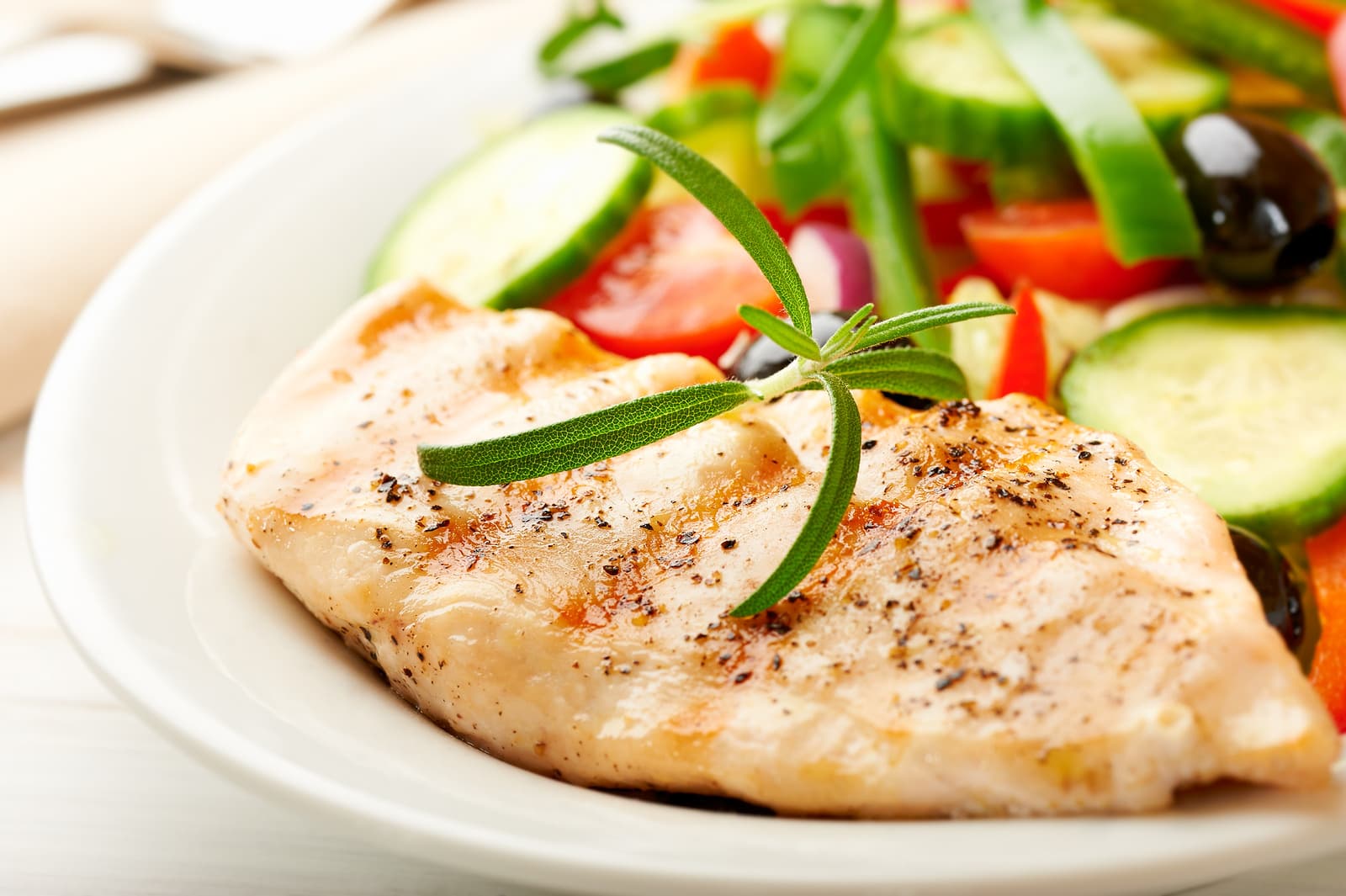 Grilled chicken breast with green and red pepper, cherry tomatoes, lettuce, black olives, cucumber, pink pepper and fresh rosemary. Home made food. Concept for a tasty and healthy meal. Close up.
Diabetes experts have been arguing about the best diet for patients with type 2 diabetes for decades. Past and present studies now show that a diet low in carbs can help people with type 2 diabetes lose weight and control their blood sugar. Researchers also have evidence that certain dietary patterns can contribute to the development of diabetes.
What Factors Are Driving the Epidemic of Diabetes?
An analysis of dietary intake from 184 countries shows dietary factors account for seven in ten new cases of this metabolic disorder (Nature Medicine, April 17, 2023). In this condition, the body does not respond as it should to the hormone insulin.
The investigators considered 11 dietary factors altogether, but found three that mattered most. These include (1) eating too much refined wheat or rice and (2) not getting enough whole grains. Finally, (3) consuming processed meat also contributes to a population's risk of type 2 diabetes.
Such diet-attributable diabetes is far more common in urban than rural settings. Perhaps the foods available in cities are more likely to be highly processed. The scientists note that no nation has experienced a decline in type 2 diabetes over the last 40 years. On the contrary, this condition more than quintupled from 1980 to 2020, from just over 100 million to 537 million individuals affected around the world.
Lowering Blood Sugar by Sticking with a Low-Carbohydrate Diet:
Conflicting dietary recommendations for people with diabetes can be confusing. Some experts emphasize reducing the amount of fat in diets designed for weight loss. Since many people with type 2 diabetes are also overweight, nutritionists have suggested they avoid fat to lose weight. However, if you eat less fat, you usually end up eating more carbohydrate. Is that a problem for people with diabetes?
How Does a Diet Low in Carbs Affect People with Type 2 Diabetes?
A study in JAMA Network Open demonstrates that following a low-carbohydrate diet for six months can significantly lower hemoglobin A1c, or HbA1c (JAMA Network Open, Oct. 26, 2022). This blood marker is an indication of blood sugar control over several weeks and is considered a crucial metric.
Researchers recruited 150 adults 40 to 70 years old with HbA1c levels between 6.0% and 6.9%. That range put them between pre-diabetes and diabetes. None were taking medication to lower their blood sugar. The investigators randomly assigned participants to follow their usual diet or to adopt a diet low in carbs.
They explain
"The low-carbohydrate diet promoted was characterized by components thought to improve cardiometabolic health: unsaturated fat and protein, high-fiber foods, and minimal refined carbohydrates."
For the first three months, participants got counseling to keep carbohydrate intake under 40 grams a day. For the next three months, the daily target was under 60 grams.
The researchers report that
"Compared with usual diet, the low-carbohydrate diet intervention also led to greater 6-month reductions in fasting plasma glucose, body weight, fasting insulin, and waist circumference."
As a result of people in the low-carb group eating fewer calories and losing trimming their waistbands, the scientists could not state with certainty that the benefits were due exclusively to the diet low in carbs. Previous studies suggest this is plausible, however.
Fighting Diabetes with a Diet Low in Carbs:
An earlier study in JAMA Internal Medicine compared group medical visits for type 2 diabetes (JAMA Internal Medicine, Nov. 4, 2019). In the trial, which ran nearly a year, half the patients got standard care through group medical visits at the VA.  At the same time, dietitians counseled the other half on a low-carbohydrate approach to weight loss. These patients also attended group medical visits for their standard medical care.
What Did the Study Show?
Both groups improved their HbA1c, a measure of blood sugar control. In addition, those following diets low in carbs lost more weight, used fewer diabetes medications and had fewer episodes of hypoglycemia. Hypoglycemia, in which blood sugar drops too low, can be a serious medical problem.
The authors conclude:
"The results from this study indicate that intensive WM [weight management] using a low-carbohydrate diet can be as effective for glycemic improvement as medication intensification in GMVs [group medical visits]."
Previous Support for a Diabetes Meal Plan That Is Low in Carbs:
This is not the first time we have written about research supporting a low-carb approach for people with diabetes. Although all the participants in this research had type 2 diabetes, even people with type 1 diabetes have reported better blood sugar control when they eat fewer carbs. Dr. Richard Bernstein, who had type 1 diabetes himself, was an advocate for this approach based on self-experimentation.
Moreover, an earlier study compared in-person, on-site group visits to web-based nutritional counseling to achieve ketosis (JMIR Diabetes, March 7, 2017). The individuals who adopted a diet low in carbs were able to lose weight, lower their HbA1c and discontinue some of their diabetes medicines.
A Conflicting Report:
On the other hand, a recent study from Scotland found that lower carbohydrate, higher fat diets were associated with elevated HbA1c values (European Journal of Nutrition, online Nov. 4, 2019). This was a survey rather than a clinical trial, so we don't know exactly what people were eating. Perhaps the quality of the diet with respect to micronutrients matters as much as whether it is low in carbs.
Researchers may not have established a best diet for diabetes beyond question. However, people who want to control their blood sugar might consider trying a low-carb approach. And those who want to avoid diabetes should get their carbs from whole grains rather than refined flour or white rice.