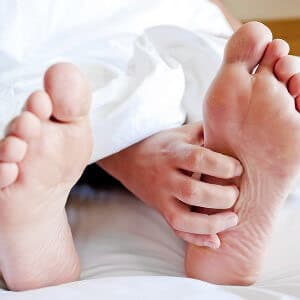 It's that time of year. Your body's natural reaction to heat and humidity is to sweat because when moisture evaporates it cools the skin.
There's one place, however, where sweat can't evaporate easily. Inside socks and shoes, feet can get quite damp. That provides a hospitable environment for fungus. Athlete's foot is a common fungal infection of the skin between the toes or on the soles of the feet.
Usually athlete's foot is considered a simple condition to be treated with over the counter anti-fungal medicines. But not everyone gets relief from the itching and peeling. Some readers have found unusual ways to treat recurrent problems.
We heard this from one person:
"I was plagued with athlete's foot for years. It didn't matter how often I cleaned my shower or how careful I was in motel rooms. I always picked up athlete's foot.

"All the lotions and creams available are useless. They don't work well despite months of applications and are very expensive. A friend of mine who keeps cattle said a medicine for fungal infections (like ringworm) works only if it has two out of three qualities: it must sting, stink or stain.

"He told me to use Absorbine jr. Within three days, the athlete's foot had stopped spreading, itching and burning. The stuff stung the raw skin between the toes, but it WORKED. Within a week, the infection was gone. Now I douse my feet with rubbing alcohol after my shower and let them dry. Doing this has kept athlete's foot away for years. I keep Absorbine jr., in my bathroom and travel kit, just in case."
Not everyone benefits from Absorbine jr. We heard this from a physician:
"After 32 years in medicine, I've seen a lot of athlete's foot, but I have never seen a case as severe as my own. From age six on, my feet itched constantly, the bottoms of my feet developed deep bleeding fissures and I could evacuate a car by removing one shoe after a weekend camping with the Scouts.

"Over the years, I tried everything including griseofulvin, Tinactin, Absorbine jr., Desenex cream and soaks in gentian violet.

"Six years ago, my mother suggested vinegar. That night, I put my feet in a basin, poured two cups of white vinegar over them and let them soak as I read a book. When the vinegar hit the open cuts on my feet, it stung but I held on for 10 minutes.

"Without rinsing off the vinegar, I dried my feet with a towel, dusted them with Desenex and put on some socks.

"This is what happened:

"My feet stopped smelling immediately.

"The itching stopped immediately.

"When I dried between my toes, dead skin came off on the washcloth.

"The fissures healed and never recurred.

"I continue to soak my feet when I get up in the morning and each evening after I shower. My feet, even my heels, are soft and pliant. After I soak, I put the basin in the shower and use it for several days until it begins to look dirty.

"If the vinegar stings too much, dilute it 50/50 with water. Spray the insides of your shoes with disinfectant to kill the fungi and prevent re-infection."
To learn more about other athlete's foot remedies and solutions for foot odor, you may wish to consult our book, The People's Pharmacy Quick & Handy Home Remedies.