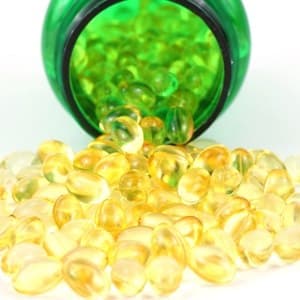 A great deal of research suggests that low levels of vitamin D are associated with serious health problems, including osteoporosis, fractures, hypertension, heart disease, stroke, cancer, diabetes, infections, respiratory disease and a number of autoimmune disorders (Journal of Clinical Endocrinology and Metabolism, Dec. 2013;American Journal of Clinical Nutrition, April, 2013 & Nov., 2014)  When vitamin D levels are low, people are at greater risk of dying prematurely. Could common environmental chemicals be contributing to lower vitamin D levels in the population? A new study in the Journal of Clinical Endocrinology & Metabolism (Sept. 20, 2016) suggests that exposure to BPA and phthalates (pronounced THAL-ates) may be a bigger problem than previously thought.
Why Are Vitamin D Levels So Low?
There was a time when our ancestors probably had very good levels of vitamin D. That is because they spent a great deal of time outside foraging for food. Hunters and gatherers devoted hours each day to seeking sustenance. Farmers also spent a substantial part of each day outdoors growing or harvesting food.
With the industrial revolution and factory life, people moved indoors for most of the day. That meant substantially less sun exposure.
People in northern climates like Scandinavia may not have understood why grandmothers insisted family members consume cod liver oil in the winter, but they intuitively knew it was beneficial. One reason could well have been the vitamin D found in the foul-tasting liquid.
Now fast forward to the information age. People go from their homes to their cars to their offices or schools. They stare at computer screens for most of the day. Kids have little time to play at recess . During the summer we slather on sunscreen, which blocks vitamin D formation. When children come home from school they don't run around and play outside. Instead, they plant themselves in front of their computers and play video games, text their friends and do homework.
Environmental Chemicals Are Impossible to Avoid:
A new study in the Journal of Clinical Endocrinology & Metabolism (Sept. 20, 2016) reveals that endocrine disrupting chemicals (EDCs) are also associated with lower vitamin D levels, especially in women. The investigators looked at BPA (bisphenol A), which is found in a variety of plastic products and resins, as well as phthalates, which are found in food packages, cosmetics, body care products, medical tubing and plastics.
Chances are good that your soup, beer, sports drink or soda can is lined with plastic containing BPA. That means it can migrate into the food or beverage over time. Even the receipt you get from a gas pump or restaurant could contain BPA. Your shampoo, moisturizer, sunscreen, hair spray, deodorant, or perfume may have phthalates. Flexible children's toys are also likely to contain phthalates. They are found in shower curtains, raincoats and insect repellents.
What this means is that virtually everyone has some chemical residue of phthalates BPA or similar compounds circulating in their bodies. The higher the concentration of EDCs in the body the greater the possibility that vitamin D levels will be depressed.
What Can You Do?
The first thing you should do is monitor your vitamin D levels on a regular basis–at least two or three times a year. Have your blood tested in the spring, fall and mid-winter. That's because vitamin D levels tend to be lowest when sun exposure is reduced.
Although we do not know if vitamin D supplements are as good as natural sunlight when it comes to reversing the health problems of vitamin deficiency, at least they are better than doing nothing.
In addition, try to minimize your exposure to BPA and phthalates. That means avoiding plastic as much as possible. Cans and plastic food containers should be kept to a minimum. If you are buying vinegar, fruit juice or other beverages try to find glass containers. Wash your hands after touching BPA-containing receipts.
To learn more about avoiding BPA and phthalates, here are some links:
Radio Show 974: Toxin ToxOut is a one-hour interview with the authors of Slow Death by Rubber Duck. They discuss how they reduced the levels of EDCs circulating in their bodies. You can listen to the streaming audio for free or download the mp3 file for $2.99.
Other Interesting Links:
When Will Campbell Soup Cans Be BPA-Free?
Will BPA-Free Bottles Make You Fat?
If you would like to learn more about laboratory tests for vitamin D and how to interpret lab results and keep your levels within an optimum range you may wish to consult our Guide to Vitamin D Deficiency.
Should you wish a deodorant that does not contain phthalates, we promise that our MoM (milk of magnesia) Aluminum-Free Roll-on Deodorants are free of these chemicals. First time buyers can save 25% off the cost of our 2 oz. unscented MoM Roll-On by putting in the code MOM25 into the discount box on checkout.