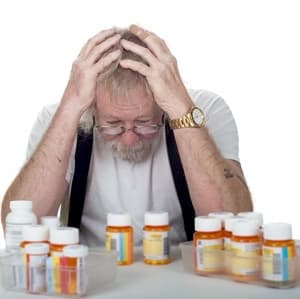 There is an alarming trend among senior citizens. More of them are taking multiple mind medicines.
Over the last decade the number of older adults taking three or more psychiatric or pain medications has doubled. The study was based on data collected by the CDC from primary care physician visits between 2004 and 2013. In 2004, about 1.5 million visits involved several mind medicines, while by 2013 the number was 3.68 million visits.
What Mind Medicines Are Older People Taking?
Medications included benzodiazepines for anxiety or insomnia, antidepressants, opioid pain relievers and antipsychotic medicines. These medicines affect the central nervous system. Many of these mind medicines are considered potentially inappropriate for older adults. Combining several such drugs greatly increases the likelihood a person would have a troublesome reaction.
Few Have Psychiatric Diagnoses:
Almost 50 percent of the patients taking such medications had not been formally diagnosed with a mental disorder. This is a disturbing finding. It is possible that the drugs are being prescribed off-label. But are they truly appropriate for these patients?
We are particularly concerned about the serious side effects from the combinations of drugs. They may contribute to cognitive dysfunction, dizziness or falls. Experts recommend that many of these drugs be used cautiously in older adults.
Maust et al, JAMA Internal Medicine, Feb. 13, 2017
You'll find a list of drugs that may be inappropriate for seniors in our Guide to Drugs & Older People. You may also be interested in our chapter on the treatment of senior citizens in our book, Top Screwups Doctors Make and How to Avoid Them.