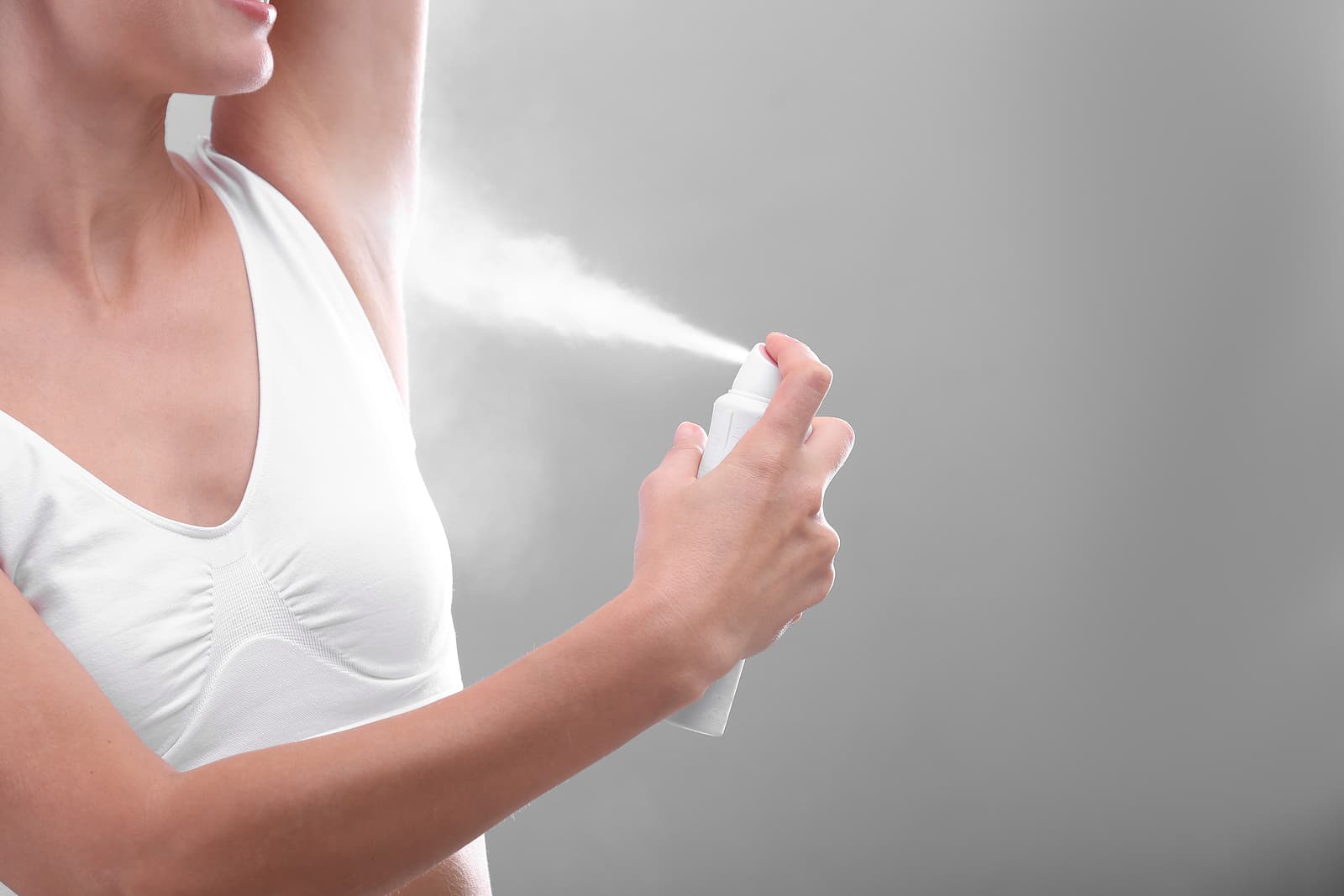 Young woman using deodorant on grey background, closeup. Space for text
What is your morning ritual like? Many people like to start the day with a hot shower. It gets the blood flowing and the face clean. Then they brush their teeth and spritz their armpits with antiperspirant or deodorant. This is all done in the closed space of a bathroom, and that could pose a problem. Over the last year research revealed that a surprising number of popular brands of deodorant and antiperspirant contained benzene. Why take a risk that spritzing your pits could lead to benzene exposure?
Discovering Benzene in Body Care Products
How is it possible that a human carcinogen was found in body care products used by millions of people on a daily basis? Great question. Don't look to the FDA for answers, though. The Food and Drug Administration doesn't seem terribly concerned that you may be breathing benzene each morning.
The independent testing laboratory, Valisure, discovered the benzene contamination. This independent lab started testing hand sanitizer early in the pandemic. It found a surprising number of products were tainted with benzene, although this chemical is not supposed to be there. Here is a link to learn more.
Sunscreens and Breathing Benzene:
Valisure started casting its net over a wider array of consumer products. A number of popular sunscreens were found to contain benzene. You can read more about the scandal at this link.
Because of these findings, some key players recalled products. According to the FDA, Coppertone withdrew certain lots of Pure & Simple SPF 50 Spray, and Travel-Size Coppertone Sport Spray SPF 50. Johnson & Johnson also recalled some of its Aveeno and Neutrogena sunscreen products.
Breathing Benzene in Body Sprays?
Tens of millions of Americans spray on a deodorant or an antiperspirant every day, rain or shine, heat or cold. What is a carcinogen doing in antiperspirants and deodorants?
Valisure offers this possibility:
"Many petroleum products are used as raw materials or inactive ingredients in consumer healthcare products. In particular with body sprays, 'propellants' like butane, isobutane, propane, and alcohol are commonly used and could potentially be sources of benzene contamination."
| | | |
| --- | --- | --- |
| Propellant | # of Products | % Products with Benzene |
| Hydrofluorocarbon 152a | 95 | 54% |
| Butane | 77 | 69% |
| Isobutane | 74 | 58% |
| Propane | 60 | 52% |
| Alcohol | 47 | 36% |
"It is, unfortunately, apparent that benzene contamination is a widespread and concerning issue in the American consumer product supply chain and underscores the critical need for independent testing," states David Light. "The global supply chain is incredibly complex and has many vulnerabilities. We believe some of these contamination issues, like benzene in consumer products, might be traced all the way back to the raw materials supplied to manufacturers. Increased vigilance and quality assurance is needed more than ever."
Breathing Benzene in Body Sprays?
Most people never think twice about how the ingredients in their deodorant or antiperspirant move from a can to their armpits. There has to be a propellant. Not infrequently, that propellant is a gas of some sort.
With aerosols, especially if they are applied in a small space such as a bathroom, chances are good that you are going to inhale some aerosolized chemicals. That could mean you'd be breathing benzene. And of course you will be getting some of that stuff into the delicate tissue of your underarms. This is something people do daily for months, years or a lifetime! We doubt that you want to be breathing benzene daily for decades.
The P&G Recalls:
It probably came as a shock to learn that the Procter & Gamble company recalled a number of popular brands.
According to the Food and Drug Administration:
"Company Announcement

"The Procter & Gamble Company (NYSE: PG) is voluntarily recalling all lots with expiry through September 2023 of specific Old Spice and Secret aerosol spray antiperspirants and Old Spice Below Deck aerosol spray products sold in the United States, and listed in the table below, to the consumer level due to the presence of benzene detected.

"Risk Statement: Benzene is classified as a human carcinogen. Exposure to benzene can occur by inhalation, orally, and through the skin and it can result in cancers including leukemia and blood cancer of the bone marrow and blood disorders which can be life-threatening. Based on exposure modeling and the cancer risk assessments published by the Environmental Protection Agency (EPA) (IRIS database), daily exposure to benzene in the recalled products at the levels detected in our testing would not be expected to cause adverse health consequences. Benzene is ubiquitous in the environment. Humans around the world have daily exposures to it indoors and outdoors from multiple sources. To date, The Procter & Gamble Company has not received any reports of adverse events related to this recall and is conducting this recall out of an abundance of caution.

"The affected products are used as antiperspirants and hygiene products and are packaged in aerosol cans."
Other Body Sprays with Benzene:
Valisure found that many other brands were also contaminated with benzene at or above 2 parts per million. That's the upper limit the FDA has established for emergency use. Ideally, there would be no benzene in any body care product.
Researchers worry that breathing benzene or being exposed to this chemical on the skin might increase the risk for leukemia.
"Benzene is known to cause cancer, based on evidence from studies in both people and lab animals. The link between benzene and cancer has largely focused on leukemia and other cancers of blood cells."
What's the FDA Doing About Breathing Benzene?
As far as we can tell, the FDA has not said much about breathing benzene from body sprays or applying it to your underarms.
What the FDA has offered is this:
"When a company announces a recall, market withdrawal, or safety alert, the FDA posts the company's announcement as a public service. FDA does not endorse either the product or the company."
Why hasn't the FDA required mandatory recalls of all body care products that contain benzene? More important than the question of how the chemical got there is the issue of how to get it out!
The FDA has been slow to discover this type of contamination and even slower to take action. Most of the recalls are "voluntary," which means that some companies won't choose to remove their benzene-tainted products from the market. That leaves a lot of consumers on their own.
People can visit Valisure.com and ConsumerLab.com to get details about which products passed the test and which failed.
Stop Breathing Benzene!
Would you like to use an aluminum-free and benzene-free deodorant? We know it is shameless promotion, but we have been making this kind of product for more than a decade. Inherently, we knew we did not want to put aluminum in our armpits. Benzene doesn't belong there, either.
That's why we asked one of the country's leading experts in natural body care product development to help us figure out a way to create Aluminum-Free MoM (Milk of Magnesia) Roll-on Deodorants. That was long before we knew about the problems with benzene. Should you be interested, here is a link to our body care products.